On the night of 27 July 28 temperature scoreboard on Nevsky Prospect showed 31 degrees. Afternoon on board and do not want to watch. Intense heat such as if the city is not on the Neva River and the Red Sea. This was never here. Each is saved as it may, but salvation only in air-conditioned offices.
Hopes for cooling melt like ice cream, which was pulled from the refrigerator. Even passed a terrible rumor that the weather will last until the end of September. A blessing in disguise, the city authorities decided to attract sponsors and the holiday ... "A breath of winter." Indeed, in the Alexander Garden, next to the Admiralty in the middle of a hot day there were Santa Claus, who behaved, one might say, the adequacy of present weather anomaly: wandering barefoot in the fountain.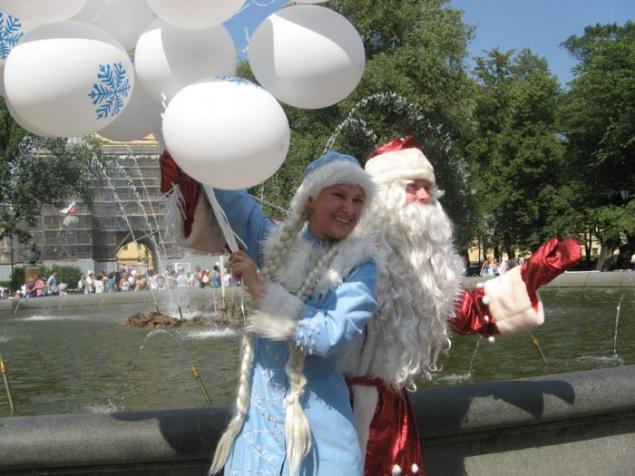 The promise of cold douches and ice drink organizers did not keep. But literary quiz with poems about winter, zapuskaniya balloons with the image of snowflakes and decoration of the Christmas tree was held. Added absurdity who appeared in full dress Santa Claus, which is actively trying to attract me to a meeting of the New Year.
 - And when did you meet New Year think? - Ask Santa Claus, whose beard can not hide it quite a young age.
 - Six months later, of course - was the answer.
Six months later - it was good. That is correct. Before and do not have to. But do not heat subsides until the end of the summer ?!