Russian Santa Claus
You know him well - every year he wishes you a Happy New Year and gives gifts. He is holding a staff with a crystal head of a bull - a symbol of fertility and happiness. He drives a painted sleigh pulled by three white horses. Maiden - a granddaughter of Santa Claus, who is blind from snega.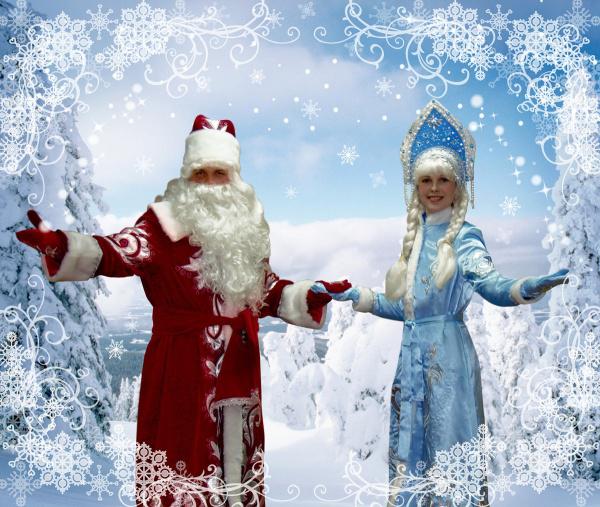 US rival Santa Claus - Santa Claus
Antu accompanies the magical talking reindeer named Rudolph - Red Nose. To fly in the sky, Santa enough poke a finger in nozdryu.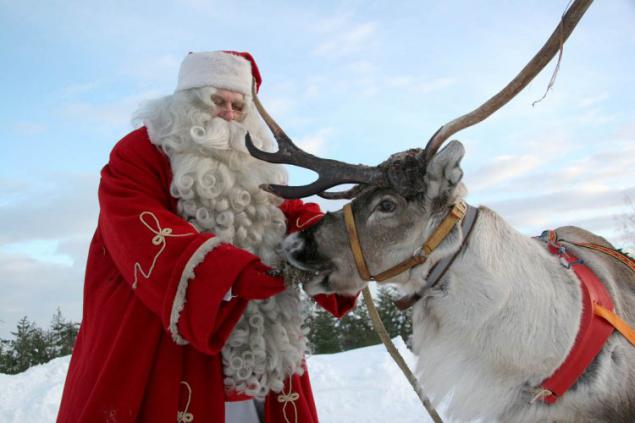 Little Swedish Deputy Santa Claus - Yul Tomte
Yul Tomte Swedish means "Christmas gnome." He lives in a magical forest and he has an assistant - Dusty snowman. If you will come to visit Julia Tomtenu - carefully watch your step: the paths of tiny scurrying elfy.
Italian assistant Santa Claus Babb Natal
Babbo Natale enters the house through the chimney. Each house is left for him a cup moloka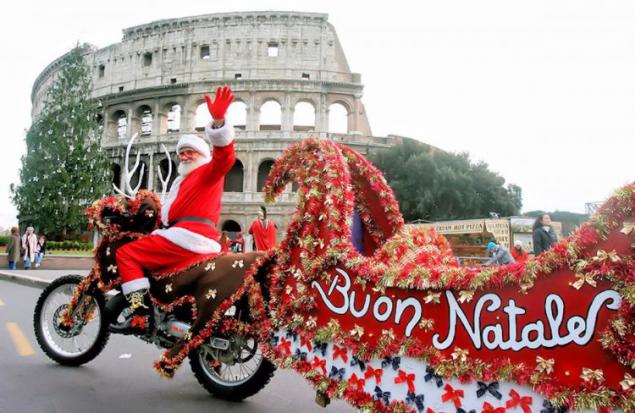 Mongolian friend Santa Claus Uvlin Uvgun
In Mongolia, the New Year is also the feast of the shepherds. Therefore Mongolian Santa Claus - the main shepherd. In his hand a whip, and a belt - bag with tinder and flint. His assistant called Zaza ohineyu - "Snow Girl"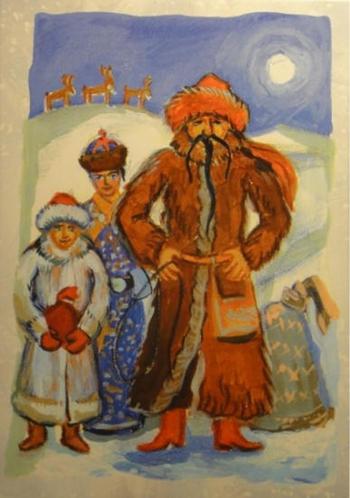 Dutch colleague Santa Claus Sinter Klaas
Arrives in Holland by boat, accompanied by black slug.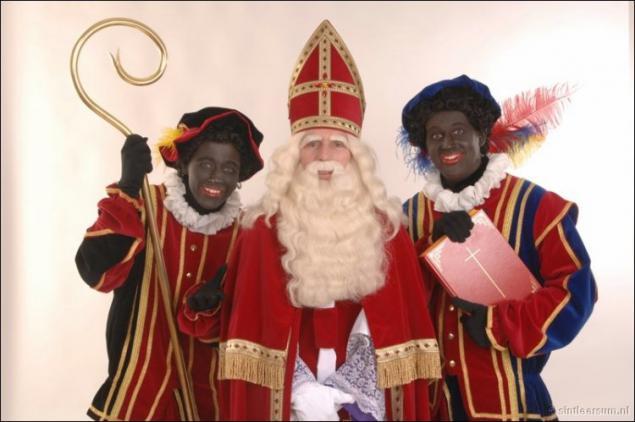 Yakut assistant Santa Claus Ehee Dyl
He has a huge bull, who each fall out of the ocean and begin to grow horns. Than the length of the horn - the stronger moroz.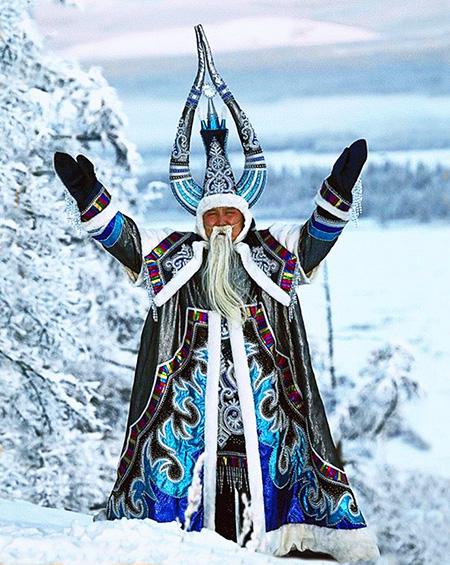 Finnish Santa Claus each Joulupukki
With the Finnish language translates as Father Christmas or Christmas goat. Hut Father Frost stood on the mount. It lived his wife and another Muori whole family of gnomes. He wears a goatskin jacket with a leather belt and red kolpak.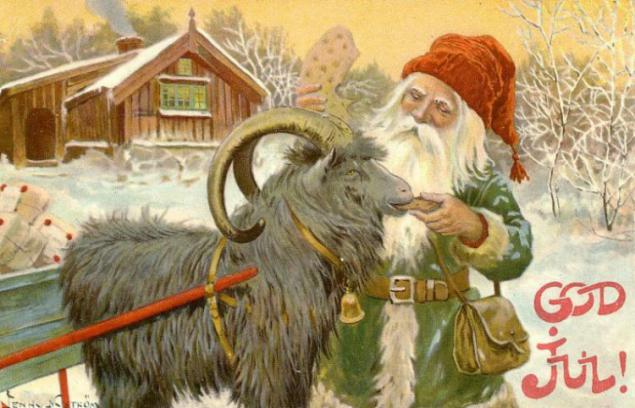 Overseas colleague Santa Claus from Japan Oji-san
In Japan, New Year heralds 108 bell strikes. The most popular New Year's gift - Kumada - bamboo rake to rake in happiness than it was. Houses are decorated with pine branches, pine - a symbol dolgoletiya.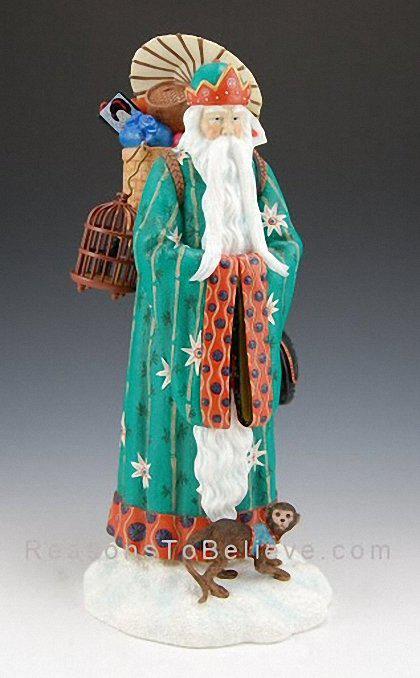 Associate Santa Claus from Belgium - Saint Nicholas
Belgians know a family that lodges St. Nicholas will get the golden apple. Moor named Black Peter - servant accompanying St. Nicholas everywhere.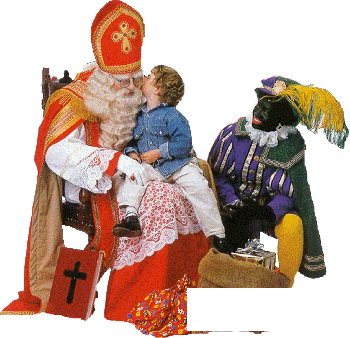 Uzbek friend Santa Claus Korbobo
Arrives in Uzbek villages on a donkey with his granddaughter Korgyz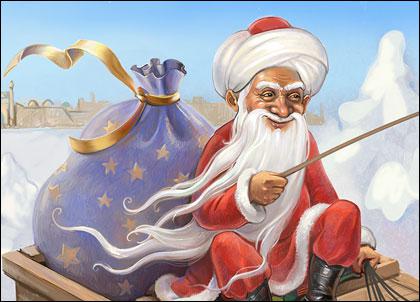 French friend Santa Claus Pere Noel
In the New Year wanders across rooftops and down the chimney into the house to leave gifts in the shoes of the French detey.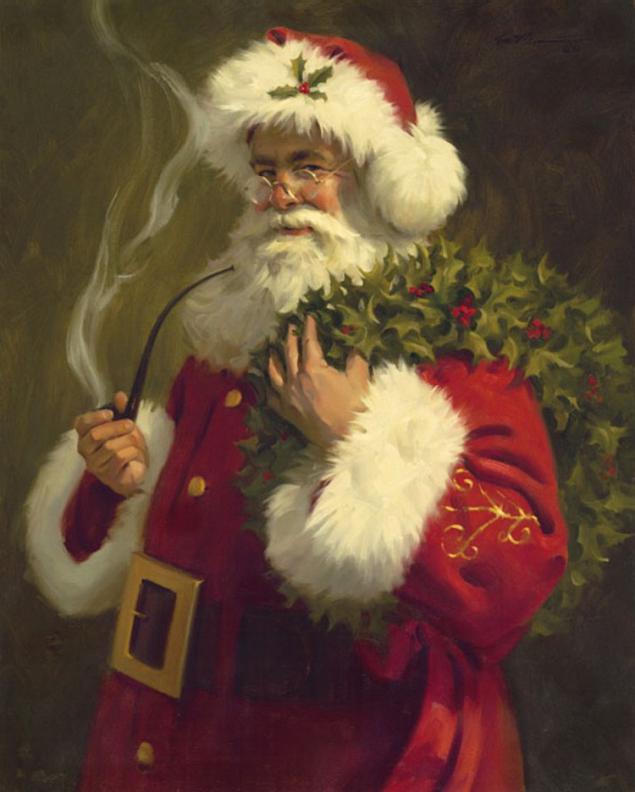 Norwegian Santa Claus - Yulebukk
This Norwegian-Swedish magician looks more like a gnome or goblin than Russian Santa Claus. His clothing consists of wooden slippers, knee-length pants, shirt, vest, golf and certainly the hood. He lives in a small house in the woods for a year tinkering and gifts, like a Norwegian and gnome loves porridge and beer. In December, he moved closer to the people. Rides on a cart drawn by lisami.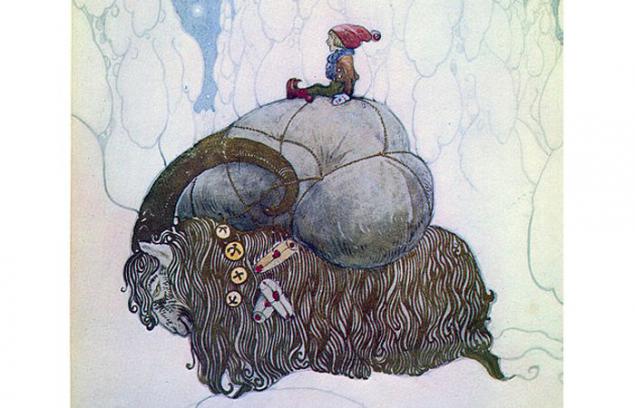 Irish counterpart of Santa Claus - Daidi on Nollaig
Daidi on Nollaig wears a long green fur coat (though they have everything in the green walk). He also has a staff, but, in contrast to our Grandparents Irish on his staff is not an icicle, and a bunch of herbs (a hint of nature to still grow in the spring), and instead of a hat on his head in Daidi wreath.
New Year's Eve little girls put under the pillow at bedtime various herbs - mistletoe, clover, ivy and even lavender. According to legends, it was New Year's Eve you can see your future supruga.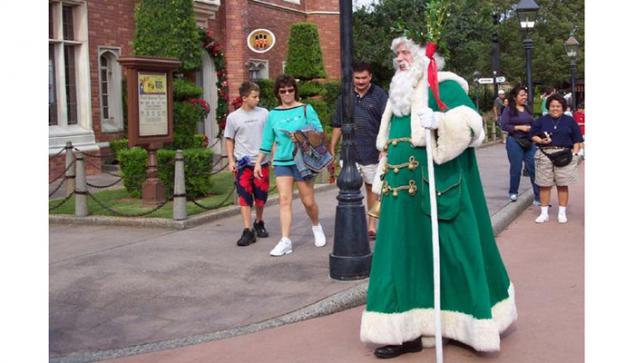 The Chinese equivalent of Santa Claus - Shan Dan Laozhen
In China, the name Santa Claus is simple and easy: Dun Che Lao Ren Shan or Tribute Laozhen. Despite the exotic name, the habits of the Chinese grandfather of the famous Santa Claus does not differ. New Year's Eve, he also comes to children's bedrooms and fills the stockings hanging on the walls presents. Dun Che Lao looks Ren as a wise old man: it silk robes, his long beard swaying in the wind, and he moved around the country riding on oslike.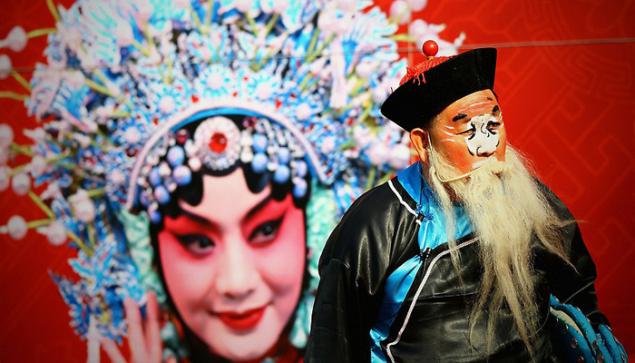 Colleagues from the Czech Republic - Grandfather and Grandfather Mikulas Ezhishek
First, Mikulas, carries gifts to kiddies from the Czech Republic, in his suite there is an angel and devil. Angel gives children gifts and sweets, and imp gives naughty kids embers and potatoes. And second, Ezhishek, endows small inhabitants of Slovakia. They are often confused because Ezhishek and Mikulas actually very similar, because they - bratya.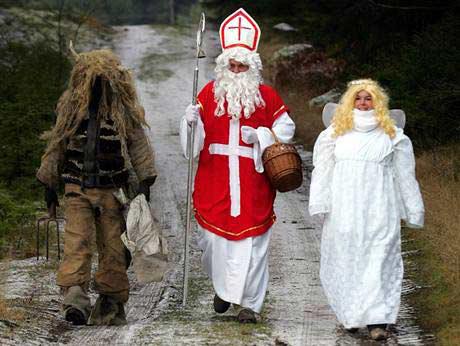 Africa
And, of course, everyone is interested in whether there is a Santa Claus in Africa? There Is. And call him Papa Noel, as in some countries in South America. Information only very little about him, he is the most secretive of all the Santa Clauses and no one knows exactly how Papa Noel looks. But his mission is the same as that of all other peers - to give children gifts and festive nastroenie.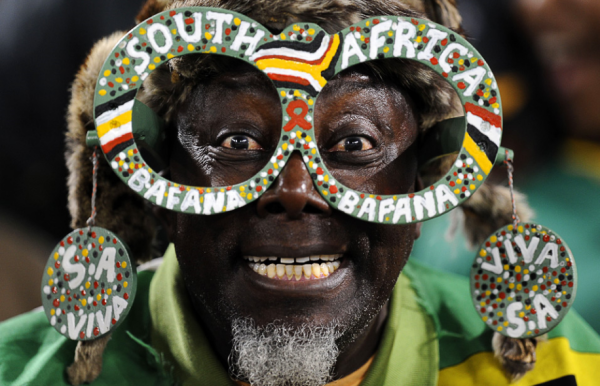 All good mood and happy holidays !!!