"Caviar of the poor"
so in Serbia called a cold appetizer, a national dish of roasted red peppers. At the peak of the garden-the summer season this recipe might come in very handy. The prepared mixture-spread it on bread (diet), pizza, or wrap in a tortilla, and you can add in fillings, stuffings (stuffed cabbage, etc.) or to enhance the taste of sandwiches, vegetable or meat dishes.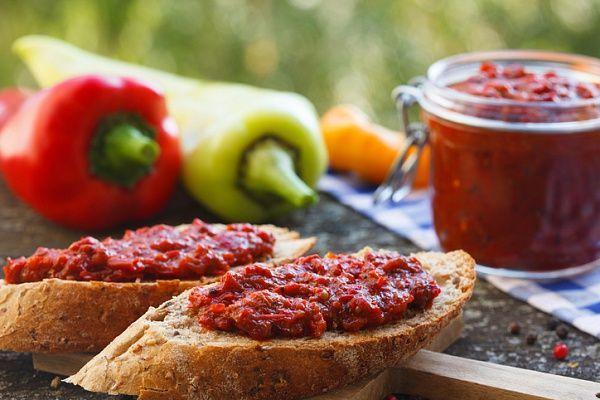 If you (like us) this summer was a great harvest of vegetables, it is possible to prepare Ajvar, and for the future by doubling the recipe and placing the finished product for storage in the freezer (carefully pre-Packed). At the right time will only have to defrost and let "the cause"!
8 servings
Ingredients:
1 kg small-sized eggplant
1 kg red bell peppers (about 5 pieces)
2 small chili peppers (optional)
1 tbsp lemon juice or red wine vinegar
1 tbsp olive oil, plus additional for serving
2 cloves garlic, finely chopped (about 2 tsp)
Fresh herbs, chopped (your choice: parsley, cilantro, Basil)
Black olives for serving (optional)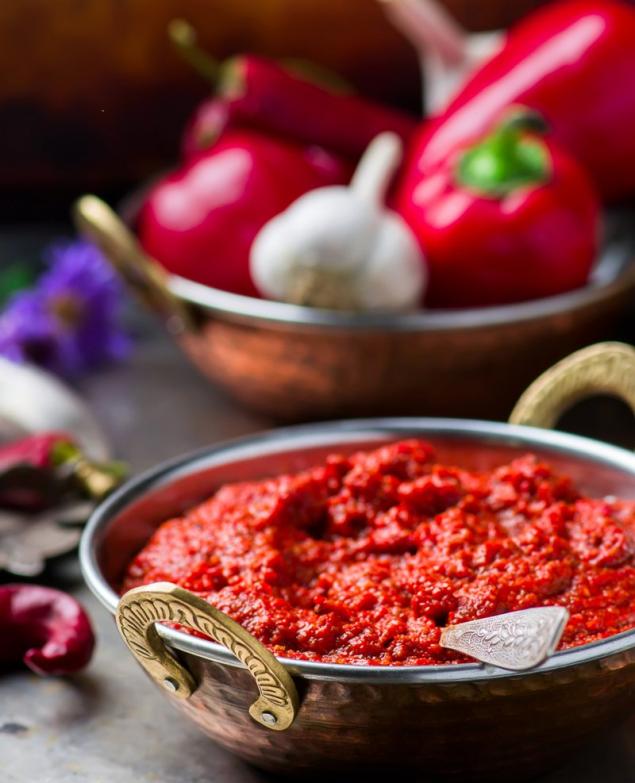 Preparation:you will Need a grill or oven (oven).
Heat the grill (or oven). Prick the eggplants with a fork. Bake each on the grill for about 40 minutes (or 30 minutes in a hot oven) or until the skin is blackened and the eggplant will be very soft. Allow to cool for about 10 minutes. Bake the peppers will take about 15 minutes each or until until their skins turn black and begin to "bubble". Thus it is necessary to turn the peppers every 5 minutes. Place in a bowl and cover tightly with a lid. If using chili peppers, to do the same with them. Stand on the grill for about 3 minutes. Place in a bowl and cover tightly. The cooled eggplant cut in half, pull out the pulp. All the seeds, skin and stems to throw away. The remaining flesh finely. There should be about 2 cups. Peppers peel, cut in half, remove the seeds and the stalk. Finely chopped. In a bowl, mix chopped eggplant and pepper, add 2 tsp of crushed pulp of Chile (if using), lemon juice (or vinegar), olive oil, garlic. Want to pepper and salt. Infuse to taste in 1 hour. Before serving, drizzle with olive oil, sprinkle with chopped herbs and black olives (optional). Nutrients: 1/2 Cup contains 88 kalorii, 5 g fat, o mg cholesterol, 12 g carbohydrates, 4 mg sodium, 4 g fiber, 2 g protein. Cook with love!  
Author: Irina Blinkova-Baker
P. S. And remember, just changing your mind — together we change the world! ©
Source: //rusamdiet.org/2013/08/09/%D0%B0%D0%B9%D0%B2%D0%B0%D1%80-%D0%BA%D1%80%D0%B0%D1%81%D0%BD%D0%B0%D1%8F-%D0%B8%D0%BA%D1%80%D0%B0-%D0%B1%D0%B5%D0%B4%D0%BD%D1%8F%D0%BA%D0%BE%D0%B2/