In war all means are good. With this statement I'm willing to accept all ladies, who in the struggle for a slender body using a range of tools and procedures.
Of course, without regular physical activity and correct nutrition for quick and visible results is not to hope, but with some methods will be able to somewhat speed up the process of observation cherished reduce numbers on the scales. Such additional funds applies bishofita bath salts.  
Bishofit: what is it?
Bishofit is a natural mineral formed from crystallised colourless fumes.
Today is actively used bishofita salt bath for weight loss.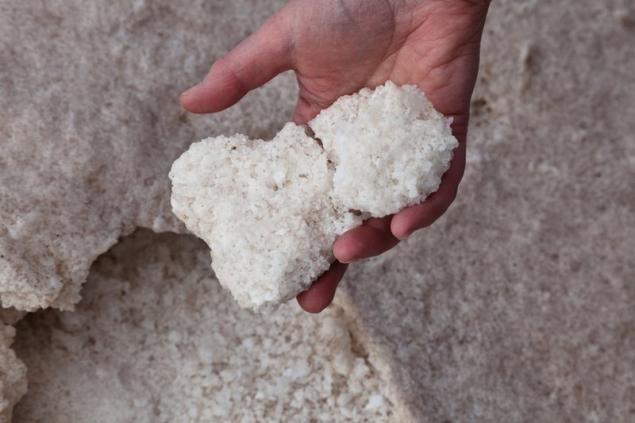 Just one treatment taking a bath manages to drop at least 500 g. besides a nice bonus to weight reduction is a noticeable improvement in the skin, getting rid of cellulite, stretch marks and aging.
As already noted, the composition bishofite salts are mineral compounds that support and maintain human health, catalyzing many biological processes.
Positive impact bishofite salt represented by:
activation of metabolic processes in tissue structures;


stimulating fat burning processes and improving the flow of lymph and cleanse the body of excess fluid;


by eliminating the signs of cellulite;


strengthening and tightening of the skin.


Bishofita salt: indications and contraindications
Bishofita salt with active fat-burning complex recommended for use not only to people suffering from excess weight. Thanks to its unique composition, this substance is considered to be a real boon in the treatment of many diseases.
Bishofita bath salts shown in the following cases:
various diseases afflicting the joints, including arthritis, polyarthritis, arthrosis, osteoarthrosis;


the disruption of the normal functioning of the nervous system (neuritis and neuroses);


inflammatory processes in the female genital organs;


diseases of the cardiovascular system.


List of contraindications:
the exacerbation of serious conditions;


allergic reactions;


the presence of signs of inflammation on the skin.


The list of contraindications is quite poor, but despite the fact that the risk – a noble cause,
before using bishofite salts for therapeutic baths it is better to consult a specialist.
Baths with salt bishofite: features of the procedure
For preparation of total bath designed for immersion of the whole body, you need bishofite salt is dissolved in water at a ratio of 250 g of substance in 100 l of liquid. Taking a bath is necessary only after the absolute dissolution of the salt that will be able to accelerate through turns.
To take a bath is not recommended more than 20 minutes,
after which the body should be washed under warm running water. During the procedure, you must carefully monitor the health and the appearance of characteristic signs of an allergic reaction, dizziness, or nausea immediately stop the procedure.
If side effects do not bother you, it is recommended to repeat the procedure every day, but so that the total number of repetitions did not exceed twelve.
Such procedures are quite useful, so in many medical and health institutions used bishofita salt baths. The sanatorium houses can organize everyone, because for this you only need to buy bishofit salt and to allocate no more than 20 minutes to the procedure.
And positive results in weight reduction and skin improvement will be the best reward for such a minor effort and costs. published  
P. S. And remember, just changing your mind - together we change the world! ©
Source: evehealth.ru/bishofitnaya-sol-dlya-vann-dlya-snizheniya-vesa/