Flip flops and a thick, warm threads — everything you need to create these wonderful boots! Of course, you need to have the crochet skills. After seeing this idea, I was eager to learn this skill even though I'm not so good with crafts. But
knitted his hands the shoes
looks amazing!
In the summer we wrote about the wonderful blue Slippers-moccasins, made in a similar way. Today — a warm and cozy winter!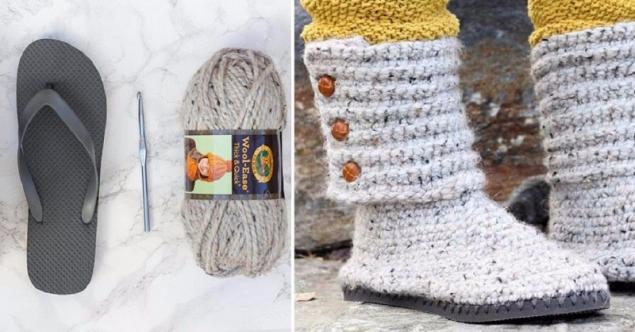 How to make shoes for his rugamite need
2 skeins wool yarn
rubber flip flops
hook
Shyla
3 buttons
scissors
Of course, in the cold in these boots will not work, even walk around a private home. Rather, it is a home version for the winter! But in spring and autumn it is possible to go outside the footwear looks amazing.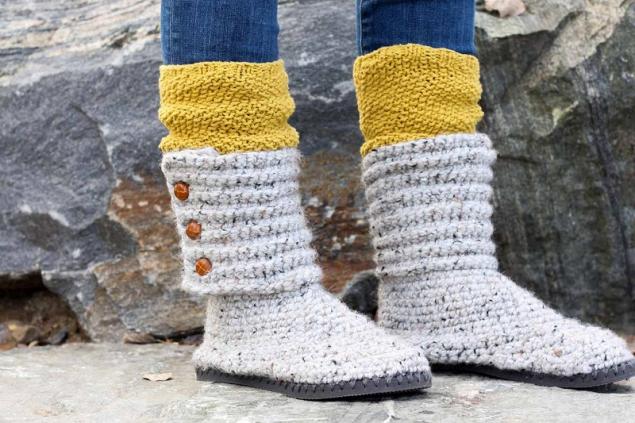 Stylish and affordable knitted boots! Here is where we start: the following will be more detailed instructions. If you already know how to handle hook, you should save yourself the manual for the future. I think it's a great gift idea!
Manufacturer
First you need to cut unnecessary detail flip flops, we will only work with the sole.




Make a marking, the holes are evenly spaced around the perimeter of the sole.




It remains only to tie the crochet sole! Below is a video which demonstrated the process. In the end will only have to attach the buttons, and the original shoes are ready!




Well, how can you not want to associate such beauty? I hope the videos will help you create a unique thing, because these shoes will not be anybody else.
What a tempting idea! Why not connect these Slippers to a child? Share with friends is an amazing example of how the old flip flops can turn into a wonderful knitted shoes. Praise the Golden hands that can do everything...
Now everyone can publish articles
Try this first! To WRITE an ARTICLE the Author

Alexander Klimchuk Since childhood, interested in medicine, grew up in a family of doctors. Knows how to make a fancy Breakfast out of nothing, is not afraid to experiment in the kitchen, making pies without flour, low-fat mayonnaise, healthy sweets. Never give up and believes that people are created to help each other! In all its domestic Affairs the assistant to the son Sasha. Alexandra's favorite book — "the Art of loving" by E. Fromm.