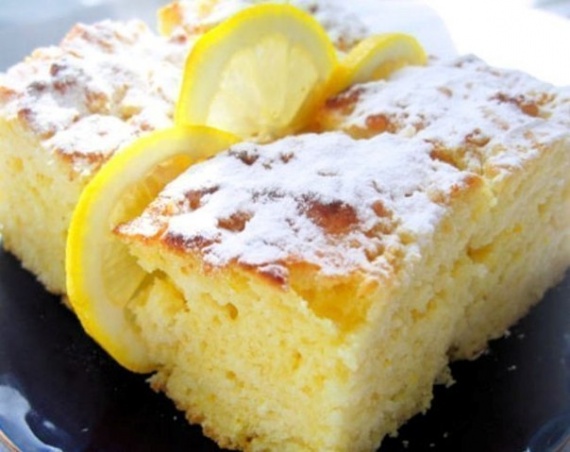 Ingredients:
200 g butter
150 grams of sugar
1 sachet of vanilla sugar
salt  
3 eggs
2 lemons
250 g flour
2 teaspoons baking powder
150 g of powdered sugar
1. Preheat oven to 200 gr. Whisk in the butter cool foam, sequentially adding a sugar, vanilla sugar, salt and eggs. One lemon to wash. pat dry, rub the zest and squeeze the juice. Juice and zest add to the sugar-creamy mass. Mix flour with baking powder, sift top of creamy mass, all thoroughly.
2. Baking grease with butter, fill the dough, smooth and bake in the oven for about 20 minutes.
3. Remove the cake from the oven. From the second lemon squeeze the juice and mix with powdered sugar. Grease the cake is still warm glaze. Completely cool, cut into slices and serve.