Everyone always tries to take care of their working tools. This applies to photographers and their main tool – the camera. One of the most important things for saving camera lens in good condition, is the lens cap. However, her loss is a common problem for the photographer, as because of the small size its easy to lose.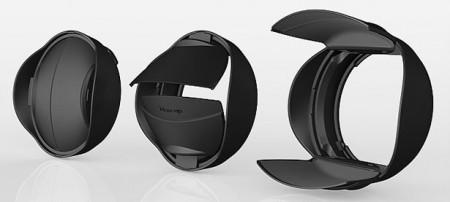 Blend is also a very important accessory of the camera. It is a convenient tool to combat sun glare and other similar problems that may arise in difficult lighting conditions and thus affect the results of your photography. This is one of the tools that affect the elimination of the parasitic light and to improve the quality of the image.
Blindcrake Hoocap is an innovative product of the Taiwanese manufacturer, which combines the functionality of both of these items, lens caps and lens hood, giving you the confidence that the lens cap will never get lost. In addition, this accessory is able to significantly speed up the shooting process, allowing you to take/wear cover every need, but simply transform it into a blend. This is something that can be called smart and practical product.

At the moment it is a useful product not just a concept, but the finished product is available for sale. Yet to buy this accessory only for the lens CANON EF-S 17-55 mm F2.8 IS USM for $49, but in development there are similar products for some other lenses from CANON, LEICA, NIKON, and SONY.
So soon the owners of all the cameras will be able to evaluate the convenience and functionality of this product that can help to both Amateurs and professionals in their favorite sport.

Source: /users/104