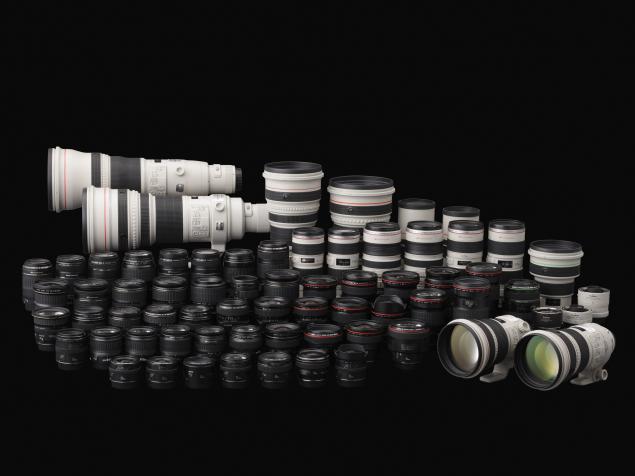 If you are the lucky owner of an SLR camera, the lens becomes a matter of choice of particular relevance. There is a very large number of lenses that can be used successfully for different types of shooting. The correct choice depends on the quality of the optics of the image itself, and the opportunity to do one or the other picture. It is not always possible to do only one lens. Read this article and you will see that the possibilities of photography with different lenses are virtually limitless. So, let's see what you can choose from lenses for Canon cameras.
Lenses can be autofocus and neavtofokusnymi. Autofocus is convenient in that you do not need to manually adjust the focus. Manual focus - a loss of time and efficiency. And if a person has problems with vision, focus manually is very difficult. Or if the camera viewfinder is small, as, for example, Canon EOS 350D, then manual focusing is also not easy. Manual focus can be justified in the studio when recording of the static subjects - landscapes, architecture, still lifes. Most modern lenses have a high-speed autofocus.
Lens focal length is the distance over which the film or sensor is removed from the optical center of the camera lens. Than it is closer to the sensor, the wider the field of view of the lens, which forms a diagonal matrix and the optical center of the lens.
Canon
allo.ua/ru/products/34/proizvoditel-canon/
the first in the world to use in their lenses ultrasonic motor - USM (Ultra Sonic Motor). The rotation is due to the energy of ultrasonic oscillations. USM-motor provides high focusing speed and quiet operation, which is especially important when shooting wildlife, theaters, galleries - in general, where the excess noise is extremely undesirable.
Zoom lenses
Zoom lenses - a lens with a variable focal length, and the so-called "fixes" - a lens with a fixed focal length. Consider what the advantages and disadvantages of both.
The range of Canon lenses is very extensive
The range of Canon lenses is very extensive
Lenses with variable focal length allows you to zoom the objects accordingly decreases the viewing angle. Zoom lenses are convenient to use, since it does not need to constantly swap lenses with fixed focal length. Rotate the lens ring you immediately approaching object and can be removed, for example, close-up portrait, squirrel on a tree, and the wide angle shooting interior or landscape. These lenses are versatile, very easy to work and irreplaceable when you need high efficiency: reportage, wedding photography, shooting objects of different sizes, etc.
Lens with a fixed focal length lens has no optical zoom capabilities. And to remove the object close-up, or, conversely, to put around other objects, you need to get closer or move on. In other words, zoom accounted feet.
Typically, the image quality "fix" -obektivov much better than the budget zoom lenses with a relatively low cost. The main advantage of budget zooms - low cost, light weight and versatility. However, as they say, that is universal, it is enough to rough. Budget zoom lenses purchased in the case where there is no possibility at once to take good quality optics, even when there is no complete certainty in the kinds of shooting, as well as for educational purposes. Easy, cheap and versatile zoom lens can come in handy on vacation, a tourist trip, when there is no opportunity to carry a set of lenses. Also a zoom will be useful for those kinds of shooting when not supposed high-quality printing in large formats. Print small print, 10x15 and 15x20 cm, will fit almost any zoom lens.
Lacks many budget zoom: low resolution, poor sharpness, geometric distortion, vignetting, chromatic aberration, and other "charms", which noticeably conspicuous when compared with expensive wallpaper "glass" or "Fix", particularly at high magnification.
Budget Zuma pretty universal, but the picture is not of the highest quality
Budget Zuma pretty universal, but the picture is not of the highest quality
Often, these lenses after intensive use is collected in the dust, and after some time will have to contact the service center for cleaning. The design of some of the budget zooms insufficient quality and after intensive use they are "bumped", begin to play. But the most important difference though is how to "draw" the object. If the resolution of the optics can be measured in pairs of lines per millimeter, the beauty of the technical parameters of the image is difficult to describe. It can only tell you - a beautiful picture or not.
From budget zooms to begin with and with limited financial capabilities can recommend the following.
Canon EF 24-85 f / 3.5-4.5 USM II ($ 300, 380 g) - lens delivers picture quality is decent. Optimum quality / price ratio.
The following objects has long been the standard "average" zoom for poor photographers. There are several variations on this model, the figures II, III, etc. in the title indicate the version number, they differ advanced features: Canon EF 28-105 f / 4-5.6 ($ 95, 210 g); Canon EF 28-105 f / 4-5.6 USM ($ 160, 210 g); Canon EF 28-105 f / 4-5.6 II USM ($ 170, 210 g); Canon EF 28-105 f / 3.5-4.5 II USM ($ 250, 375 g).
Less popular Zuma following: Canon EF 28-80 f / 3, 5-5, 6 ($ 112, 220 g); Canon EF 28-80 f / 3, 5-5, 6 II ($ 99, 220 g); Canon EF 28-80 f / 3, 5-5, 6 V USM ($ 160, 220 g); Canon EF 28-90 f / 4-5, 6 ($ 60, 190 g); Canon EF 28-90 f / 4-5, 6 II ($ 150, 190 g); Canon EF 28-90 f / 4-5, 6 III ($ 130, 190 g); Canon EF 35-80 f / 4-5, 6 ($ 80, 175 g); Canon EF 35-80 f / 4-5, 6 III ($ 80, 175 g).
Amateur SLRs such as the Canon EOS 350D, just completed fiscal zumami
Amateur SLRs such as the Canon EOS 350D, just completed fiscal zumami
7x versatile zoom Canon EF 28-200 f / 3.5-5.6 USM ($ 440, 500 g) was soundly executed, works very quickly and confidently focus. However, for digital camera, it is not enough optical resolution, the image is soft and devoid of high detail. This lens is more appropriate for a film camera.
Remember: the large range optical zoom ratio varies in the lens, the harder it is to keep it technologically manufacturer image quality within acceptable limits.
High quality optics, lenses L-series
These lenses are designed primarily for professional use and for a very dedicated and experienced amateurs. What are their advantages? They provide good, often simply gorgeous picture. They are beautiful and true to the image, and in that case, if used on cameras amateur class - Canon EOS 300D / 350D.
Most of the L-series lens is protected from dust and moisture. This is important when you are shooting a lot, in different conditions - a month or two shooting the usual "public sector" in the desert force to reflect the acquisition of L-series. Optics of this class is made more qualitatively, has a high margin of safety and reliability.
Optics L-series contains special optical materials such as fluorite, or ultranizkodispersionny сверхультранизкодисперсионный element.
Professional cameras (photo Canon EOS 5D) show the best quality, of course, with professional series lenses L
Professional cameras (photo Canon EOS 5D) show the best quality, of course, with professional series lenses L
One time to spend on such an object, you'll have fun for a long time as most of the shooting, and from the obtained images. Colour rendering them very reliable, the picture in the photo just pleasing to the eye. But their weight and dimensions are often quite large in comparison with the budget optics. Of course, you can use lenses amateur class - they are smaller, lighter, cheaper, but inferior in quality and performance.
High quality image will provide universal fast lens Canon EF 24-70mm f / 2.8L USM ($ 1360 950 g) This is really a very good glass. But we must take into account that it has enough weight and dimensions.
Lenses with fixed focal length
Lenses with fixed focal length lenses are more durable, they practically do not collect dust. Most of the "fixes" actually provides a high quality image. As a rule, many of them less than all kinds of distortions, the picture more clear and distinct. But very often interchangeable lenses leads to the appearance of dust on sensor cameras, lenses and contact contamination.
"Fifty" - a universal lens
The joystick provides access to frequently changing parameters - ISO, white balance, resolution and aspect ratio
It makes sense to buy a lens with a fixed focal length, when you decide that it will take most often. For example, if you are photographing a picture, then zoom here is not the best decision. Far better is to buy "fifty dollars", the lens with "average" 50mm - its focal length is consistent with the view of man - the objects in the photo will be such as you see them. Most museum fotoshedevrov filmed just this lens. However, when you install the lens on a digital camera should take into account the crop factor, which for the camera Canon EOS 350D, for example, be 1, 6.
For example Canon EF 50 1.8 mm (130 g), worth about $ 90 - quite a good option. It will provide a pleasant color, sharpness and correct proportions, which is important for shooting paintings, drawings, geodetic plates etc. A better lens Canon EF 50 1.4 USM ($ 360, 290 g) has a high aperture ratio, which is an advantage when shooting in low light conditions. More on the image it provides smooth tonal transitions, pleasant background blur and constructively significantly better than Canon EF 50 1.8 mm, besides workmanship glasses are much higher. This lens is well suited for portraits "on the belt." It would not be a mistake if you start your way into the picture it was with him as it to some extent universal lens.
If the time in the process of shooting enough to come closer, and vice versa, as well as space allows you to move, then it may well be used as a standard lens. Very good option for both the beginning and for general shooting. And thanks to the high luminosity and is perfect for night shooting.