Yesterday in the studio «ISO» company «Leica» presented its new camera «S2» - is a SLR camera with a CCD sensor 56% more complete format, ie 45 x 30 mm and a resolution of 37, 5 megapixels. The new image processing system Maestro provides the speed, twice as large as in medium-format digital backs, and low power consumption.
Review of 20 photos via Ilya Varlamov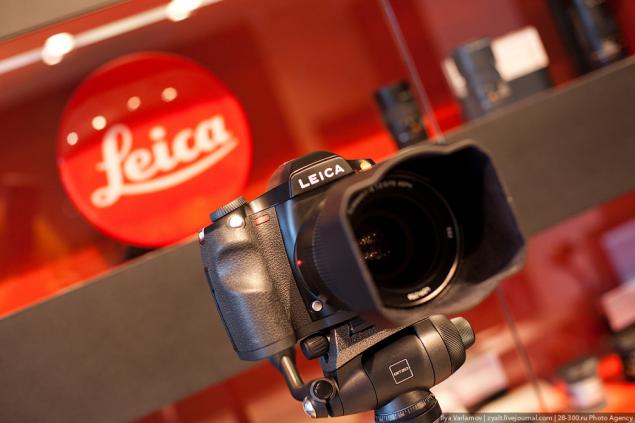 In Moscow, brought the two chambers, they came here in this suitcase.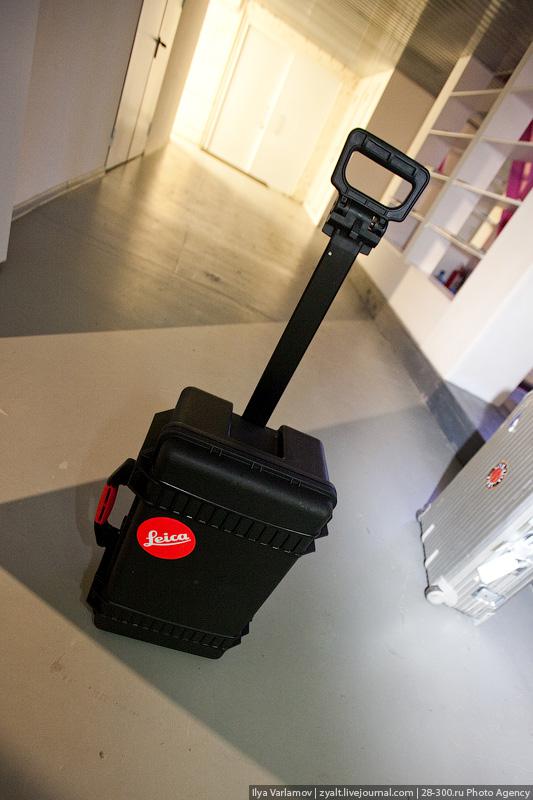 The new camera will be available in two versions: «Leica S2» and «Leica S2-P», the latter is characterized by a sapphire crystal and improved service, for example, if you break the camera at the time of repair you will be given for the replacement of the same.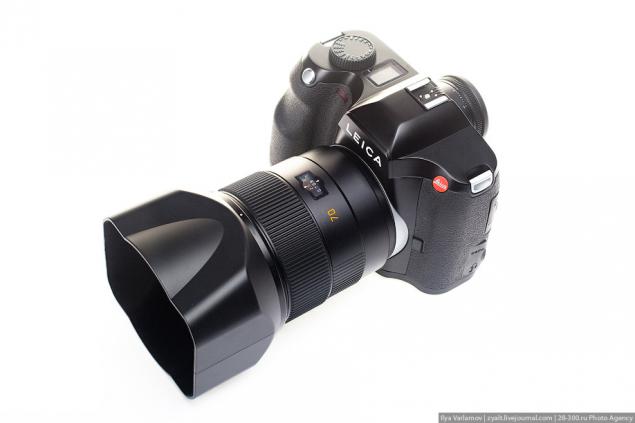 High performance is achieved by using two embedded processors, Fujitsu FR-80 and FR-V (with the architecture VLIW), and auxiliary accelerators. The new system will be the basis for future models of Leica, and will be implemented in devices Fujitsu new generation. According to the company, the platform will provide a stable development of image processing systems in the future.
As an image processor, «Leica S2» uses special development company Fujitsu - «Maestro», specially commissioned by the «Leica». This allows «S2» take pictures much faster with a minimum expenditure of energy.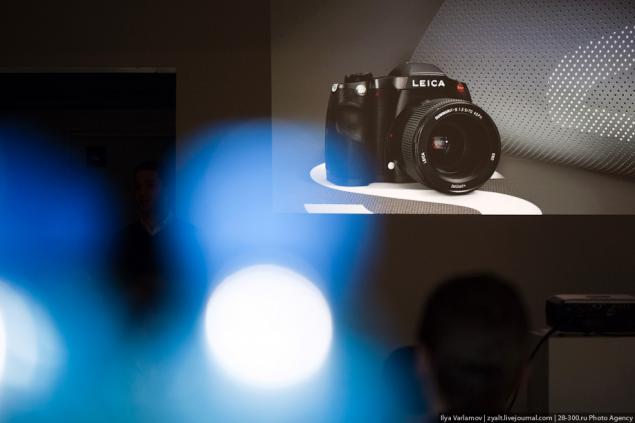 In addition to the new sensor developers have implemented a number of innovations, including a dual system of gates to improve speed performance camera and synchronize the camera and flash, high-precision autofocus system, image processing system Maestro, doubling the speed of data from the sensor, reducing energy consumption and so on.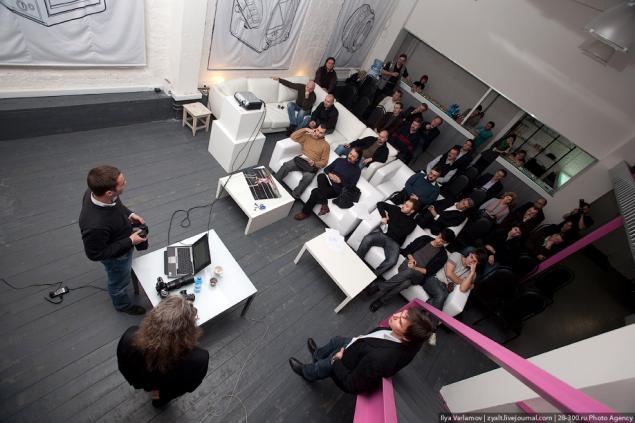 Specifications:
The matrix of 30 by 45 mm (37.5 megapixels, which is 56 percent more than the full-frame digital SLR camera) that allows you to capture resolution of 7500x5000 piskley.
The range of ISO: 80 to 1250.
Data format: DNG takes 75 megabytes 1 file also has a JPG.
Memory cards: CompactFlash (up to 64 GB), SD (HC).
Burst rate: half frames per second.
Buffer: The camera has a buffer size of 1 GB.
Screen: a three-inch high resolution screen. The screen is bright and has a viewing angle of 160 degrees.
Shutter: The camera has two shutter. The shutter in the camera has a range of shutter speeds from 1/4000 second to 32 seconds, and some lenses have a valve with a range of 1/500 to 8 seconds, synchronize cameras with flash at speeds up to 1/500 sec.
Battery: Battery lasts for 1000 shots.
Dimensions without lens: 160h120h80
Weight: 1410 grams with battery.
The camera dustproof and WATERPROOF.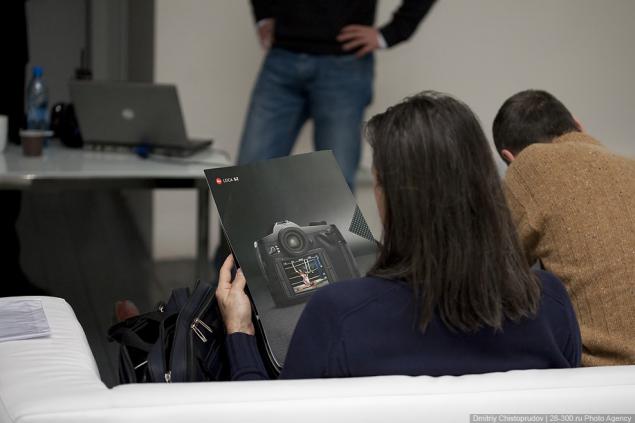 I seemed not very comfortable with the idea of ​​4 buttons. As you can see in the photo, the camera takes control of all 4 buttons and a wheel. All buttons are programmable, you can customize them for yourself, but for the additional functions will have to go into the menu. It lacks the joystick to move the picture after the increase in watering it happens through the selection of the axis of movement.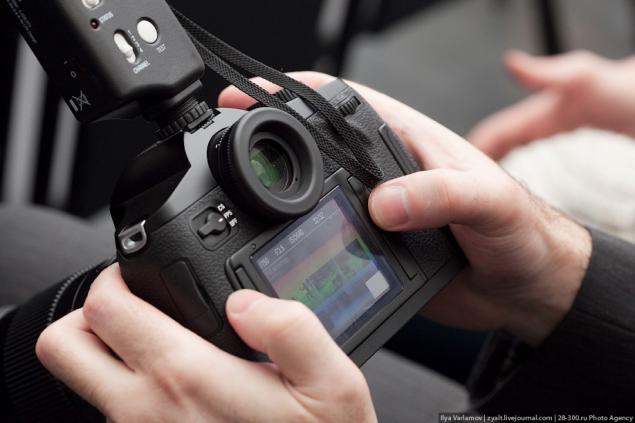 The range of lenses for this camera will consist of a 24 mm wide, 30 mm Tilt-Shift-lens, 35 mm wide, 70 mm, 30-90 mm zoom lens, 100mm telephoto macro lens of 120 mm, 180 mm and 210 mm telephoto telefotooptiki .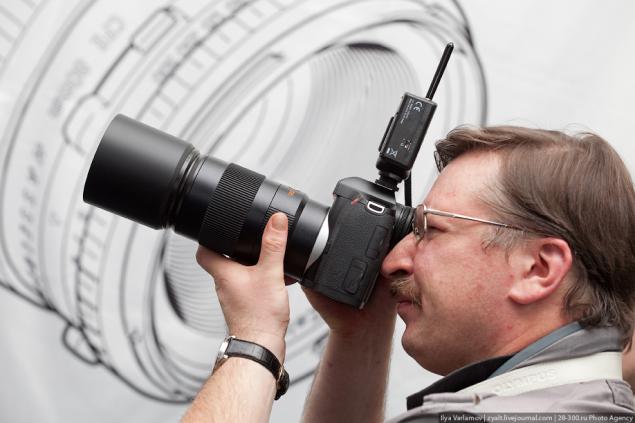 This year, for the «Leica S2» will be released just four lens:
Summarit-S 70 mm f / 2.5 ASPH
APO-Tele-Elmar-S f / 180mm
APO-Macro-Summarit-S 120mm f / 2.5
Summarit-S 35 mm f / 2.5 ASPH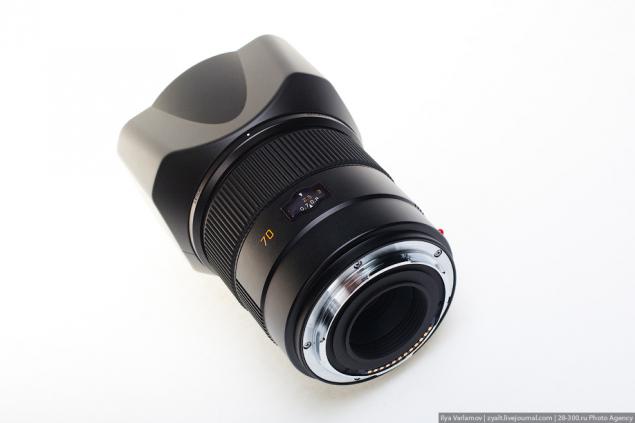 In addition to the standard version of the S-lenses will be available with the prefix CS. They will be integrated proprietary technology «Leica» - central shutter (leaf shutter), which allows to synchronize cameras with flash at speeds up to 1/500 sec. All S-Series lenses are equipped with a microprocessor, is responsible for accurate focusing, at any time, the user can switch to manual focus.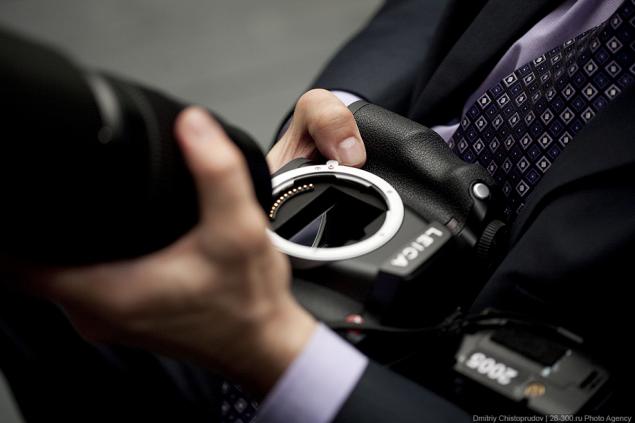 Wheel with a choice of exposure. Beneath the shutter button.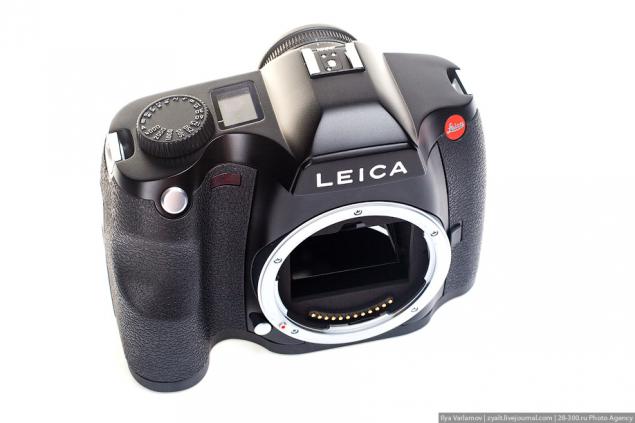 Somehow, in the life of the camera it looks a lot better than in the photo. Initially, when I looked at pictures of her on the Internet, I found it not very nice. Yesterday, at first I thought it was all the other camera. Excellent quality of execution, it is a pleasure to hold such a camera in his hands. I liked that, too, on the lenses there is nothing superfluous, no extra notches and labels, simple and very good.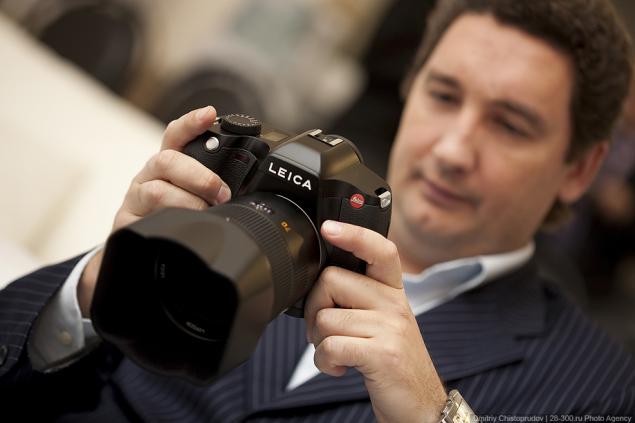 All those wishing to give test chamber. And we tested it. I made a number of images at different ISO, with different settings make it possible to lay out here for comparison. Unfortunately, after returning home, I found that my memory card is empty. By default, the camera takes an SD card instead of my CF. Therefore, I propose to see samples of pictures on the
www.dpreview.com/gallery/leicas2_samples/
. As can be seen from the examples, at high ISO image quality falls, though not as much as at Hasselblad.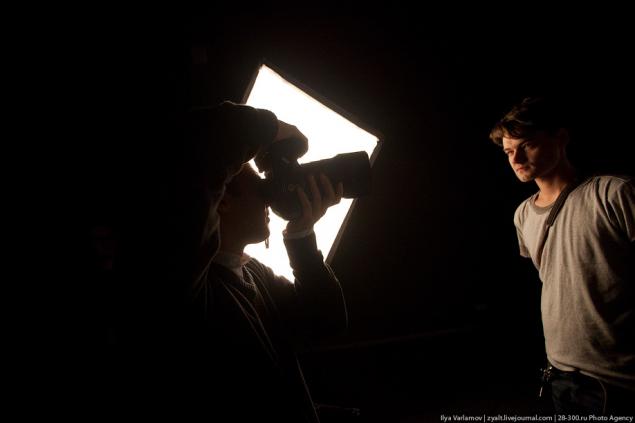 The closest competitors are the new growths «Hasselblad H3D», «Leaf AFi», «Phase One». The main difference from competitors that «Leica» tried to fit the replacement of medium format in the form factor of the same professional SLR. Who uses «Hasselblad» or «Mamiya» with digital back knows that the main disadvantage of these cameras - it's a great size and weight, work with them without a tripod uncomfortable about ergonomics there is generally no one speaks. Watering is done in the case of a magnesium alloy, it can be easy to take on-site shooting, she is not afraid of water and dust.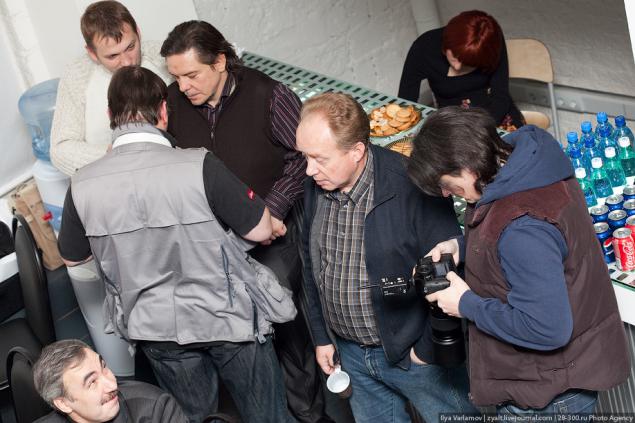 The sale of the new Lake appears at the beginning of December. The most interesting - this is the price:
Normal version - 920 000 p.
P-version with a sapphire crystal and platinum guarantee - 1,095,570 p.
Lens 70 mm - 177 660 p. (with the gate 231 000 p.)
Lens 180 mm - 260 000 p. (with the gate 296 000 p.)
120mm macro lens - 260 000 p. (with the gate 296 000 p.)
Lens 35 mm - 207 000 rub. (with the gate 243 000 p.)
Run-unit - 14 800 rub.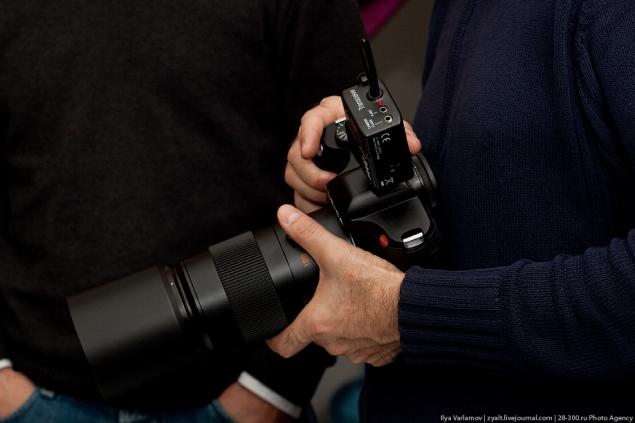 I think most would dispute over the price. Lake has not released a very expensive camera, Leica always worthwhile. This name with nearly a century of history, has always made the best Leica rangefinder cameras, which until SLR enjoyed great popularity among the reporters. Watering is the first mass 35 mm camera. Her first prototypes were created in 1913 by Oskar Barnack. Barnak used the cinematic standard 35mm film, but with an image size 24x36 mm, and the aspect ratio of 2: 3. Word Barnaka "Small negatives - large photos» largely predetermined the further development of photography. Many cameras have become collectibles, auctions on the Internet, you can find copies of which are used in the finishing of precious metals and stones.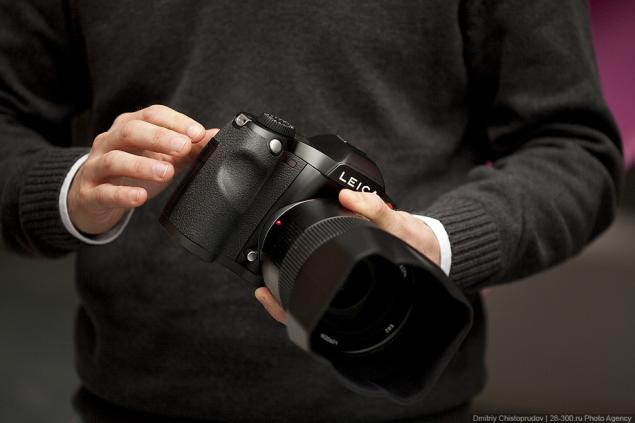 On whom designed a new camera? The first is the fashion industry, advertising, architectural and interior photography. Where necessary to obtain an image of good size and quality. And most importantly, where there is money for a camera))).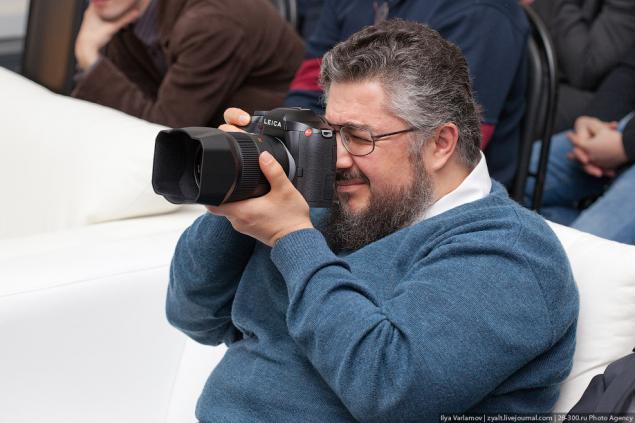 Compare with my Canon 5D Mark II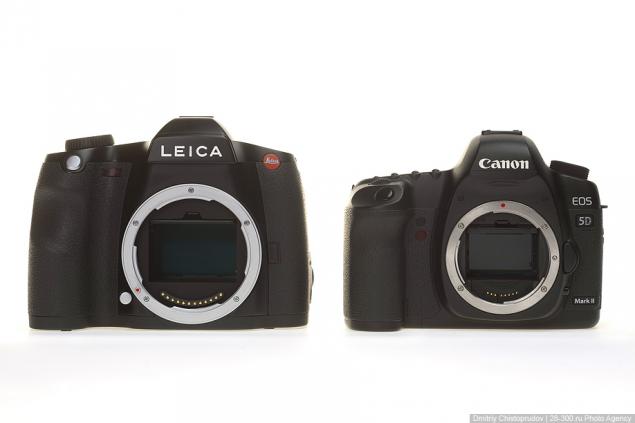 Dima Chistoprudov: "I do not know why, but I immediately had the impression that I am holding" Lexus. " By design, the camera very much. That relationship with the ergonomics were on "you", it is very much different from the Kenonovskoy.
Most of all, of course, impressed resolution obtained the photos! »
Source: