What is "household archaeology"? – A search among the huge piles of textiles, are throwing, matching instances of clothing – with their subsequent transformation into incredible works of art. This is what blows American artists of Cuban origin, "War and Peace" (Guerra de la Paz). The funny thing is that the name of the creative Duo formed spontaneously: just from a combination of the names of its members — Elaine Guerra (Alain Guerra) and Heraldo de La Paz (Neraldo de la Paz).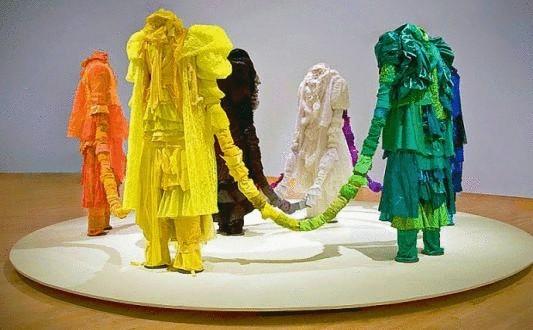 As befits a creative group with the same name, the talented artists are not afraid in a big way to raise big, serious themes through his works many interesting comments on socio-political issues. And at the same time, they point to the shortcomings of modern consumer society to make audience kriticheskii to evaluate their personal practice, at the same time helping to meet the challenge of recycling old clothes.
Elaine Guerra graduated from the art Institute of Chicago, and his future colleague, Heraldo de La Paz, a diploma in painting at Northern Illinois University. After a brief meeting in Chicago have come together in the views of the artists went to Miami and then to Haiti — and now, 16 years enthusiastically work side by side with each other. What attracted them here? It turns out that even with the 60 years of Miami exported used clothes to Haiti — "Guerra de la Paz" was hoping to find here some unnecessary "raw material" for their work. Their hopes were justified – and even more than...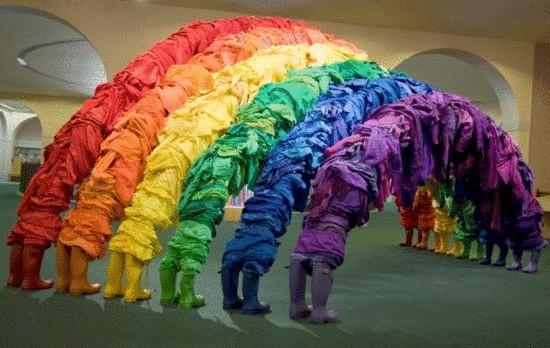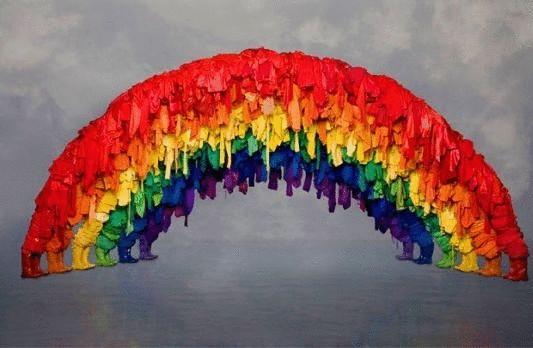 Artists were amazed by the incredible garments that were Packed in large containers and transported by ships to Haiti. Moreover, all these enormous piles of rags were not just hand-me-downs — are found here in abundance could be found "remnants of a global overproduction": not sold new clothing from fashion collections, abandoned shopping malls, and full of "eyeballs".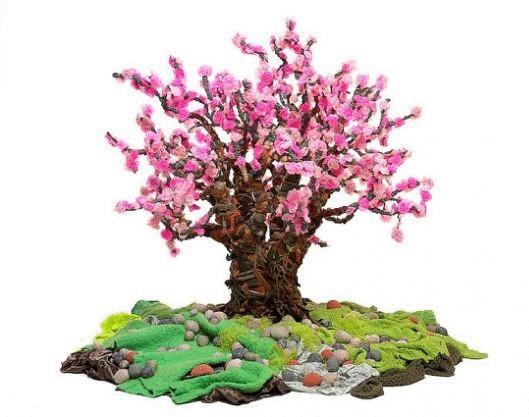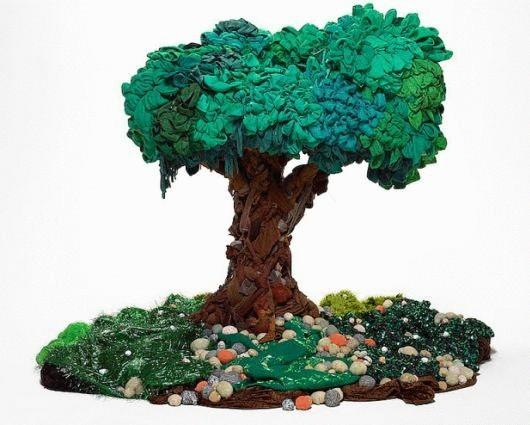 But, in addition, not all the clothes are in high demand among Haitians – they choose only the most beautiful and fashionable things, while ignoring the many t-shirts, sweaters with beads, ballet tutus, socks and other things all the abandoned junk. The latter, of course, goes straight to landfill – where "hunt for inspiration," "Guerra de la Paz".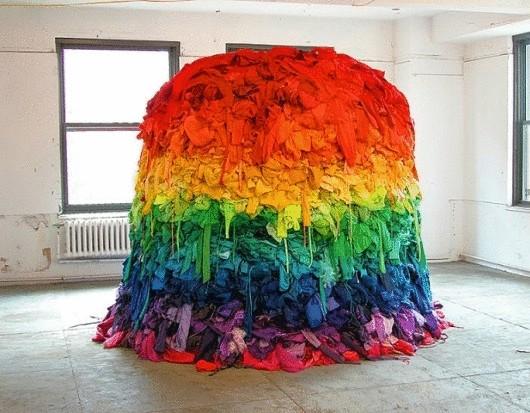 Among this abundance of artists were attracted by the range of colorful flowers of different texture, luster and play of fabrics. In 2000, they began to collect and sort unwanted colors, and after only a few years had enough material to create large-scale installations in 2002 was the debut of the "Guerra de la Paz", after which their work began to exhibit in museums across America.
"All this was destined to become part of the landfill, and we thought it would be cool to create textiles from these surreal landscapes" — told colleagues in an interview. — "In his work, we rely on natural cyclical model, the dichotomy of life, exploring the psycho-social problems, scientific theories and history of different cultures. We also believe that the sculptures of clothing carry great symbolic load of things to tell me – they are metaphysical only by the fact that each thing has its own history, and it bears the imprint of their former owners."
Stories hidden in the pile of clothes, actively interested in the rich collectors and patrons – so no profit after such exhibitions of the "Guerra de la Paz" also does not remain. Meanwhile, spring is coming, and soon wing cabinets throughout the Northern hemisphere and to swing open under evaluate the views of others: "isn't it time to update your wardrobe?" Well, thanks to an international creative tandem we have a fresh idea about what to do with old clothes!
Source: /users/104