The film festival "Kinomedia" invites you to movie night on journalists – Kinomedia Movie Night. It will be held on November 9, 2012 in the cinema "Odessa-Kino" (shopping center "Ukraine", prospect Pobedy, 3).
Night free screenings of films about journalists
November 9, beginning at 22:30, ending at 6:30.        Admission is free!
Place: cinema Odessa-Kino, Victory Avenue 3
The program Kinomedia Movie Night:
"The big game" (2009)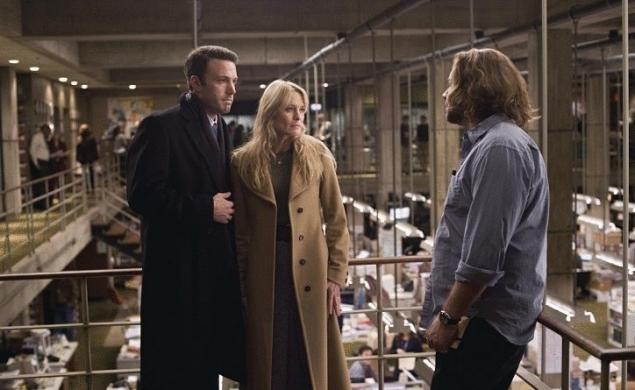 Starring:
Russell Crowe, Ben Affleck, Rachel McAdams, Helen Mirren, Robin Wright, Jason Bateman, Jeff Daniels, Michael Berresse, Harry James. Lennix, Josh Mostel.
American journalist McCaffrey investigates a series of brutal murders. One of the victims becomes the mistress of a prosperous Congressman Collins, a longtime friend McCaffrey. The clues opening before chain journalist monstrous conspiracy leading to the highest political circles of the country. The people with whom he will have to deal with, turn their billions of dollars and not used when in their case interfering outsiders.  
"Radio day" (2008)
Starring:
Rostislav Hait, Leonid Baratz, Alexander Demidov, Kamil Larin, Mikhail Kozyrev, Nikolai Fomenko, Ilia Lagutenko, Georgi Martirosyan, Emmanuel Vitorgan, Maxim Pokrovsky.
One day in the life of fashionable Moscow radio station. Not the best day — breaking down all the plans, everything goes wrong... And in that moment, when at the station live here-here should begin "live" a marathon, popular Russian rock band will come on the air to support... however, it doesn't matter, because the theme of the marathon is intercepted by competitors and actively discussed on air "enemy" radio station. But the marathon can not be undone!  
"Good night, good night!" (2005)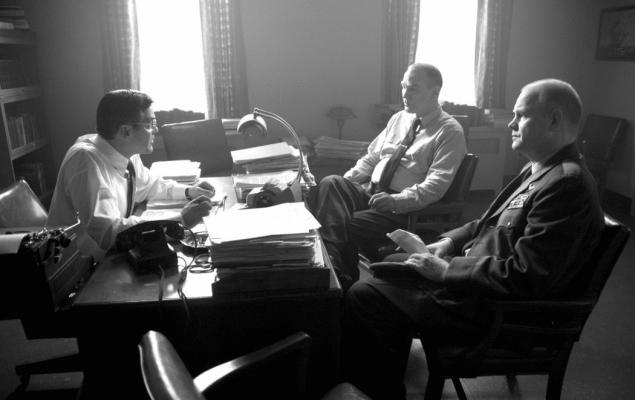 Starring:
David Strathairn, George Clooney, Robert Downey Jr., Patricia Clarkson, Jeff Daniels, Frank Langella, Tate Donovan, Alex Borshteyn, ray wise, Robert Napper.
In 1953, the American journalist Edward Murrow unleashed live on a real war against an ardent anti-Communist, Senator Joseph McCarthy. In response, McCarthy staged in the country "witch hunt," he accused Murrow in sympathy with the Communists. But upholding the democratic rights of the American journalist became the beginning of the end the odious policy...
"Anchorman: the Legend of Ron Burgundy" (2004)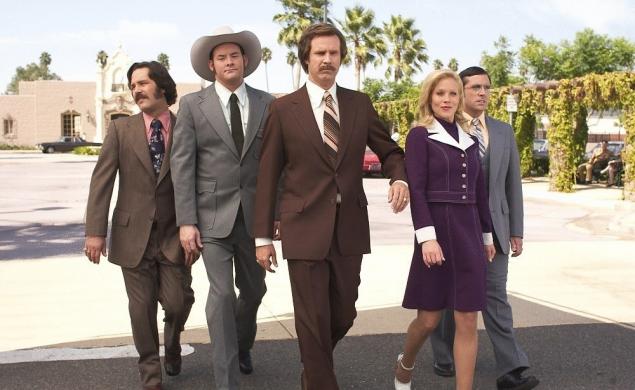 Starring:
Will Ferrell, Christina Applegate, Paul Rudd, Steve Carell, David Kochner, Fred Willard, Chris Parnell, Kathryn Hahn, Fred Armisen, Seth Rogen.
Ron Burgundy, the most popular anchorman of the 70's in San Diego, who believes that women have a place in the Studio only if they talk about fashion, or share the latest recipes.
So when Ron finds out that will work with a young TV presenter is beautiful, ambitious and smart enough to become not only an ornament of the screen — is not simply the collision of two bright professionals, this is the real war!  
Source: /users/104