Now almost everyone has a mobile phone, and some people there can be even several according to the number of pockets on clothing. However, few of us stop to think about negative phone radiation. Although scientists are still not exactly appreciated the danger posed by the constant wearing of the phone close to the body, yet think about it would cost. And take on the role of a developer of one of the possible solutions to this problem, decided the staff of the National Chao Tung University (National Chiao Tung University) in Taiwan.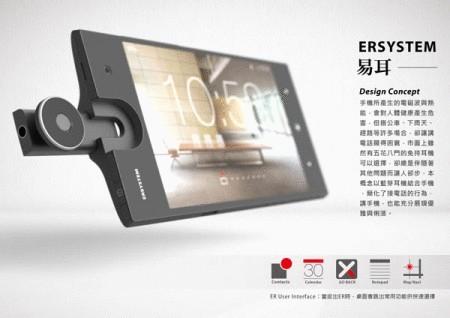 They came up with a concept smartphone called the ER. In this phone instead of the traditional dynamics in the case included removable Bluetooth headset that combines a microphone and earphone. Thus, this smartphone can be used in a standard way, bringing-to-face conversation, and if necessary to just take out the headset and talk hands-free. Moreover, at a time when this headset is equipped with its own battery attached to the phone, she recharged.
The smartphone has a quite normal size (128mm long and 64 mm wide) and equipped with headset Jack and a 3.5 millimeter connector, which can also be used to connect a wired headphone when you just want to listen to music.
Of course, this concept cannot completely eliminate the negative impact of the phone on your health, but at the moment it is great and quite a clever solution, capable to satisfy not only those who are having a hard time with phone harmful radiation, but also people who prefer to use the phone with hands, but sometimes still forced to use wireless technologies, such as in the case when you maintain a conversation driving. As always, simply brilliant.
Source: /users/104