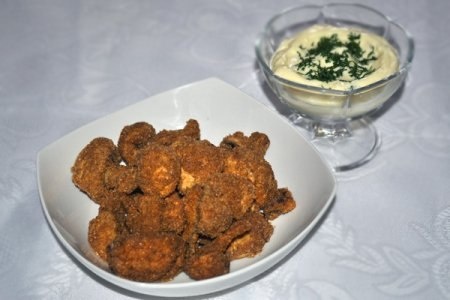 Ingredients:
 - 300-400 g mushrooms
 - 2 eggs
 - 50 g breadcrumbs
 - 400 ml of vegetable oil for frying
 - Garlic - the number of taste
 - Mayonnaise  
First we need to thoroughly clean the mushrooms. To do this, they can be wiped with a damp cloth. If mushrooms are not large, you can not cut them.
Next, put in a deep dish warmed vegetable oil - we bring it to a boil.
Break eggs into a bowl, whisk a little, salt. Each piece of mushroom dip in egg mixture, then in bread crumbs and fry in oil for 5-7 minutes.
At the same time, you can fry for 1/3 of all fungi. The main thing is to float freely mushrooms in butter. 15-20 minutes will be ready excellent savory mushrooms.
2-3 cloves of garlic pieces. or more - on request - passed through the press and mix with mayonnaise.
Ready mushrooms served with mayonnaise and garlic sauce. This appetizer can be served either hot or cold.