Sea container certainly useful invention to facilitate and optimize the carriage. However, the huge steel boxes are, like all objects, a certain period of service. What to do with outdated products? Usually they are processed as any scrap metal. But there is a better way. Architectural Studio from Israel's Yoav Messer Architects have proposed an original project of the bridge from old shipping containers.
The project won the competition for a bridge over the Ayalon river at the entrance to the Park Ariel Sharon. In fact, as bridge, Park yet. It only built on a landfill here and the surrounding areas. The Park must demonstrate that it is possible to arrange in the place of the dead land if you approach the matter wisely. Hire has accumulated 25 million tons of waste, and then was closed in 1998. Rehabilitation of the land, which began to develop in 2004 to prevent the death of the river Ayalon.
While in the Park Sharon not much to watch that, unless the city of tel Aviv and on the canopy over the observation deck, which is clearly haunted by the glory of the masters of Pisa. However, after the construction of an amphitheater, cafes, bike paths and other facilities, the Park, a former garbage landfill here can become a popular place of recreation for residents of the Israeli capital.
The bridge is 160 meters is to join a road running from the Eastern edge of tel Aviv directly from mountain here in the middle of the Park. The bridge is open for cyclists and pedestrians and closed for vehicles. However, it is planned to be public "Shuttle" for delivery to the Park of tourists from the Parking place.
The obvious feature of the bridge is using in his design of containers used, connected in series in two rows without horizontal reinforcement. The fabric of the bridge will be based on three vertical supports, each of which consists of four pillars and is in the shape of an inverted pyramid.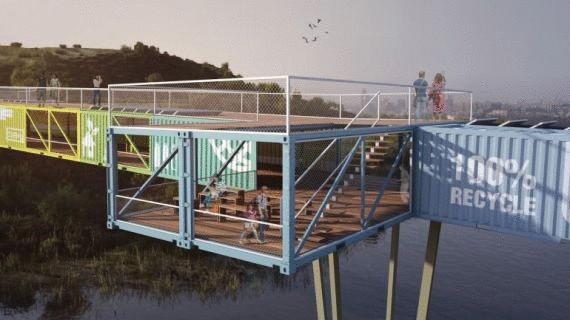 Judging by the drawings, for traffic will be available as the external surface of the containers, and the interior space. In addition, there is the observation deck, where tourists can observe the surroundings.
The needs of structures for energy, particularly for lighting will be met through the use of solar photovoltaic panels.
Currently in full swing development of the project. After it is ready and all approvals to begin construction of the bridge. As the authors of the project, the use of containers will greatly facilitate the construction works, 70% of them can be made in the factory.  
Source: /users/104