It's hard to find a film about wild nature, which would not "light up" the Land Rovers. Clumsy laborers are worn on the Savannah, climb the mountains and confidently dive into the turbulent flow. Watch without a skeptical smirk on clumsy awkward exterior is impossible, but the designers are in no hurry to abandon it. The inheritance of the Land Rover is not to surprise and impress, and to conquer the road, demonstrating its resilience and endurance.
In the mainstream Land Rover introduces a new model of the Defender 110, which will be able to evaluate visitors of the Geneva motor show. For the company, this model was a real revolution, because until then she had not produced all-electric "working" SUV.
The Defender 110 was born, perhaps, as an alternative to the DC100 concept. In contrast to the refinement of the prototype, which the audience could admire in Frankfurt in 2011, 110-I the model has retained traditional solid body, well-proven for many years. However, the predecessor of the electric car have in common the same future. Defender 110 will not go "in the series" he created for research purposes.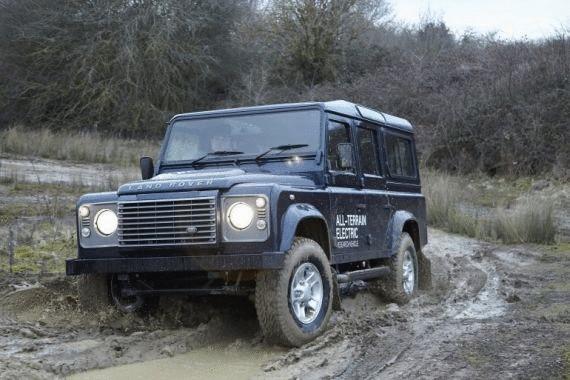 "This project works as a mobile laboratory for the evaluation of electric vehicles in the toughest all — terrain conditions," said Anthony Harper (Antony Harper), scientific Director of Jaguar Land Rover. "The project gives us the opportunity to develop and to test some technologies that may one day appear in future Land Rover models".
A series of seven experimental cars will be presented at the Geneva motor show, after which they will be exploited in special applications. Instead of the traditional diesel engine and transmission under the bonnet of the Defender 110 70-kilowatt electric motor and lithium-ion battery capacity of 27 kWh.
Usually designers-wheel-drive electric vehicles choose the layout with two separate electric motors for each axis. Land Rover engineers prefer to use for the transmission of the engine to the wheels of the traditional mechanical gearboxes and differentials.
The battery is quite heavy, it weighs 410 kg. However, the lack of liquid cooling will keep the weight of the car is almost unchanged, the electric vehicle is only 100 kg heavier than the diesel ICE Defender.
The battery is charging from 4 to 10 hours, depending on charger type. To save energy allows regenerative braking. When driving downhill coasting the engine can generate up to 30 kW of energy.
Says Land Rover, their research electric vehicle able to move without charging on normal for this class of vehicles low speed for up to 8 hours. However, during this time, the electric car can travel up to 50 miles (80 km).
Source: /users/104