A small quiet pond or babbling brook on a country station beautiful in themselves, but they "come alive" if through the water space to bridge the gap. He is part of the decor along with gazebos, sculptures, pergolas, or arches, but at the same time, has functional focus: best places for an evening stroll or intimate conversations to find. If you think about how to make a bridge on the pond, we can recall dozens of options: curved wooden mostacci and neat structure with wrought iron railings, and step-by-step option of separately laying flat stones.
The types and designs of garden bridges
Stone, wood, concrete, metal and any of these materials suitable for the construction of the bridge. Appropriate and elegant look combination, suppose a combination of natural stone of medium size with treated wood.
Classification of buildings is rather arbitrary and based more on their structural features.
Classic straight design that blends harmoniously into any landscape picture. They can be wooden or concrete, with carved balusters or wrought iron bars, ivy-covered or painted in a contrasting color.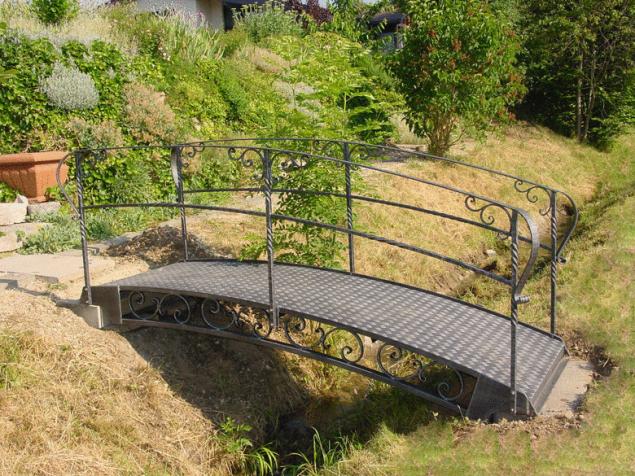 Few people will be able to make your own wrought-iron bridge, but there are way is to order or buy a ready-made model
Curved, humpbacked buildings look good on the background of the surrounding landscape – garden, flower bed or hedge. Stone bridge reminiscent of medieval building, and the air wrought iron bridge floral script the creation of the St. Petersburg architects of the 19th century.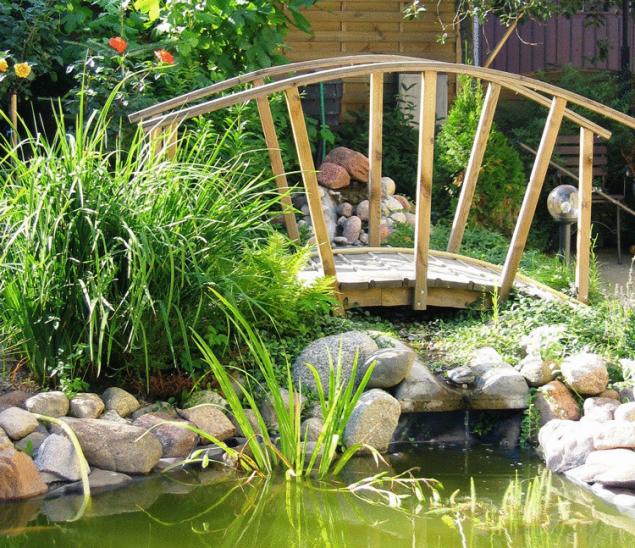 The curve of the bridge should not exceed 20 degrees
Zigzag design are built according to the type of Japanese counterparts "yatsuhashi". These wooden floorings are located low to the ground. Their feature – the lack of fences. Asymmetric zigzag appropriate for decoration of a Japanese garden, including as a scenery for the "dry" Creek.
Japanese zigzag bridges symbolize the difficult path of understanding the truth
Suspension bridge over a ravine or stream looks a little extreme, but it is still more attractive. Such bridges in the country to do with their hands is not accepted, as they are technically challenging and require material with special strength. The flooring is on chains or metal cables, which require a special attachment.
Turn lane bears little resemblance to the familiar option because it consists of flat stones laid on the bottom of the shallow stream. Stones with uneven edges look great among wild thickets, and smooth concrete slabs – in a neatly decorated garden. A turn lane will decorate the pond and rock garden


Speed option consists of two platforms rising up to the Central horizontal plane. If it is made high, then it will be possible to inspect the whole property.
Building a wooden bridge with their own hands the Design of the tree is easy to assemble and install yourself, as wood is easily worked, and part held together by conventional nails or screws.
To work need:
stakes or piles;
long and wide boards with a thickness of 40 mm and above;
boards for flooring with a thickness of 20-30 mm
small corrugated transverse plates;
stones, gravel, pebbles for the base;
rods for railings;
nails, rope, screws.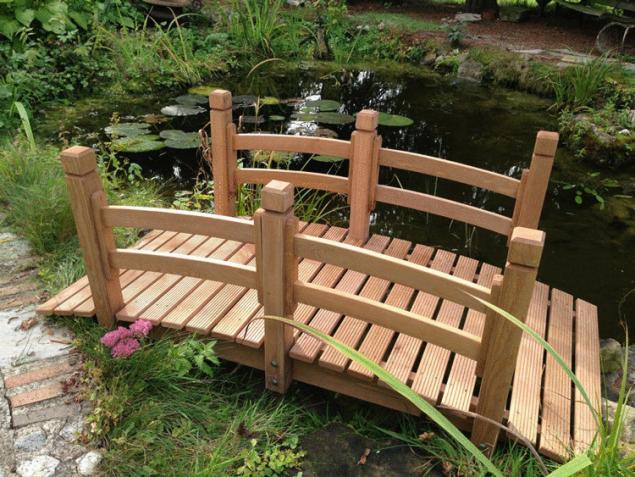 The wooden bridge will last a long time if all parts are treated with antiseptics and paint
Work order
Two long boards are directing (in other words, lags). They should be processed carefully, cover with antiseptic paint. If the scheduled direct bridge, then work with them over if bent, then they must bend. To do this, cut the edges, soaked both parts and Flex pattern – as long as the wood is not completely dry.
In the construction of small bridges sometimes the guide used PVC pipe, which is bent. For strength they are strengthened by thick metal bars – just insert inside.
Next, arrange the flooring: to the joists nailed to the cross boards or bars. Walk on unprotected flooring is dangerous, especially during rain when it gets wet and becomes slippery. Help grooved boards which are nailed on top. The bridge is ready.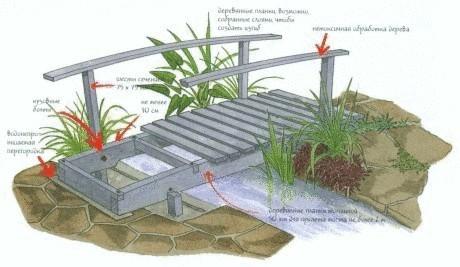 Schema design flat wooden bridge
Of stones or gravel build two mounds, on which are mounted and assembled products. If it was created for decorative purposes, on this to finish. If the bridge will be used for transition, it must be firmly secured. The locking element are piles that should score around both ends of each guide – is just 4 pieces. The length of the piles is 80 cm.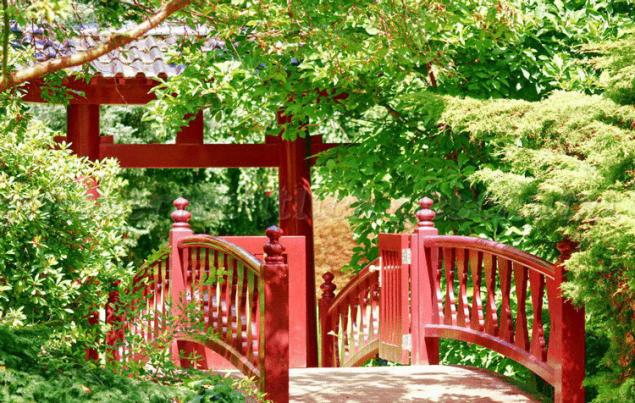 Decorating the finished product
The railing is optional, and especially when construction is adjacent to the land, or decorate the "dry" Creek. But if the family has small children, and the bridge is high enough, the rails are necessary. They should be strong, tall (70-80 cm), with a lattice or slats often located.
Bridge railings are much more attractive than without them. Sometimes wooden parts are decorated with carvings or painted in tone with the surrounding buildings. They last longer, if for the manufacture of select softwood, impregnated with resin: spruce, larch, pine. The application of antiseptic and paint (or varnish) is the finishing touch.
Homemade concrete bridge to Build a concrete structure is a bit more complicated, as the process of manufacturing is time-consuming. The bridge elements are prepared in the forms of:
Form create from wooden bars and boards. Its shape must follow the contours of the future parts are not necessarily straight lines.
For reinforcement, take metal rods and placed them in shape, curving in the right direction.
Grout concrete. The width of a layer 10 cm or more.
For complete drying requires 2 days, and then the workpiece is removed from the mold and mounted in the planned location.
Veneer concrete structures. For decorative use of clinker brick, pavers, natural stone, artificial equivalent, mosaic. Harmonious looks is the track made with the use of the same cladding material, – she kind of blends in with the bridge, continuing on the other side.
It should be remembered that the concrete can expand when the temperature changes, consequently, supports for bridge drive with only one hand.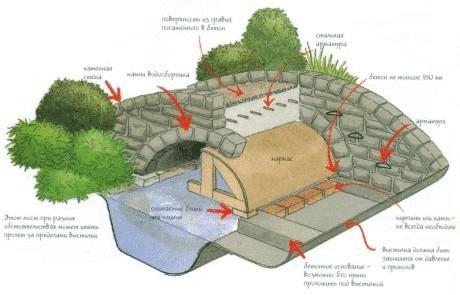 Design scheme humpback stone bridge
Using improvised material, their own skills and knowledge obtained from different sources, you can build the original bridge for pond, stream or just decorating the recreation area. Making a simple and straightforward design, in the future you might think about a more complex and interesting model.
Source: 101dizain.ru