most people with the term "pergola" is associated exclusively arch, covered in green vegetation. On the one hand it is right and the other not quite – translated from Latin it shed or outbuilding serving as a support for climbing plants. You know that those words do not constitute exclusively an arched design of this product – pergolas are different, including the arch. All this, and also about how to make a pergola with your own hands in the country, and will talk in this article in which along with the website moyadacha.org we will deal with different designs for this element of the garden plot.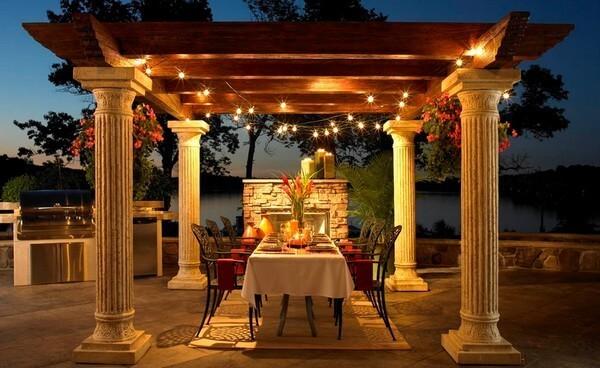 Pergola with your own hands: designs
There are three main types of designs of pergolas is a classic arch, U-shaped arch and design made according to the type of the gazebos. Unites these three types of products one thing – lattice design, which is, in fact, serves as a basis for the growth of climbing plants. Consider these options for pergolas in more detail.
Classic arched pergola. It can be both small and have a pretty impressive size, in the shade of which may be placed a table with chairs. In most cases such furniture is used for decoration of the entrance to the cottage area, but often they are built inside, thus creating some semblance of a gazebo. Classic pergola is an arched canopy over the car, covered with grapes, at the entrance to a suburban area. Structurally, these products consist of one or more arches, installed in a line and connected by horizontal crosspieces that form the classic lattice design. U-shaped pergola. In principle, this option is the base for climbing plants differs from the previous one solely by its form – instead of the arcs it involves the use of rectangular "arches", which, as in the previous case, are set in a row one behind the other and connected by horizontal crosspieces for the formation of the lattice structure.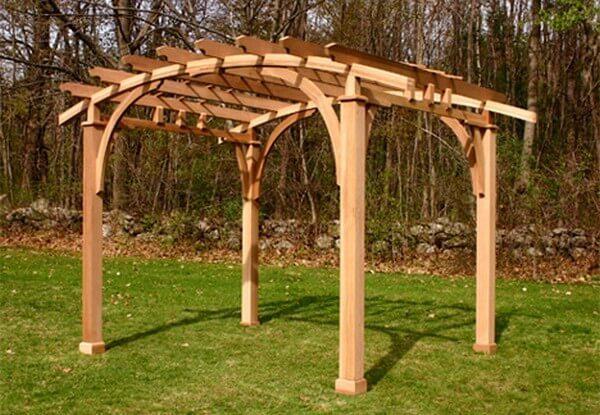 Pergola a gazebo. It is something, and such pergola for grapes, made with your own hands is often used for the equipment of a recreation area on the dacha. This gazebo has a solid or non-slatted walls and a slatted shed, assembled from beams. Under a pergola with the same success can be placed not only patio, but even a summer kitchen.
In conclusion, the themes will say a few words about how to make a pergola for flowers, for example Curling rose. The most basic option is to produce such a design is to bend something into an arc and dig into the ground under something means something that has enough strength and more or less aesthetic appearance. Among the available materials for this purpose perfectly suitable plastic pipe, concrete reinforcing mesh with a cell 100 by 100mm (it will be enough to cut to length and gently bend the arc). Also suitable rebar, round or square cross-section rod. In General, fantasize – by and large, such a design for roses can be made of old, not suitable for other purposes wood. It can even be woven from thin twigs remaining after pruning in the garden.
In General, pergola with your own hands can be made anywhere and from anything – it's a great product on which to train their imagination and technical thinking.
Again, it should not be forgotten that the most attractive appearance have a pergola made according to the principle of combining building materials. The best is a combination of two of the above materials such as stone and wood, forged metal and stone.
How to make a pergola: features fabrication
If you look at the design of the pergola globally, all the above described types can be divided into two types is a small arched structure and pergolas manufactured in the type of the gazebos. By and large, is nothing but a collection of several arches, but, nevertheless, the principle of their manufacture is slightly different from each other. Take a look at these technologies in more detail.
Classic arch. The easiest way to make it of metal, bent into an arc rod or core tube – this approach is good for manufacturing not only small green arches in the country, but quite impressive design in the shade which can hide even the car. The principle is simple and familiar to gardeners and owners of private houses on the technology of the manufacture of the vineyard – a few bent arches are either simply inserted into the soil, or are cast properly. After that, these arches are associated with each other, again either by welding, and a metal rod, or simply connect with each other thick steel wire. How do you it depends solely on your ability and claim to be a great aesthete. Almost exactly the same, the question is how to make a pergola with your own hands, having a rectangular design – the difference between them lies only in the form of arches. If in the first case, the metal needs to bend the arc, in the second situation rectangular arch can be welded or wiring of the three elements.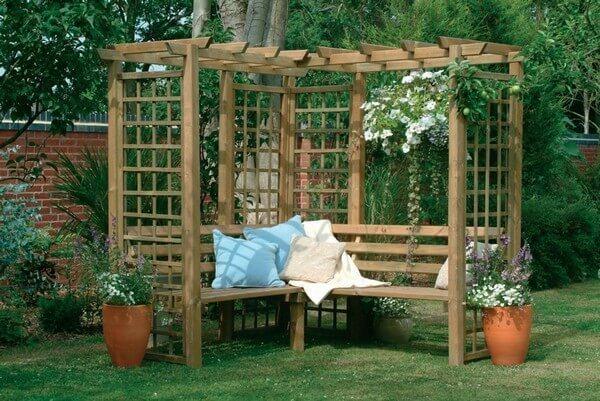 Pergolas-sheds. As mentioned above, such constructions are going on the principle of a shed or gazebo–, and they can be collected from a variety of materials. Consider this technology for example pergolas of wood and stone. The last fits into the base with it around the future living the arbors to create a small parapet, which can even have the appointment of the pot, which is filled with soil and planted vines. Stone can also be made and supports are usually four of them, and most suitable for self-construction of columns of material it is limestone or Sandstone. Of course, this same stone will have to build a parapet, but, in principle, it is possible to do without it. The next step is the fabrication of lattice canopy. By and large, except for the wood processing, it is also not difficult. For a start on the support poles are placed four steel I-beams – they repeat the lower perimeter of the pergola, and form the top frame that serves as support for all other beams. This will have to do next, after it's formed the basis of the canopy. The beam fit is not difficult, and the most important thing here is to observe the uniformity of their installation. They are fastened either with nails or long screws. In principle, this detailed design. Alternatively, it can be supplemented with side bars, on which climbing plants can easily climb on the roof, creating for you a shadow. They do not have to do completely around the perimeter is enough to set them where they will be planted plants.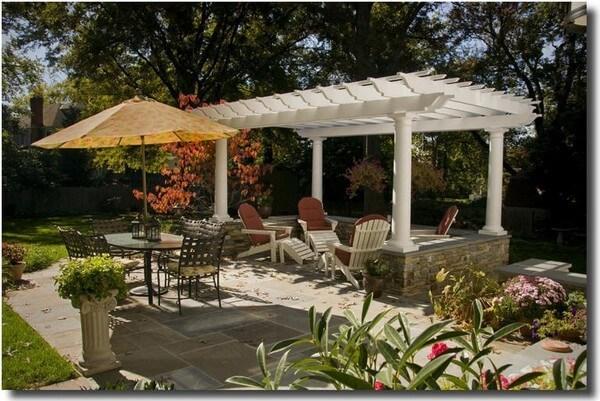 How to make a pergola with your own hands, you can see in this video.
SUBSCRIBE to OUR youtube channel that allows you to watch online, download from YouTube free video about the recovery, the rejuvenation of man. Love for others and ourselves, as the feeling of high vibrations — an important factor for improvement .
leave the unit LIKE, share with FRIENDS!
www.youtube.com/channel/UCXd71u0w04qcwk32c8kY2BA/videos
Subscribe -https://www.facebook.com//
There is a fourth type of products in this purpose – that is to say, mixed. This is, again, construction type gazebos, which combine elements of rectangular and classic arches. This is the most complex in the manufacture of pergolas, which are a real work of art.  
What to do a pergola in the cottage with his own hands
Materials from which can be manufactured arch pergola with your own hands, not so much. To be precise, only four are metal, wood, stone and plastic. The last of these materials is rarely used, and as support material. In pure form these materials are also used not very often – they may be combined, achieving the appearance of diversity. Take a look at a few more of these materials.
Pergola made of metal. Its main advantage is durability to these arches were long behind them needs constant care, but rather ensure that they do not rust. They are made mostly of their forged items – only in this case, it is possible to give the iron structure is more or less decent appearance. If we talk about the factory pergolas, they can be made of stamped elements and thus have a quite interesting appearance. Pergolas of wood in the country. It can be said, a classic of the genre – pergola from wood with your own hands is the most common country design of this type. Among its advantages include easy Assembly and excellent aesthetic characteristics. If we talk about the shortcomings, it is the fragility – although how to know if wood to process properly, she will be able to stand even longer than the steel structures of this type. In most cases, this rectangular-pergola – this time due to the difficulty of making arched structures made of wood.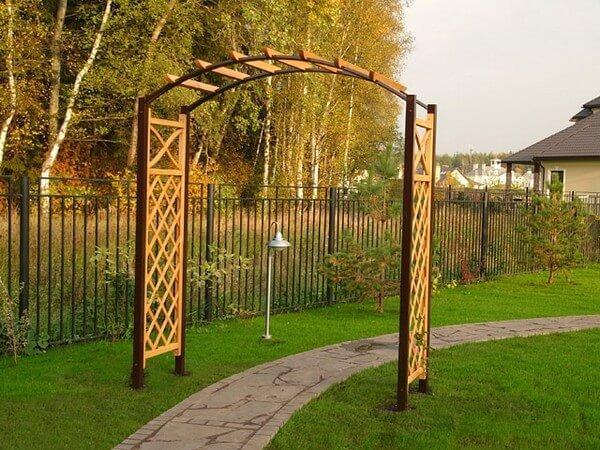 Pergola made of natural stone. In its pure form for the construction of pergolas of stone is not used often with it, form the basis and support. This is due, again, to the technological complexity of manufacturing, let the lattice, but still shed. You can say even more – to make it impossible. The arch can be done, but difficult, but to make it a lattice does not work well, especially if we talk about self-manufacture. Yes, you can chop the support beams and of the same granite, but the cost of this pleasure in a cosmic amount of money. Plastic pergolas to give. This is the economy version, which can be purchased at almost any large hardware store. In most cases the arch is of small size, which is more than for the flower garden do not use will not work. If you are looking for a pergola for roses, then this is exactly what the doctor ordered. In my opinion, to purchase such articles interesting if creatively to approach to process of manufacture, then to make a pergola for roses with his own hands more attractive in appearance and, most importantly, more quality.
published
P. S. And remember, only by changing their consumption — together we change the world! ©
Source: moyadacha.org/pergola-svoimi-rukami/