most people with the term "pergola" is associated exclusively arch, covered in green vegetation. On the one hand it is right and the other not quite – translated from Latin it shed or outbuilding serving as a support for climbing plants. You know that those words do not constitute exclusively an arched design of this product – pergolas are different, including the arch. All this, and also about how to make a pergola with your own hands in the country, and will talk in this article in which along with the website moyadacha.org we will deal with different designs for this element of the garden plot.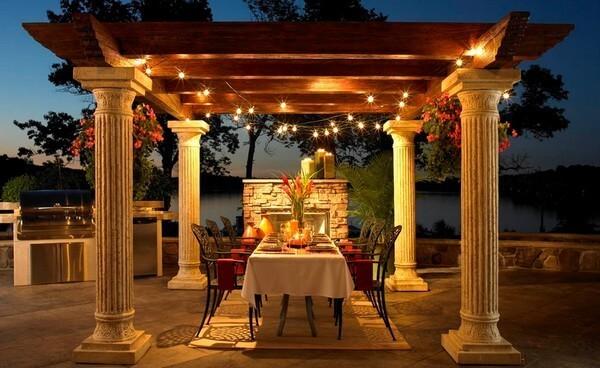 Pergola with your own hands: designs
There are three main types of designs of pergolas is a classic arch, U-shaped arch and design made according to the type of the gazebos. Unites these three types of products one thing – lattice design, which is, in fact, serves as a basis for the growth of climbing plants. Consider these options for pergolas in more detail.
Classic arched pergola. It can be both small and have a pretty impressive size, in the shade of which may be placed a table with chairs. In most cases such furniture is used for decoration of the entrance to the cottage area, but often they are built inside, thus creating some semblance of a gazebo. Classic pergola is an arched canopy over the car, covered with grapes, at the entrance to a suburban area. Structurally, these products consist of one or more arches, installed in a line and connected by horizontal crosspieces that form the classic lattice design. U-shaped pergola. In principle, this option is the base for climbing plants differs from the previous one solely by its form – instead of the arcs it involves the use of rectangular "arches", which, as in the previous case, are set in a row one behind the other and connected by horizontal crosspieces for the formation of the lattice structure.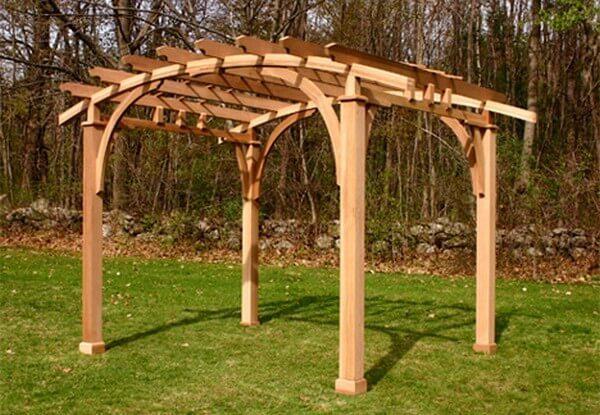 Pergola a gazebo. It is something, and such pergola for grapes, made with your own hands is often used for the equipment of a recreation area on the dacha. This gazebo has a solid or non-slatted walls and a slatted shed, assembled from beams. Under a pergola with the same success can be placed not only patio, but even a summer kitchen.
In conclusion, the themes will say a few words about how to make a pergola for flowers, for example Curling rose. The most basic option is to produce such a design is to bend something into an arc and dig into the ground under something means something that has enough strength and more or less aesthetic appearance. Among the available materials for this purpose perfectly suitable plastic pipe, concrete reinforcing mesh with a cell 100 by 100mm (it will be enough to cut to length and gently bend the arc). Also suitable rebar, round or square cross-section rod. In General, fantasize – by and large, such a design for roses can be made of old, not suitable for other purposes wood. It can even be woven from thin twigs remaining after pruning in the garden.
In General, pergola with your own hands can be made anywhere and from anything – it's a great product on which to train their imagination and technical thinking.
Again, it should not be forgotten that the most attractive appearance have a pergola made according to the principle of combining building materials. The best is a combination of two of the above materials such as stone and wood, forged metal and stone.
How to make a pergola: features fabrication
If you look at the design of the pergola globally, all the above described types can be divided into two types is a small arched structure and pergolas manufactured in the type of the gazebos. By and large, is nothing but a collection of several arches, but, nevertheless, the principle of their manufacture is slightly different from each other. Take a look at these technologies in more detail.
Classic arch. The easiest way to make it of metal, bent into an arc rod or core tube – this approach is good for manufacturing not only small green arches in the country, but quite impressive design in the shade which can hide even the car. The principle is simple and familiar to gardeners and owners of private houses on the technology of the manufacture of the vineyard – a few bent arches are either simply inserted into the soil, or are cast properly. After that, these arches are associated with each other, again either by welding, and a metal rod, or simply connect with each other thick steel wire. How do you it depends solely on your ability and claim to be a great aesthete. Almost exactly the same, the question is how to make a pergola with your own hands, having a rectangular design – the difference between them lies only in the form of arches. If in the first case, the metal needs to bend the arc, in the second situation rectangular arch can be welded or wiring of the three elements.