Spring is in full swing — the owners of country houses actively attend to their plots. And those who are permanently residing in a private home, making forays into the local area to understand the extent of the damage brought winter, and what should be done for the improvement before the long-awaited summer season.
Even those for whom the dacha is a place for application of forces and energy, still want to have a cozy little area to relax with family or friends on warm summer evenings. This area can be a gazebo, even in the rain you can sit near the grill, not paying attention to the vagaries of the weather. We offer four ideas for decorating gazebos, and the choice is up to the reader.
Japanese style
of a gazebo should not be anything random and unnecessary, all the decorative elements and objects correspond to each other and have a deep meaning.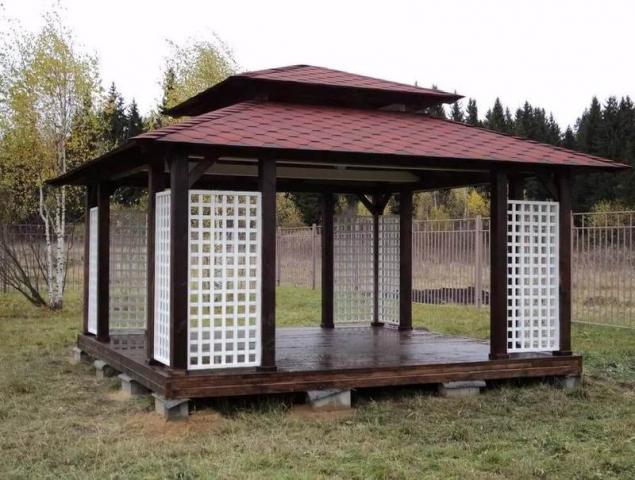 How to make
Materials for Japanese gazebos choose real hard wood, stone. Alas, in our climate it is impossible to use a rice paper or bamboo — they simply will not withstand the rain and wind. The tree is definitely treated with antiseptics! By the way, if you wish — it can be painted with acrylic paints, but not breaking the style.
Unimpeded air flow through the gazebo — one of the main requirements of this style. Make large window-openings, and to protect themselves from the summer sun, close their gray, beige or white glass, reminiscent of the rice paper.
The interior of the gazebo should not be too excessive. I give preference to petite and multifunctional furniture: a low table in the Japanese style, Mat-Mat, in an extreme case — wicker chairs or benches with carvings.
Colors must be natural. Trending beige, white, brown tones.
As decorative elements we use ikebana, river pebbles and Japanese lanterns.
Arabic style
It will be a real gazebo in the style of fairy tales "Thousand and one nights" — do it, by the way, it is possible, if you know a few basic principles of style. First of all, don't be afraid of bright colors and excessive pomp. "Oriental luxury" — not just empty words: under this slogan, we will decorate our gazebo.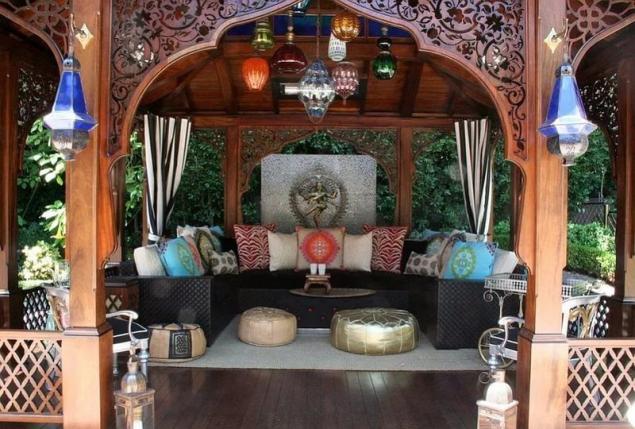 How to make
Red, Burgundy, terracotta, gold — that's our main color "helpers" when you make Arabic gazebo. Definitely a large number of pillows from expensive textiles and carpets (if possible).
In Arabic the gazebo should be enough light, twilight is only valid in the evening, so the Windows are doing great.
Try making use of a large number of "Arabic script", pattern "Damascus" and metal objects with the characteristic Arabic coinage.
A distinctive feature of the Arab style arches, which can be decorated the entrance to the gazebo or her window.
The highlight of the Arab gazebos — outdoor wrought iron candle holders.
Gazebo Chalet
a Very popular style for the decoration of country houses, so why not use it for gazebos?!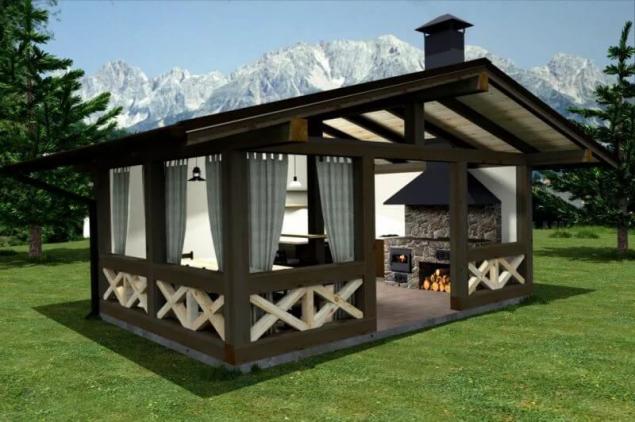 How to make
Gazebo Chalet is built only from stone and wood, no plastic in it.
The roof of the Chalet-style is very recognizable — gable overhanging the walls.
The floor you can lay stone or tile, if possible, a special moisture-resistant wood.
The window in our mini-chalets are doing great, you can even do without the window partitions so that nothing prevented to enjoy the garden.
The interior of the Chalet needs to be restrained, very appropriate in this hunting accessories, utensils of clay and embroidered textiles. Preferred natural colors, with the inclusion of bright colour.
Be sure to install a Chalet or barbecue grill! Live fire must be in our mountain hut.
Russian style
It is characterized by the abundance of wooden decor and traditional objects. Popular prints, headdresses, spinning wheels, bright painted beams and rafters — in the design of all relevant!
How to make
Gazebo in the style of Russian log hut involves a large amount of wood: table, benches, chest — all wood, with an antiquated effect. And since no furnace in this house can not do — substitute the grill. Will be very useful in the interior and the samovar.




Russian style is characterized by a special pattern. Painting walls or furniture in the style of Khokhloma, Gzhel or jostova will help to give our Bank a unique flavor. Most importantly, do not overdo it.