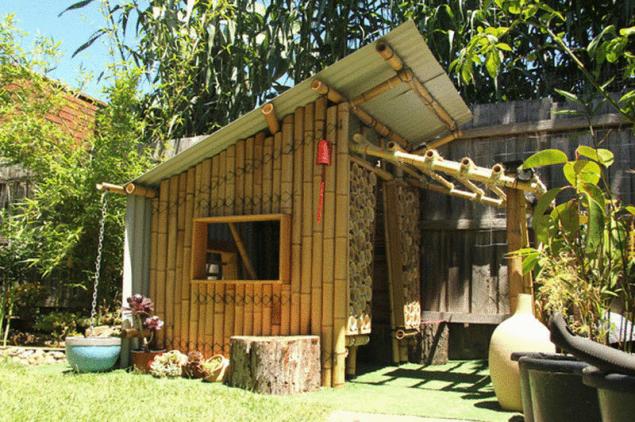 Every child wants to have a dacha of your own home, becoming his personal refuge, albeit on a short vacation. And here, without the intervention of adults, he can safely (or not) to go about their business and enjoy the summer season. Some parents buy plastic furniture, others motivate children to create their own huts in the trees.
And today we offer you to get acquainted with an interesting project children's house of bamboo, which is enough even for a large family.
The building has dimensions of 1.2 by 1.2 meters and are made of recycled and natural materials. The construction used local bamboo, which was literally stitched with rope to tie.
Metal roofing is attached with J-bolts. One of the walls of house is made from slices of bamboo that resemble their common pattern mosaic. The sunlight passing through them creates a magical mood.
On the floor was fitted with artificial turf, and the house even has a drain for rainwater (also of bamboo). Around the house are pots for plants, stumps for a couple of games and even a waterfall.
Source: www.7dach.ru