All filled their coffers? Most of us already winter. Only now with the snow as something is not going right. We have, for example, it is almost there, but cold. In the cold especially I want something spicy. So today let us talk about recipes cooking Korean carrot.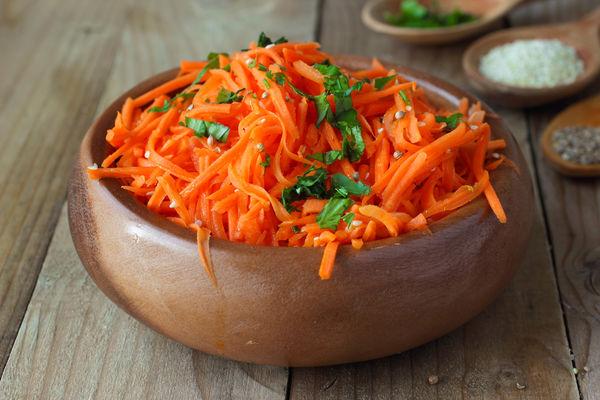 Historical note...the Korean carrots, contrary to popular belief, is not a Korean dish. Came up with his "Koryo-Saram" — the Soviet Koreans. Initially, the main ingredient was Chinese cabbage, which in the USSR was lacking. I even learned about it and tried relatively recently. What can we say about those times.  
Gradually, the carrots completely replaced the cabbage. That's the way of Korean dishes kimchi (ahchoo = ))) ) there was a Soviet Korean carrot. And since Koreans deported to Central Asia, very soon, the dish became popular throughout the Soviet Union.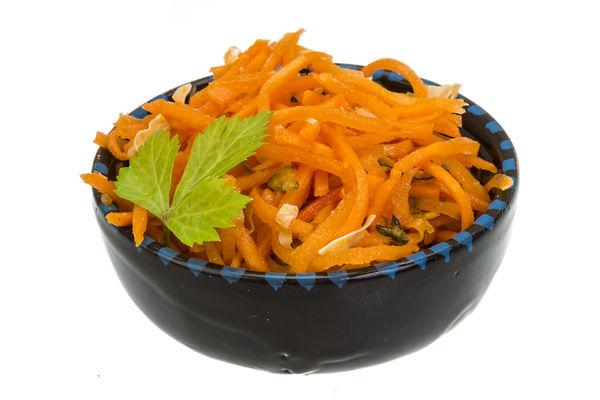 By the way, the traditional recipe included the following ingredients:
carrots;
garlic;
ground coriander (ground cilantro seeds) or sesame;
ground red pepper;
cottonseed oil or other vegetable oil (corn, sunflower);
vinegar;
salt;
sugar (may not be used);
black pepper (may not be used);
onion is used for calcination of oil in the finished dish is missing. (may not be used).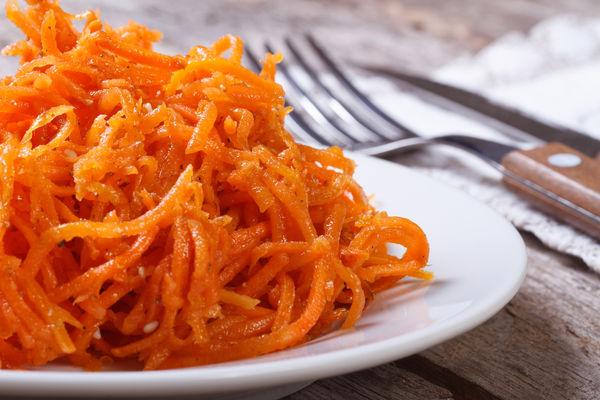 Varieties of carrots
For the salad are most suitable juicy and tender varieties with good form roots and a beautiful bright orange color. A great option — Nantes 4 and 14, Tuscon and the like. It is from these varieties of carrot salad is most delicious. In addition, these roots form comfortable. For Korean carrot using a special grater. Now, perfectly smooth cylindrical form of the carrot and allows you to create those cute "stripes", to which we are accustomed.
Most popular recipes of salad "Korean carrot"
Of course, in General, all recipes are similar. It's not the notorious "salad" which cut everything in the fridge. Korean carrot always uses roughly the same pattern. And yet interesting recipes there. Try to cook, then say what I liked more. Well, I hope that you will share your secrets. After all, every woman adds something of his own, experimenting...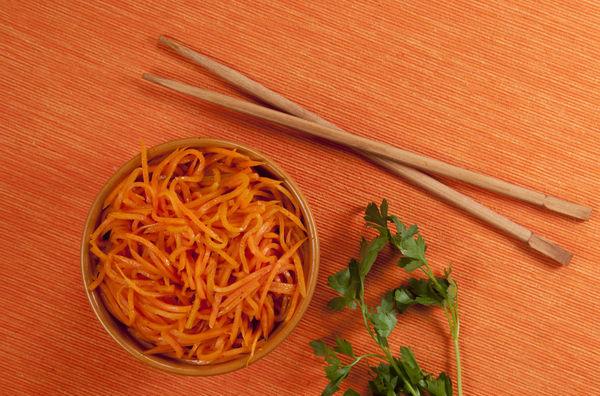 1. The carrots with pepper, paprika and curry
Very interesting recipe. It requires:
Carrots — 1 kg
Sunflower oil — 0.5 cups
Vinegar — 4 tbsp
Sugar — 3 tbsp
Curry 0.5 tsp.
Red hot chilli pepper — 0.5 tsp.
Sweet paprika — 1 tsp
Garlic 6 tooth.
Onion — 1 piece
Salt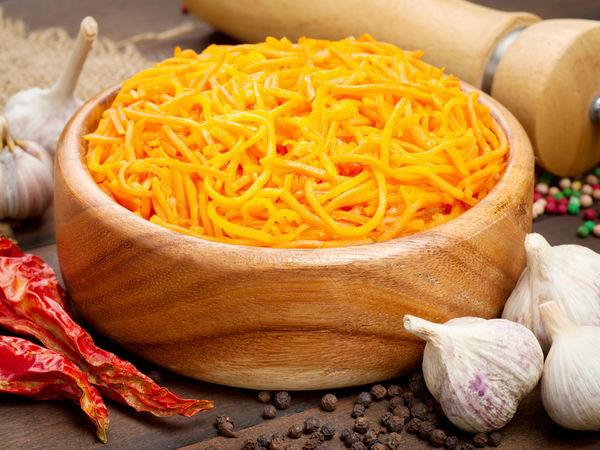 1. Grate carrots on a special grater. Best of all, if it makes long thin strips — so the salad will be more tender and interesting.
2. Onion finely chop and fry in sunflower oil until Golden brown, let cool.
3. Pour vinegar into a bowl and dissolve the sugar in it. There add curry, ground paprika, black and red pepper.
4. Pour in the half Cup of vegetable oil, stir and pour the whole mass into a carrot.
5. There press out through the frog garlic. Add previously fried onion and salt. All, salad is ready, but 15 minutes let stand.  
Note that some even cook Korean carrots, no garlic (!), other clean onions, but use the oil from the onions. Third pour cold oil, the fourth — hot. Variations huge variety.  
2. Korean carrot with coriander, under getmnemonic recipe, so pay attention to it. We need the following ingredients:
Carrots — 1 kg;
Wine vinegar — 100 ml;
Garlic — 2-3 cloves;
Vegetable oil — 100 ml;
The jalapeno, ground — 1/4 teaspoon;
sugar — 1 tsp.;
Bay leaf;
coriander (ground), ginger and curry — about half a teaspoon.  
1. Carrots three on a grater and crumple to become tender and juicy.
2. Further — attention: in a saucepan, pour the water (well, maybe half a glass-glass) and pour in there: Bay leaf, spices, salt and sugar.
3. Bring to a boil, let cool and pour the marinade carrots.
4. Add in carrots, vinegar, oil and crushed garlic.
5. A thorough stir and put under the yoke, at least 6 hours!
After 6 hours the carrots squeeze and put on the table. Unusual, isn't it? I wonder how delicious it is.
Well, another recipe. Unusual is the fact that it can be stored for a long time. Imagine: you came to visit. With alcohol, but no snacks.
3. Korean carrots for the winter
The cooking method is the same as in the previous embodiment, but the carrots, laying out on the banks, pressing is not necessary. Moreover, it can be heated along with the brine to a boil and put in sterilized jars. Additional sterilization is not necessary, because there is enough acid. Then banks put "under the coat" wrapped up and leave it to cool down. It is necessary that the carrots remain crisp.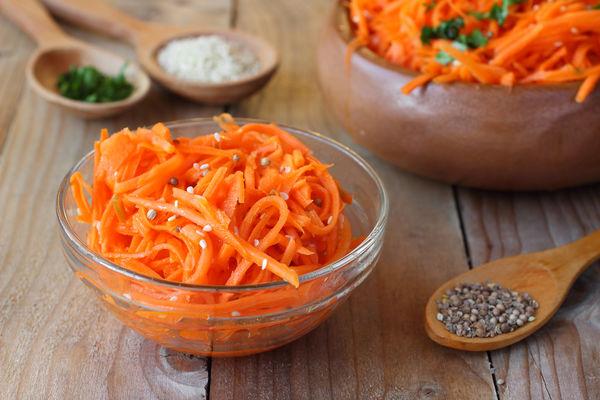 By the way, the Korean carrot is sometimes an ingredient in any salad. I have not tried. If anyone tried, please tell me what kind of salad it especially fits well.published
P. S. And remember, only by changing their consumption — together we change the world! ©
Source: www.7dach.ru