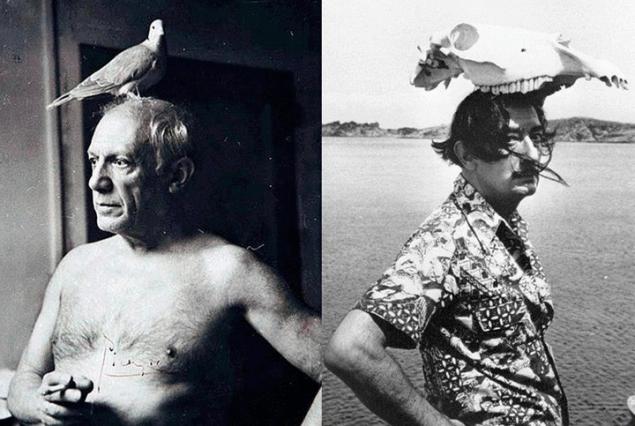 Until April 19 in the gallery "na Kashirke" exhibition "Salvador Dali and Pablo Picasso" — from the world's fourth-largest collections of these artists, owned by the Russian philanthropist Alexander Shadrin. Curator of the exhibition and the son of the owner of the collection Yaroslav Shadrin told about how she was going and why Picasso and Dali so well together. This really is the fourth largest collection of Dali and Picasso. But we must distinguish between the exhibition and the collection, as the capacity of the hall was limited, in this exposition you can see only less than half of the entire collection. Nevertheless, there are more than two hundred works of great geniuses of Spanish surrealist Salvador Dali and founder of cubism, Pablo Picasso.
Our entire collection except for some of the work is from the collections of Mr. levy, the owner of the Paris Museum, and Mr. Argeles, who gave in their time in the Pushkin Museum, and Alan Ramie. The rest of the work was purchased at auction from Christie's and Sotheby's. It is well-known auctions, they offer works of art with the history of origin. Other auctions this service is not provided.
My father collects works of art more than twenty-five years, about fifteen years ago he was lucky to become the owner of several works by Dali. In 2006 he made his major acquisition. In Paris, the Salvador Dali Museum, we have acquired a collection of sculptures, ceramics and graphic artist. It really was a landmark acquisition as this Museum owns Mr. Benjamin levy, charge d'affaires of Salvador Dali, people from his entourage. The origin of works, there was no doubt.
In 2011, the collection was replenished by the graphics, which formerly belonged to Mr. Pierre Argyle. For the Russian public it's notorious name as Pierre-sur-Mer presented a number of works of the Pushkin Museum. Since 2003, his work continues son Jean-Christophe Argyle. From him we got more than forty works, which were done in the 60-ies on the theme of bullfighting, French poets, as well as a series of "Mao Zedong", which Dali created under the inspiration after the poems of the great Chinese helmsman.
"Salvador Dali was considered Pablo Picasso his spiritual father, they at least had a strong spiritual connection" And in 2012 was a landmark Christie's auction for the sale of ceramics by Pablo Picasso from the collection of Alan Ramie. Alan Ramie — the son of Georges and Suzanne Ramie, who owned the Madoura workshop, they started it and took it to Pablo Picasso. Picasso was attracted by the energy of this French couple, and it remained in their workshop by a Potter for over 25 years. All his ceramic work, he performed it in the Studio Madoura. It is noteworthy that prior to 2012 these works never left his workshop, only after the auction they came to Russia.
In our collection there are works of Miro, but they are figurative, but the works of Dali and Picasso can be very interesting to look together. Salvador Dali considered Pablo Picasso his spiritual father, they at least had a strong spiritual connection. Both eminent Spaniard dearly loved his small home. Dali spoke Catalan language, it was his primary language. For Picasso, the bullfight was in fact a personification of Spain in 1936, the time when he had sworn never to come back to his native Spain until the dictator is still alive Franco.
You can compare many other interesting aspects. For example, their attitude to women. Picasso completely absorbed the life force of women, all her beauty, and embodies it in the work. Dali was erected by a woman on a pedestal. He made it a deity. Both artists were Russian wife. Muse of Salvador Dali Gala was, she was his whole world for almost half a century. Picasso in 1918 he married Olga Khokhlova in the Orthodox Cathedral of Alexander Nevsky in Paris. It is because of this balance of similarities and differences between the works of these Spanish artists worth seeing together.
The exhibition presents work produced since the late 1950s to the late 1970-ies, this is the time when he was engaged in graphics, it was really very productive. Dali created more than 1600 graphic works. In these works he expressed all possible fetishes, symbols: kalininskii clock, backup, beans, elephants thin legs, women with their heads rose... Graphic heritage Gave offers to plunge into the world of dreams and fantasies, to feel the incredible Kalininskoe consciousness, which could compare the incomparable.
At the Picasso presents ceramics from the 40's to the 70 years until the death of Picasso in 1973. Is the time when artists were Mature, Picasso was 65 years old when he began studying ceramics. You will see the energy of adult life, how she was bubbling from both artists. Pablo Picasso until the end of his days was very fruitful. Dali still after the death gala died in a spiritual sense, his mighty spirit was exhausted. His imagination has dried up, it became immediately clear how he was tied to his wife. Nevertheless, it is clear that the artists and 50 and 70 years was full of strength and energy in order to implement their ideas.published
Source: theoryandpractice.ru