We all know the famous artist and one of the most peculiar genius of his time Pablo Picasso. Master's career has had an enormous influence on the development of the art of the twentieth and twenty-first centuries. In honor of his 132 birthday suggest you look at a rather interesting facts from the life of a genius.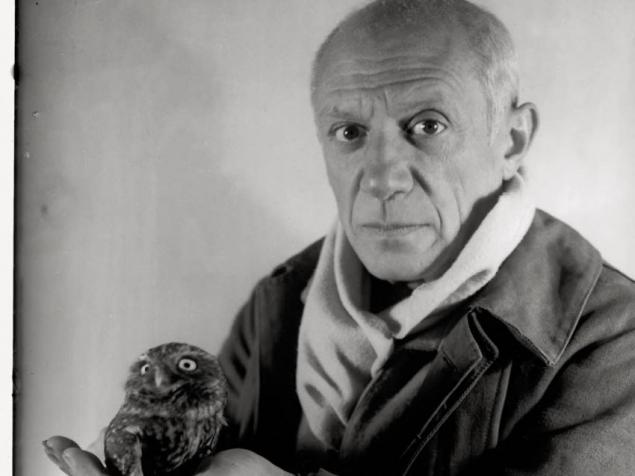 Newborn Picasso saved smoke from cigars
The birth was difficult, and the child was born so weak that the midwife finds him stillborn. She left it on the table and went to tell her mother the bad news. Rescued the child luck - his uncle, Don Salvador, smoked cigars, and saw the baby lying on the table, let the smoke in his face. Newborn grimaced and went into mourning. If it were not smoking, Pablo Picasso could not be born as a famous artist.
Left: Pablo Picasso, 1886, right: Pablo Picasso with his sister Lola, 1889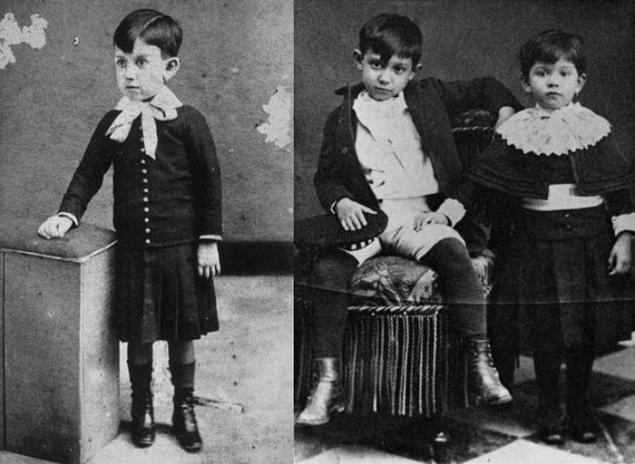 The first word was "pencil»
Little Pablo learned to draw before speaking, and his first word was "pencil» (piz, short for lapiz, which in Spanish means "pencil"). When he was 7, his father, an artist and professor of art, taught him drawing. Soon he saw that his son surpasses it in this art, and vowed to give up painting. Entrance exams to art school in Barcelona Picasso passed in one day, while all the others passed their month.
Left: Pablo Picasso at the age of 15, in 1896, right: archival photo of Picasso at the age of 23 years, in 1904
The first drawings
At 9 years old Picasso painted his first finished drawing - "Picador» (Le picador), depicting a rider on a horse participating in a bullfight. The first "academic", that is quite an adult now, Pablo finished in 15 years. It is called "First Prchastie» (First Communion), and depicts his father, mother and sister at the altar.
Left: "Picador", right: "First Communion»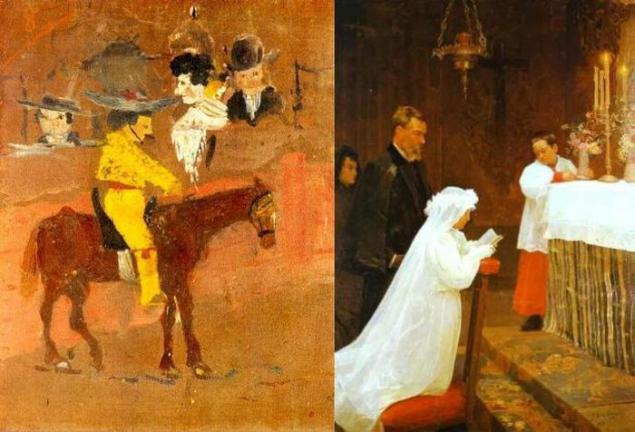 Picasso - unbearable pupil
At school, where he studied, Pablo often placed in a special detention center - «calaboose» for the disgusting attitude towards teachers. It was a room with white walls and a bench to sit and reflect on their behavior. Future artist has used this "limbo" for drawing, where no one was distracting. According to the artist, he would never get out of this room, and draw, draw.
Modigliani, Picasso and André Salmon in front of the Rotunda Café, Paris, 1916