1. It is one of the most famous and exciting heart of photos, that have ever been made in the world. In the picture you can see a tiny knob 21-week baby Samuel Alexander Armas, who squeezes the hand surgeon Joseph Bruner, who saved his life. In yet unborn baby was incurable congenital defect of the spine in which the person is almost incapable of surviving, but if you operate the baby in the womb, it is possible to avoid this terrible diagnosis. The doctor took the uterus Julie Armas, which is the mother of Samuel and midwife by vocation, by caesarean section by making a small incision to operate crumbs. He got it today and Samuel Alexander Armas 8 years. The boy is alive and well, and that the burning photo and 21-week Samuel called the "Hand of Hope." Incredible! It is a pity that in our country the medicine is not as developed as in the west and babies with such defects die or become disabled for life ...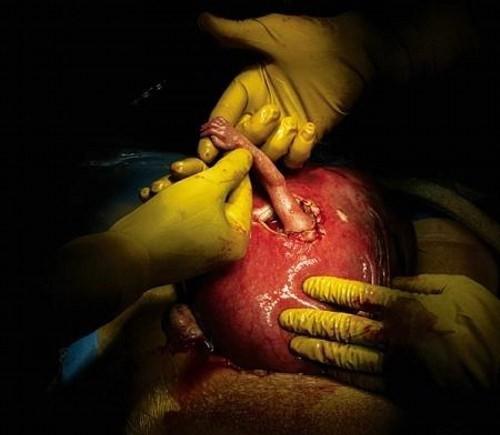 In the photo below Samuel 7 years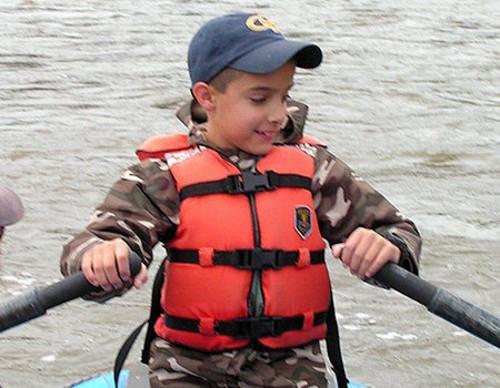 In the print edition, which appeared for the first time this photo was written: "The tiny knob 21-week fetus Samuel Alexander Armas emerged from the womb to grasp the finger of Dr. Joseph Bruner as if to thank the doctor for the gift of life. Little Samuel's mother said they were crying a few days, when they saw this photo: This photo reminds us my pregnancy is not an illness or physical disability, this little man
2. "You just look at the bread! Only four fingers! I think I'll call photo "Fingers Pablo Picasso" - said his close friend, the painter Pablo Picasso Duvanuoshi author of this picture. The picture is very funny, at first really think that this is his fingers, but then delicate fingers Picasso and does not smell, but rather a foot monster.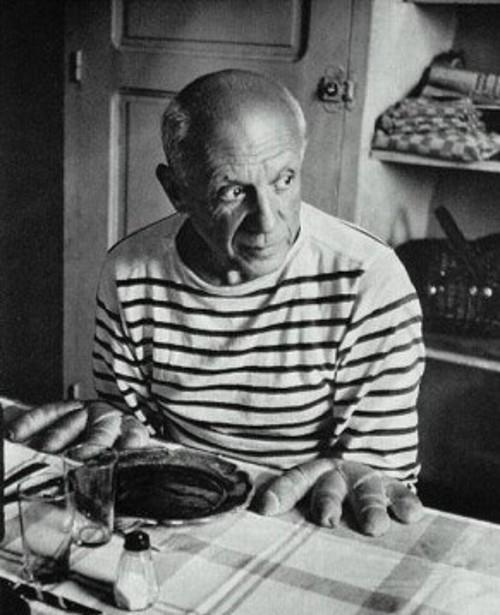 3. This is not the biggest camp for children and it does not bring happiness, because the camp in the picture - a real hell. The factory of death, the death of the conveyor and the machine of death - all these definitions are worthy of the place. In the west, the General Government has been built this monstrous state in which there are several million people. Of the several million survived only a few thousand, because the name of the state - Auschwitz. Above the entrance to the concentration camp it was written "Work makes you free", but none of it contained did not feel free. The camp still exists, but already there is not and can not be the terror that was before, because it's just a reminder of the terrible wartime.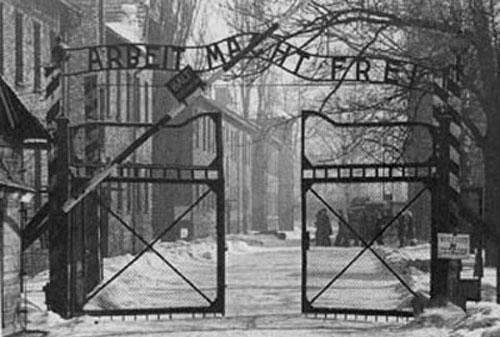 4. October 12, 1960 in Tokyo, a student of Right Forces killed the chairman of the Socialist Party Inizhiro Asanuma. The young man did it with a smile, as if to say "I'm doing all right, and I'm absolutely happy." That's how easy it is to kill a man.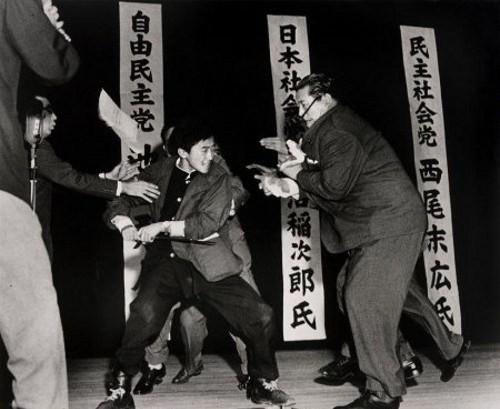 5. April 1964, Cyprus. Turk mourn their husbands, who are victims of the Greek-Turkish civil war. Grief does not have the names and nationalities all equal before death.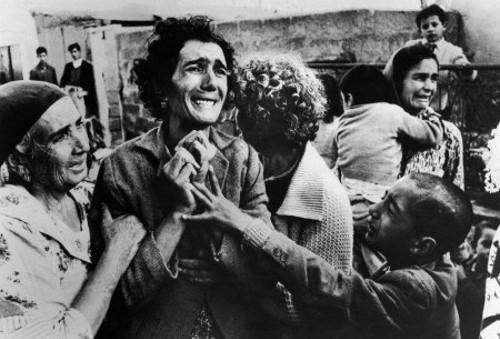 6. May 1967, South Vietnam. This is not the frame of the "Terminator" or "Avatar" is a simple M48 tank commander, Seventh Cavalry Regiment of the army of the United States of America for their work. Brutality as it is.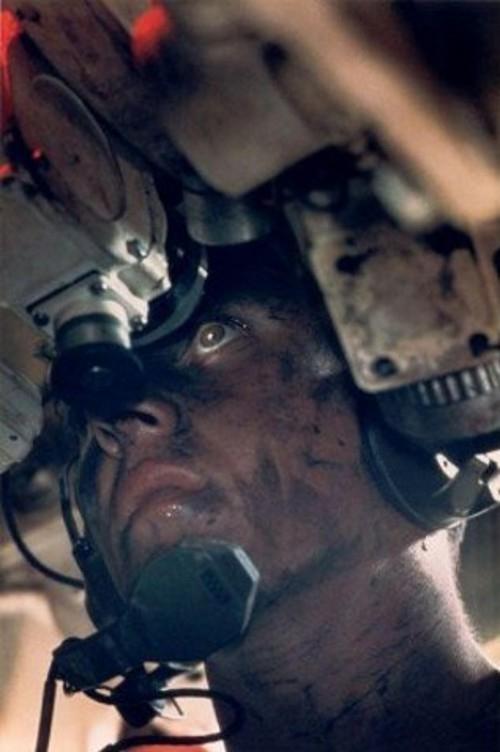 7. One of the first black students named Dorothy Counts goes to college, and behind it are the same students, but with a different skin color. As we can see in the photo taken Sept. 4, 1956, many students like to scoff at Dorothy. Racism or not, but this is very unpleasant mockery of every person, especially a young girl.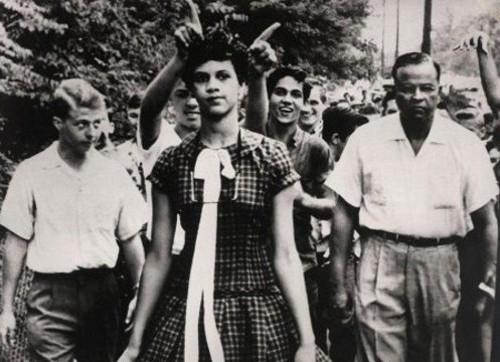 8. Armenia, December 1988. The father of the deceased 17-year-old boy and his family are mourning the loss of a relative who has just started development as a person. The boy - a victim of the terrible earthquake that shook the Leninakan winter of 1988.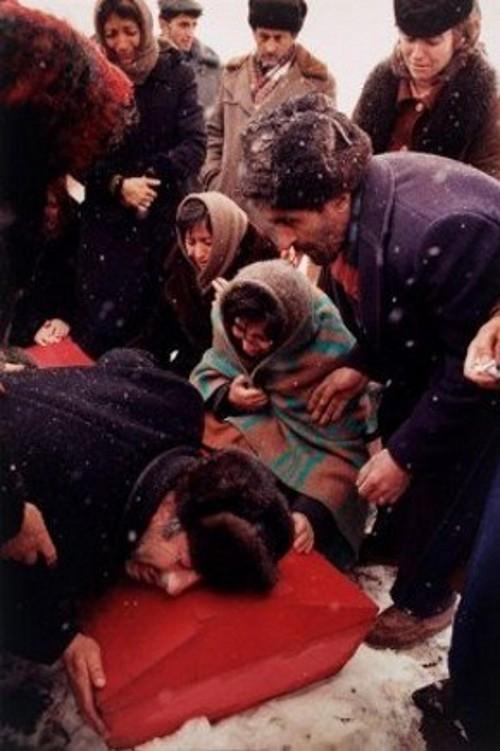 9. December 28, 2004. Indian woman can not hold back the tears, because the tsunami claimed the lives of almost all her relatives. Nature sometimes also presents surprises, from which it is impossible to escape ...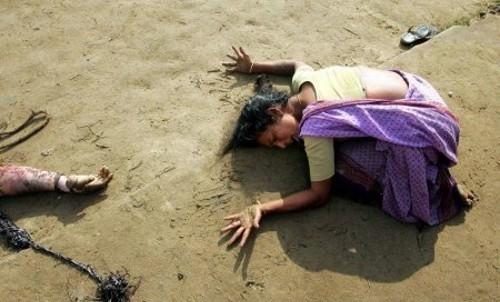 10. On 23 June 2002, Iran. Little boy sits near future the grave of his father, who died in the quake. The boy surrounded by soldiers and local residents, but no one can understand what he is feeling, holding her dead father's trousers and seeing everything that happens around.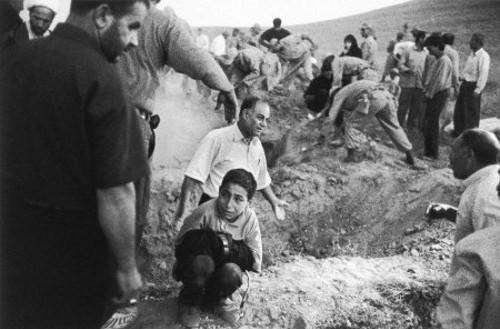 11. The athlete Jesse Owens unpleasantly surprised Adolf Hitler by winning the 1936 Olympics in Berlin. The Fuhrer was furious, because the German team was not able to show the power and strength, which is so crucified himself before these competitions. American athlete took these Olympics four gold.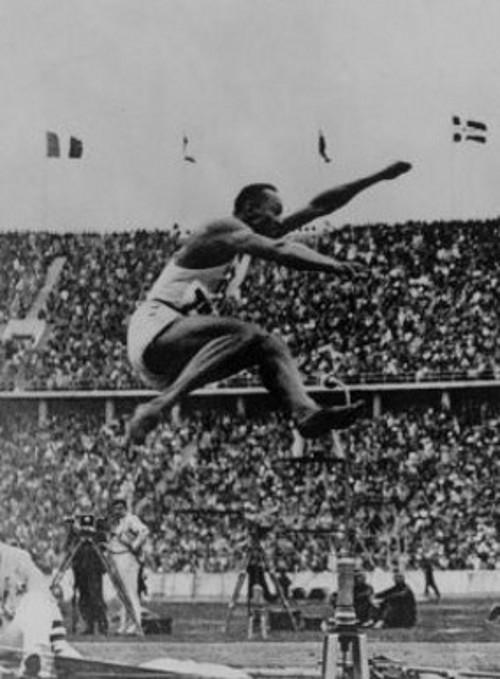 12. June 2001, Pakistan. Little boy in a refugee camp Jalozai died and his body was being prepared for burial. This camp has been and now is home to thousands of families have fled their homes as a result of military operations against the militants. There's not enough food, water, heat and basic necessities, but there is no bloodshed, and other horrific moments of military life.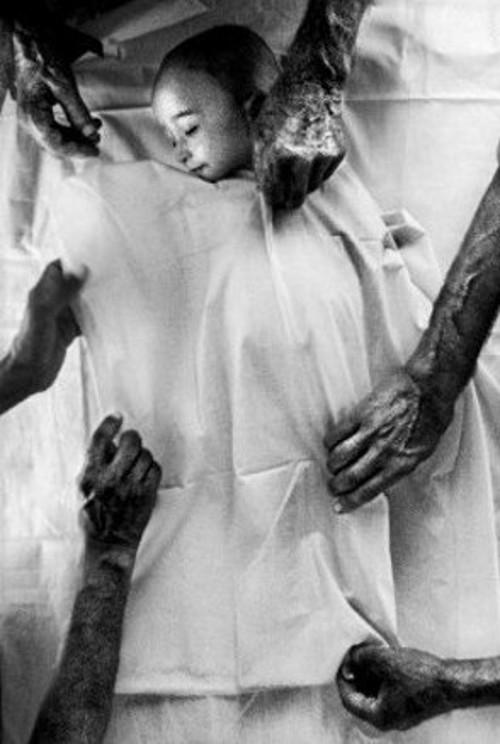 13. One of the most memorable images of the XX century was made in September 1986 in San Francisco. Leather Men Ken Meeks became literally rotting alive, and all because of Kaposi's sarcoma caused by AIDS. Ken Meeks was gay, so the fact that he was infected with the disease is not surprising.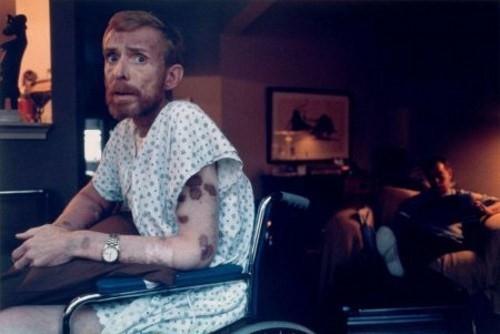 14. Sept. 11, 2001 will forever remain in the history as one of the so-called "black days". The terrorist act committed by nineteen terrorists hijacked four airliners voyage, was one of the worst in the United States. We know that the terrorists who sent two of the four planes on the Twin Towers, were members of a terrorist organization "Al Qaeda". I note that among the terrorists were and those who passed the initial flight training to perform this particular act of terrorism. Both towers collapsed, and the people who were inside were killed.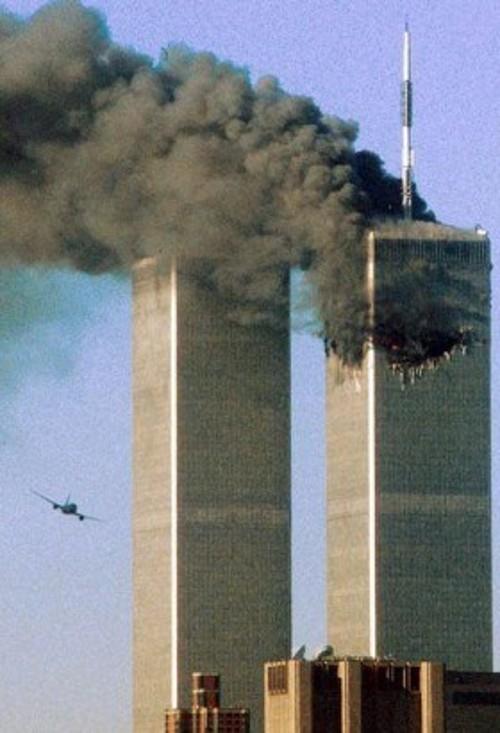 15. Again, "the joke of nature" - the freezing of Niagara Falls in 1911.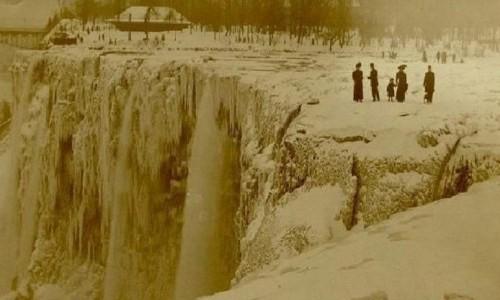 16. Famous photographer Elliott Erwitt shot, made in 1950, shows us the difference between people with different skin color. "White and colored» ...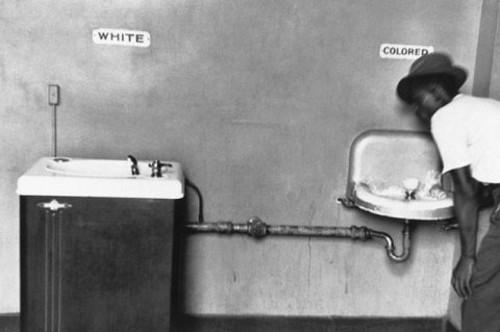 17. Many people think that this photo - Photoshop. But it is not. Photo taken by photographer Spencer Platt, shows us a young and apparently wealthy Lebanese who pass through the destroyed area of ​​Beirut. Photo disgusted, well, how can you, eh? Photographed August 15, 2006.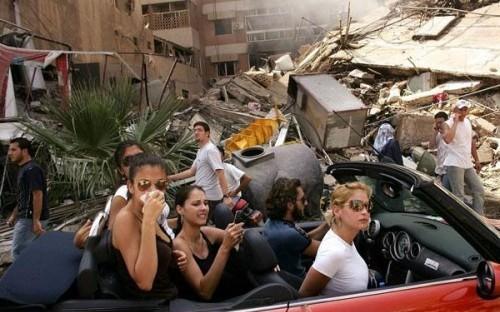 18. The contrast image. Funny people on the background of two mangled corpses. The two hung black men were executed in 1930 for the rape of a white woman and killing her beloved young man. This penalty was called at the time "Lynching" and was spread everywhere. 10000th crowd has ensured that the men were released from jail to lynch. Not a pleasant sight, but people still uneasy - they are happy and smiling all 32.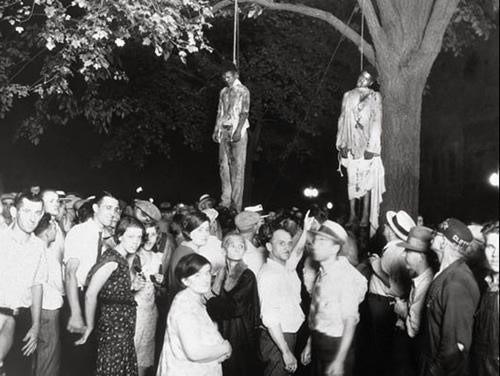 19. December 3, 1984 the Indian city of Bhopal have suffered from severe and most large-scale man-made disaster in the history of mankind. Immense size toxic cloud that was emitted into the atmosphere by one of the American factories, completely covered him this small town. From the release of US toxic waste, affecting more than 200,000 people, including children, who were born after the ill-fated year. The photograph is one of the victims of this tragedy - a small child.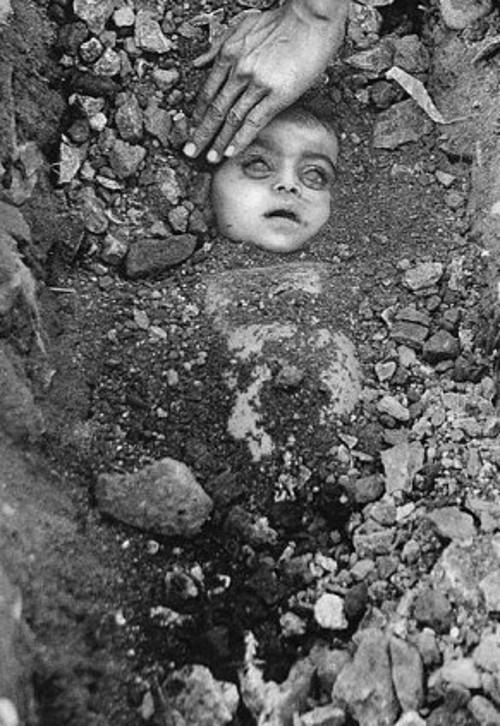 20. 1965. Photo of the human embryo.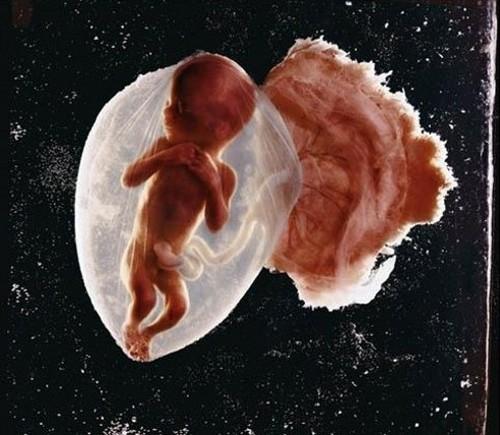 21. 1934. It is not known whether there is a Loch Ness monster really, but this shot taken near Loch Ness like screams, "yes, it exists!" It is unclear now whether the creature in the picture or is mounting, but I am inclined to believe that the monster is actually there. The truth about this picture, I read somewhere that it is a good fake.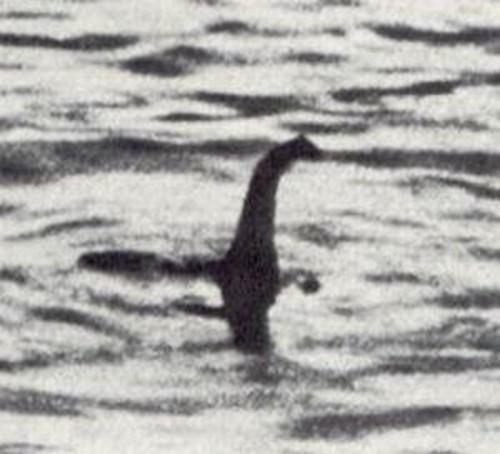 22. Probably, Dolly - one of the most famous animal in the world. This female sheep was successfully cloned from the cell of another adult being a little more, which at the time of cloning was no longer alive. The experiment was conducted in the UK, where she was born July 5, 1996 (but the existence of Dolly, the world learned only 7 months - 22 February 1997). After living for 6, 5 years Dolly was ill and had to euthanize her. Behind the most famous sheep in the history of science has left offspring - 6 lambs. Dolly is now stuffed in the Edinburgh Royal Museum.
Dolly herself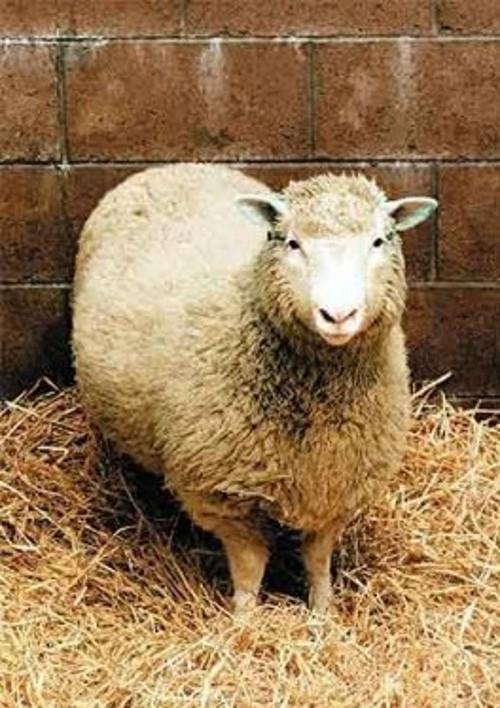 Her effigy (how awful it sounds a word ...)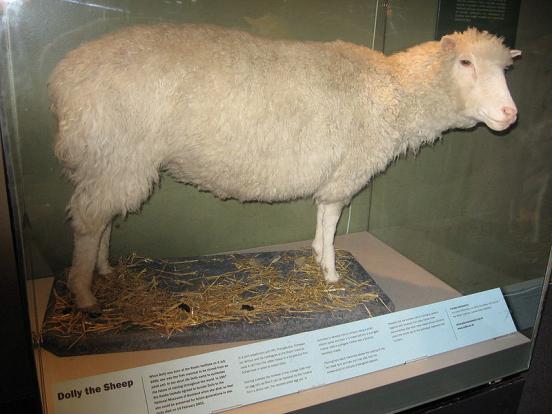 Photo 23. "Naked Runner", made in 1975 during the final competition of English rugby, will forever remain in the history. A man named Michael decided to make a "circle of honor" naked through the stadium just before the Queen and prominent politicians. The Australian ran so effectively that it is rumored Majesty fainted. During his race, Michael spent three months in prison.
24. Three small American gossiping on one of the alleys in Spain, became really famous thanks to the photographer, who quietly took the young gossips. In the US, a postcard with a picture of the trio was almost the most popular.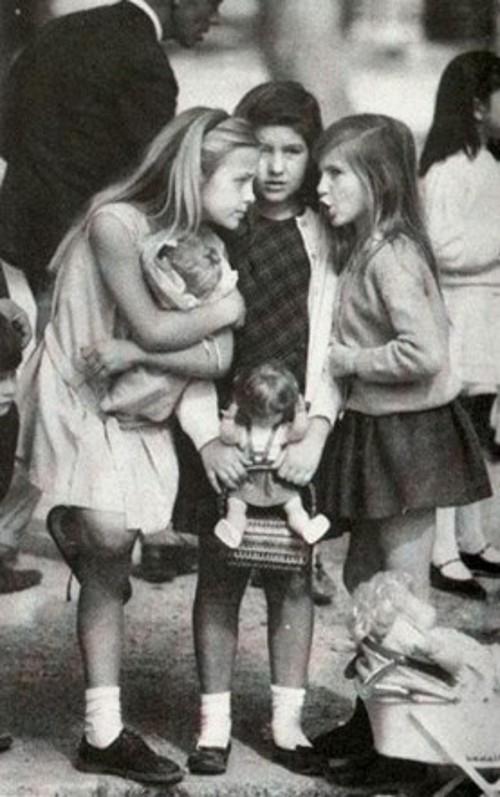 25. The last photo of John Lennon and Yoko Ono. A few hours after the photo shoot John Lennon was killed.
26. The funeral of Heath Ledger can not be called unusual, if not the laughter and smiles from those present. February 9th, 2008 the actor was cremated and buried at home in Perth. About 500 people who had been near the ocean, when the dust Heath were scattered to the wind, smiling and having fun. So he wanted to Ledger, therefore, holding back tears, relatives fulfilled his last wish. At the funeral attended by Heath Ledger's ex-wife Michelle Williams and actress Cate Blanchett.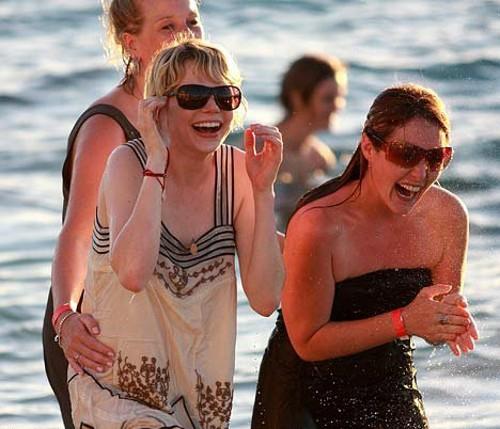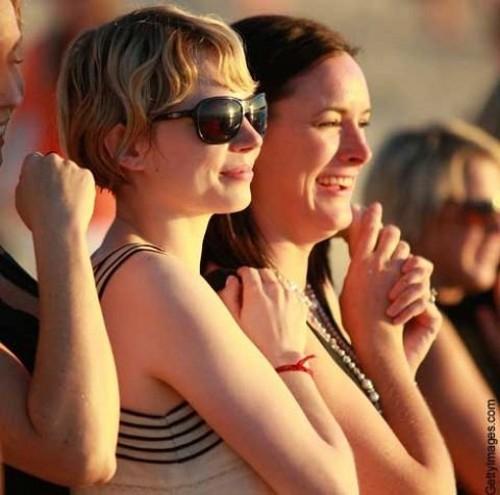 27. I could not in my post did not mention the tragedy that occurred a few days ago (7 September 2011) near Yaroslavl. All hockey team "Lokomotiv", go to the first match of the season was lost. It happened at about 16:00 MSK., When the plane went to the club to play in Minsk and flew a couple of meters, caught fire and fell to the ground near the river. For Yaroslavl is really a huge tragedy, I know for sure, because I live in this city. Very scary that that's because of the negligence of some people die young and successful people who celebrate his playing our country. From the crash site to my house only 20 minutes away, I hope that Saturday will be able to honor the memory of all those who died there. About 50 people are dead (37 players "Locomotive", coaches, 8 crew members), but two of them managed to survive. Ice hockey player Alexander Galimov, received about 80% burns and steward Alexander Sizov (about 15% burn) are now fighting to the death. Let the dead rest in peace, and sincerely wish the health of survivors ...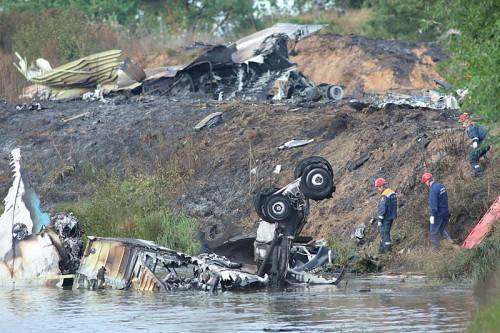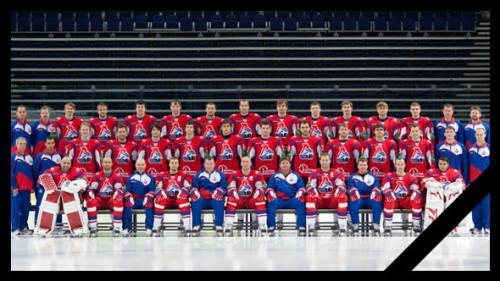 If I start the bad, the sad and finish (do not blame me). Posthumous photo of legends.
Marilyn Monroe
The actress died at the age of 36. Presumably she committed suicide by taking a lethal dose of drugs. But still I do not know if it was really so. Her death - a mystery that probably will never be disclosed.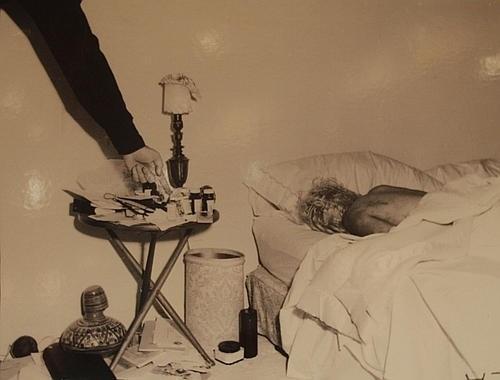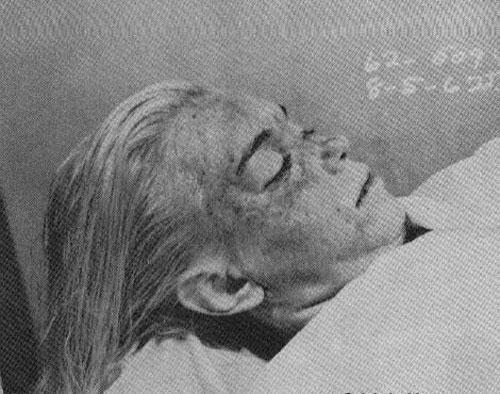 Elvis Presley
Rumor has it that this is a wax replica of the famous singer, but a real Elvis died much later. But whatever the official version the heart of the king of rock 'n' roll has ceased to beat due to excessive doses of various medications (singer suffered from insomnia and took medication). At the time of the death of Elvis Presley he was 42 years old, he has a daughter, Lisa Marie Presley.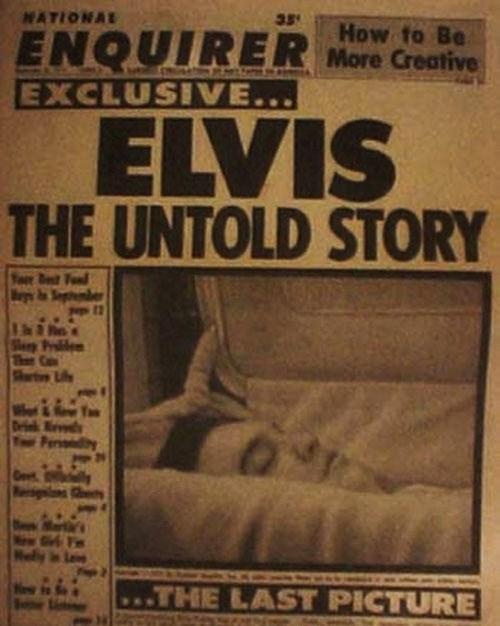 Michael Jackson
The King of Pop died at age 50, leaving his brilliant musical compositions and three children. He was married twice, and one of the wives was just the daughter of Elvis Presley - Lisa-Marie. Michael died of a cardiac arrest, is now being investigated on charges of killing him, as Jackson doctor could be involved in his sudden death. At the funeral of his younger daughter he said: "From the moment I was born, Daddy has been the best father you could ever imagine ... I just wanted to say that I love him!" I think that Michael has never been what it exposed in the media and accusations of child sexual abuse are unfounded.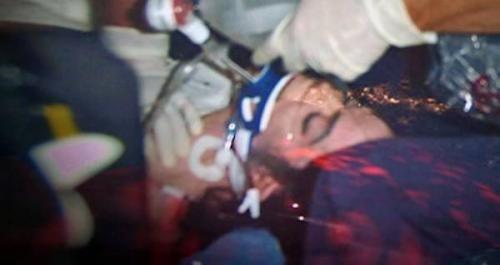 Kurt Cobain
The famous musician passed away at the age of 27, committed suicide. According to the official version of Kurt took an extremely large dose of heroin and shot himself in the head with a gun. There is even a suicide note Kurt, written by red pen, the text of which is as follows:
For Bodden spoken
In the language of an experienced simpleton who would rather be castrated, infantile whiner. This note will be pretty easy to understand. All the warnings from 101 lesson punk rock over the years. from my first encounter with, say, ethics involved with independence and the perception of your community have been very correct. I have so many years I do not feel excitement when I listen or make music, and when I read or write. I can not describe in words how I feel ashamed because of this. For example, when we were backstage and the lights go out and the manic roar of the crowd begins, it does not affect me as Freddie Mercury, who seems to love, bathed in the love and adoration from the crowd. That's what I infinitely admire and envy. The fact that I can not fool you. None of you. It's just not fair to you or me. The worst crime I can think of some - is to rob people by pretending that I'm having fun at 100%. Sometimes I have a feeling that I have to run a timer before going on stage. I tried to do everything in my power to be thankful for it (and I am grateful, Lord, believe me, I'm grateful, but it's not enough). I appreciate the fact that I and we have affected and entertained a lot of people. I'm probably one of those narcissists who appreciate something only when lost. I'm too sensitive. I need to get a bit dull to regain the enthusiasm I had when he was a child. During the last three rounds I felt a lot more thanks to all the people I know personally, and to the fans of our music, but I still can not overcome anger, guilt and compassion for everyone. We all have something good and I think I simply love people too. So much that I really damn sad. The sad little, sensitive, unappreciative, fish-man Jesus! Why do not you just enjoy it? I dont know. My wife-goddess who exudes ambition and empathy and a daughter who reminds me too, as I was myself. Full of love and joy, kissing everyone he met, because everyone is good and not to harm her. And that terrifies me to the point that I can hardly do anything. I can not bear to think of Frances becoming the miserable, self destructive death rocker how I began. In my life there are good, very good, and I'm grateful, but since seven years I began to hate all of humanity as a whole. Only because it seems so easy for people to get along with each other and to have compassion. Sympathy! I think, only because I love and feel for people too much. Thank you all from the bottom of my burning the patient's stomach for your letters and concern in recent years. I'm too much of a non-permanent naughty child! To me there is no more passion, so remember: it is better to burn out than to fade away. peace, love, compassion.
Kurt Cobain
Frances and Courtney, I'll be at your altar.
Please do not stop Courtney
for Frances
For her life, which will be much happier
without me. I love you. I love you!
Here is a note: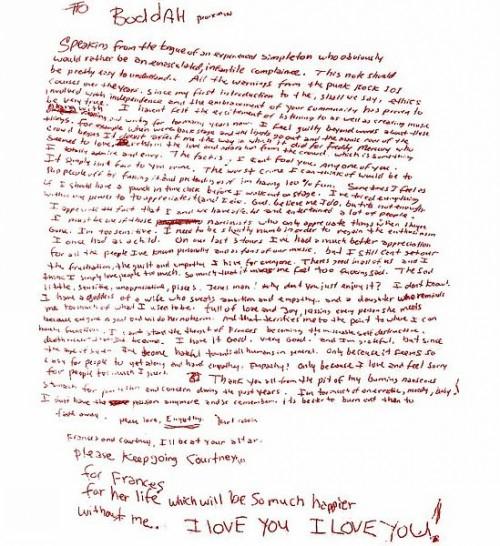 But many friends and acquaintances do not believe that a musician committed suicide, because suicide note a very strange (the last lines written in a totally different handwriting) and allegedly a message to fans on his retirement from Kurt. Moreover, the marks on the hands, proving that Cobain was loading the gun - no, just like fingerprints on the gun (and none of the "suicide" or anyone else yet). Most close Cobain sure he killed his wife Courtney Love. Behind Kurt Cobain left his daughter Frances, who is now 19 years old.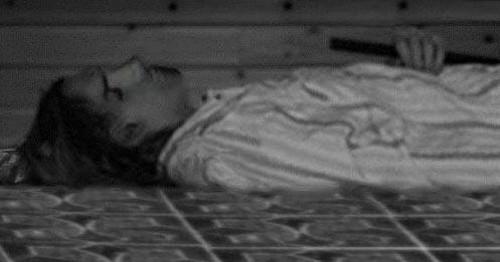 Bonnie and Clyde
Two of these criminals, and in combination, and the lovers were killed May 23, 1934, when the sheriff ambush them. More than 50 bullets at the two and the ones who did not, although they, too, but did not panic and shot at police. Their specially they buried in different cemeteries, although they would love to be together. That is what ends the story of Bonnie and Clyde, Bonnie itself written during his lifetime:
And if you once have to die,
Lie to us, of course, in the grave one.
And my mother would cry, and reptiles - laugh.
For Bonnie and Clyde come peace.
Photo before his death: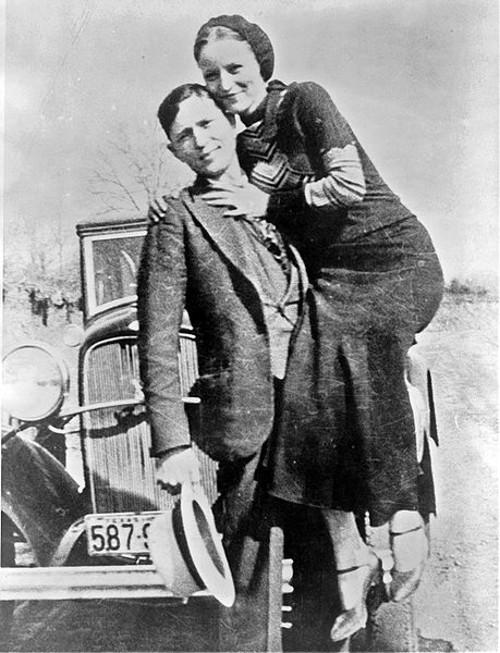 Photos after the murder: