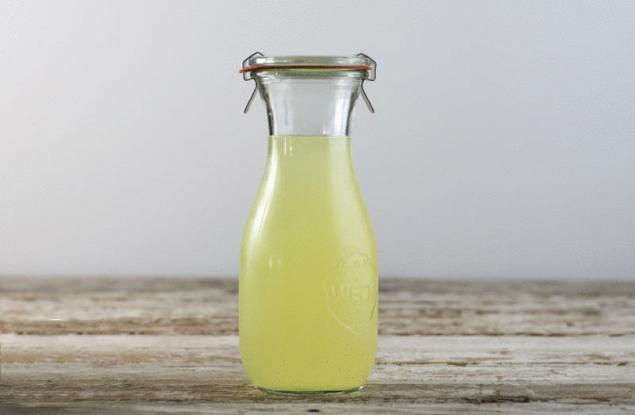 The serum has a large number of proteins. Has a lightening effect. Serum vitamins and mineral elements – potassium, phosphorus, calcium, magnesium, vitamins b, C, E, A, choline, Niacin and Biotin.
Hair serum is useful in that it strengthens the roots, prevents hair loss follicles, the tips are supple, not brittle. Also using it as a conditioner, your hair will have a beautiful Shine, smoothness.
Whey for hair can even replace the shampoo.For example, in combination with a decoction of burdock root in a ratio of 1:1 you will receive a wash of the hair, which is enough to use several times a week. This will help to restore damaged hair, strengthen them.
SERUM FOR FACE — CLEANSING MASK FOR OILY FACIAL SKIN FROM WHEY
100 ml of milk whey up to 36-37°C. soak in it a cotton pad and apply to face and decollete. After drying wash it with lukewarm water.
Effect: eliminates Shine, gives the skin a matte finish, tones and purifies.
WHITENING MASK FOR OILY AND NORMAL SKIN FROM WHEY
3 tbsp fat 20% cheese, mix with 3 tbsp of whey, apply on clean skin and rinse after 10 minutes. Instead of water you can use warm green tea.
NORMALIZING MASK FOR ALL SKIN TYPES FROM WHEY
0,5 tbsp of ground coffee mixed with 2 tbsp whey and apply on face for 15 minutes, rinse with warm water.
FACE PEELING FROM WHEY
For dry, normal and combination skin: 0,5 tbsp of oatmeal mixed with 2 tbsp milk serum, apply to face and massage in circular motions for 2 minutes. Wash with warm and then cool water.
For oily skin: 3 tbsp whey connect with 1 tsp of salt. Received scrub in V massage over face for 1 minute, then gently rinse with warm water. After the procedure, apply a soothing cream.
SCRUB CLEANSER FACIAL SKIN FROM WHEY
2-3 slices wheat or rye bread soaked in 100 ml of serum, mash and apply on face. Massage for 10 minutes. Then rinse your face with water at room temperature.
WHEY FOR HAIR — HAIR MASK FROM WHEY
200 ml of serum heat to a temperature of 40-50°C and mix in the oats until a thick mass. Then apply it on your hair, cover your head with a plastic bag and towel. Hold the mask for 30 minutes, then rinse with warm water without shampoo.
You can make hair mask using only whey without any additional ingredients. Enough to drench her hair and hold for 20-30 minutes, then rinse with warm water with shampoo.
BATH FOR NAILS FROM WHEY
250 ml of warm serum add 2-3 drops of jojoba oil. Put your hands in the tub for 10 minutes, then blot with a tissue.
BATH SERUM
In warm water add a handful of bran and 5 drops of wheat oil, and then pour the warm whey (2l). Take a bath 20 minutes. Then, without rinsing, Pat the skin with a towel.published  
P. S. And remember, only by changing their consumption — together we change the world! ©
Source: vk.com/sekretolgi?z=photo-77748302_363448008%2Falbum-77748302_00%2Frev