The human body on 80% consists of water. So it is natural that the facial skin requires constant moisturizing in order to have a beautiful and youthful appearance. Lack of moisture can cause premature skin aging, wrinkles, peeling.
Today, there are many ways of moisturizing the skin and one of the most simple and effective is a
mask for the face
.    
How competently and correctly to moisturize your face?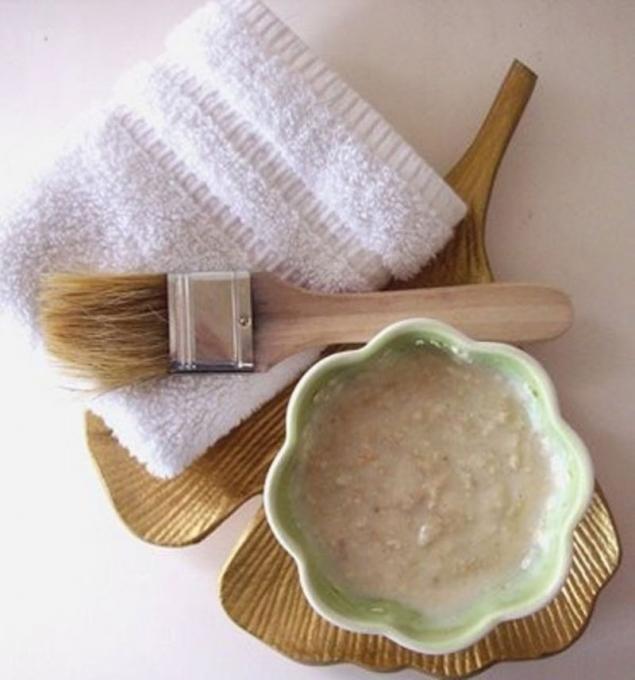 Hydrated skin looks smooth, matte, smooth and healthy. Therefore, regardless of your skin type, you need to constantly and efficiently to moisturize.
In modern cosmetology there are several types of hydration:
create an external barrier which will cover the skin invisible film and protect it from harmful environmental influences and to prevent evaporation of moisture from its surface;
the use of substances which reduce moisture in the stratum corneum of the skin.
The most popular substances used by beauty experts for moisture, are alginates, collagen, hyaluronic acid and chitosan. All of these substances help to preserve the moisture in the skin, restores its elasticity and youthfulness.  
Moisturizing facial mask — beauty salon right at your home
However, not all have the opportunity to visit cosmetologists and undergo expensive treatments hydration. Therefore, as a decent alternative you can use a
moisturizing homemade face mask
.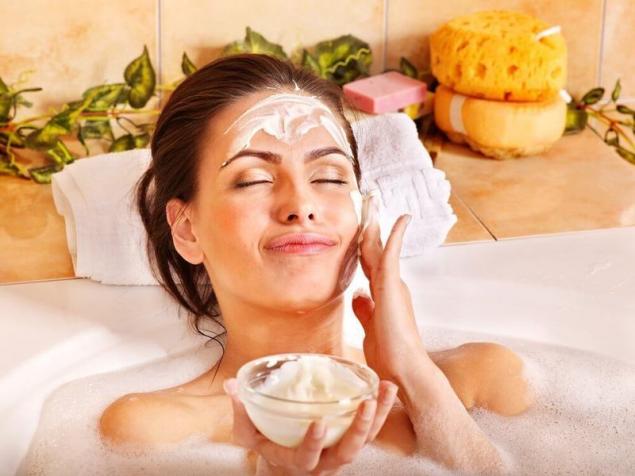 Since the days of our grandmothers survived various recipes of masks from natural products that you can find in the house. The time of manufacture of a mask is not more than 10 minutes. But the effect of them is sometimes much better than by visiting beauty salons.
Almost all masks have no contraindications or age restrictions. If you suffer from allergies, be attentive to the components that you add to a mask to avoid becoming a victim of unexpected allergic reactions.
Next, we consider the most popular moisturizing mask for the skin that you can easily prepare at home.  
Honey-milk mask for dull, dry, yellowish skin
The recipe this hydrating facial mask is extremely easy. You just need to mix honey and milk in 1:1 ratio. Evenly spread the mixture on the face and wait for 15 minutes. Then warm water rinse the mask off your face. Finally, wash with cool water or wipe the face with ice. If you have no milk at home, you can easily replace it with another milk product, e.g., fermented baked milk, kefir or yogurt. Mask refreshes, moisturizes and tones the skin.  
Egg mask for dehydrated and dry skin
To prepare the egg mask should be mixed in a clean ceramic dish 1 egg yolk with 1 tablespoon of sour cream, then add 1 teaspoon of base oil (e.g., olive, peach oil or grape seed) and mix thoroughly. If the consistency of the mixture too thick, you can dilute it with boiled water. Apply the mixture on the face and neck, wait until it dries out a bit (about 15-20 minutes) and rinse with warm water. This homemade mask will help you to deeply moisturize the skin, to bring it in tone, to make it shining and attractive.  
Mustard mask for dehydrated dry skin
Mix thoroughly 1 tsp. of mustard powder with 1 tsp of water, then add 2 tbsp of vegetable, olive or peach oil. Spread over face with fingers or a special brush, soak 5-6 minutes and rinse the face with cool water. Definitely after using this mask, use nutritional fat cream. The mask will improve the complexion, normalizes blood circulation, tones and moisturize it. Do not recommend using this mask more than 1 times a week, and overexposed on the face more than time, because the mustard is quite aggressive means.  
Honey glycerin mask for dehydrated dry skin
In a clean dry bowl, mix 1 teaspoon flour, honey and glycerin. Add to the mixture 2-3 teaspoons of boiled water and mix until the consistency of thick cream. Apply to dry, clean skin, wait 15-20 minutes and rinse with warm water. Mask nourishes, softens, tones and moisturizes the skin. Please note that honey in the composition may cause an allergic reaction.  
Tomato mask for dehydrated dry skin
To prepare this mask you need to grate a ripe tomato, add cornstarch and mix to a thick porridge. Then add a few drops of olive or plain vegetable oil, mix and apply on dry face. After 15-20 minutes, rinse the mask with warm water. This mask is rich in vitamins and nutrients, it deeply moisturizes, smoothes the skin, evens the complexion.  
Malolactic mask for dehydrated oily skin
Slice one Apple in small cubes, pour a glass of milk and simmer until mixture becomes a smooth slurry. Wait until it cools and then apply it on the face. After 20 minutes, rinse with warm water. The mask is great moisturizes the skin and exfoliates dead skin cells with natural fruit acids.  
Moisturizing cottage cheese and honey mask for dehydrated oily skin
With a mixer or whisk, whisk 1 egg until frothy, add 2 tablespoons of cottage cheese and 0,5 teaspoons of liquid honey. Mix all until smooth. Spread the mixture on the face for 20 minutes. After this time, rinse all the face under a stream of warm water, then rinse well with cold water. This nourishing mask perfectly moisturize the skin and normalizes the sebaceous glands.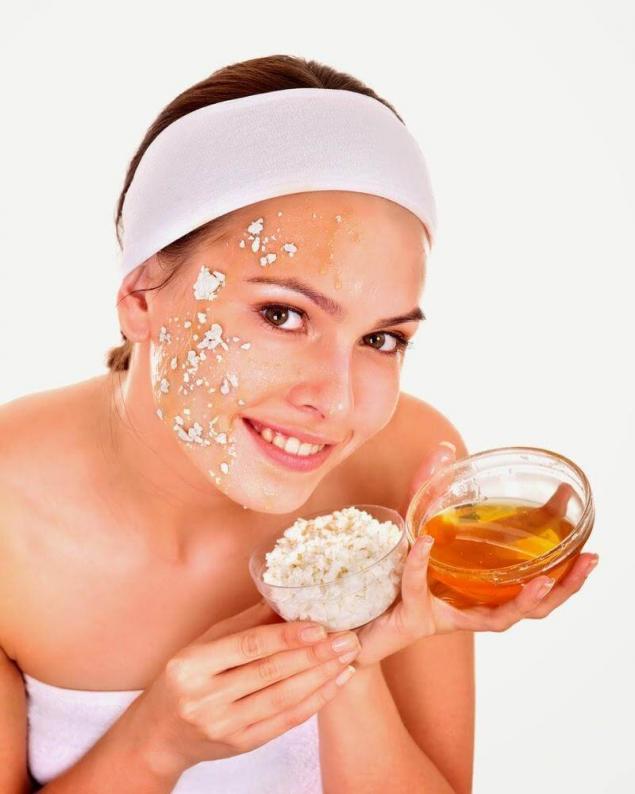 Moisturizing carrot-Apple mask for dehydrated oily skin
On a fine grater grate one Apple and one carrot. Mix and apply on dry and clean skin. After 15-20 minutes, rinse with warm water. This mask not only deeply moisturize the skin, but also eliminate excess fat.  
Plum mask for dehydrated oily skin
Separate the white from the yolk. Whisk the whites until frothy. Ripened plum peel, mash with a fork and mix with the protein. Spread the mixture on the face, cover with gauze pad and lie down for 20 minutes. Then rinse all the face with warm water. Plum is rich in useful vitamins and minerals, and egg white cleans the pores and tightens the skin.  
Moisturizing cabbage-yeast face mask
To prepare this mask you will need 2 tbsp. of fresh cabbage juice, 10 g of yeast and 1 egg. Mix the yeast with cabbage juice, simultaneously warming the mixture on a water bath. Meanwhile, whisk egg white until frothy. Apply a cabbage-yeast mixture on the face. After 5 minutes, brush on top of the whipped protein. Thoroughly wash your face after 20 minutes once warm, then cold water. After that, apply on face moisturizer. This mask will make your skin soft and elastic.  
Also interesting: the Miracle mask for the skin around the eyes: the 15 best recipes 6 miraculous means to fight age spots
Moisturizing facial masks are a wonderful tool for skin care. Thanks to its natural composition they are rich in vitamins, macro - and micronutrients, which allows them great to moisturize, nourish and tone the skin. As a result of regular use homemade masks you can give the face a fresh, healthy look, get rid of dry skin and even out the complexion.published  
Source: 3koketki.ru/uvlazhnyayushhaya-maska-dlya-lica.html