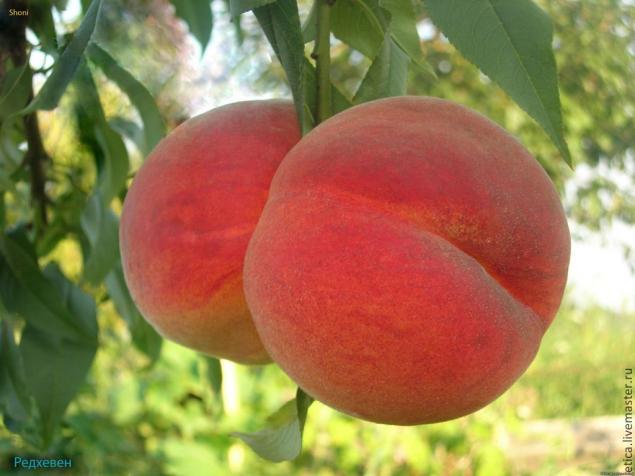 At all times, connoisseurs of "beautiful" women compared the skin with a juicy peach. It is the same soft, velvety and tender, like this beautiful fruit. Queen Cleopatra herself strongly sang peach, as "a great miracle cure" for skin care. Since then, he is considered the "king" among the natural ingredients used in the home cosmetics.
Today we also must not forget about the miraculous qualities of the peach, so I propose to examine this fruit is "under the microscope". Filled with vitamins, nutrients and literally radiating sunshine, it is ideal for making masks.
Domestic cosmetics with peach exhibit unusually rapid and excellent anti-aging moisturizing effect. What are their benefits and use of secret for all of us? I propose to talk about this in more detail today. I hope that many of the recipes for masks peach appeal to you heart.
The secret to the effectiveness of peach masks
Healing properties of face masks from peaches due to the unique chemical composition of this useful fruit:
Vitamin A helps the skin to fight against dryness and aging;
Vitamin E smooths wrinkles;
ascorbic acid gives the skin elasticity and firmness;
Organic acids have an exfoliating effect and anti-aging properties;
silicon repairs damaged tissue and potassium normalizes the skin hydration process.
Due to its anti-aging and moisturizing properties, peach mask will be most useful to owners:
dry, sensitive skin;
aging, wrinkled, mature, sagging skin;
normal skin for nutrition;
fat, if included in the mask lemon or protein.
For the preparation of such masks are suitable as fresh fruit and fruit juice, peach butter.
Important! Before applying cosmetics with peach is necessary to test for sensitivity. It's enough to slice fruit lubricate the skin of the wrist and if after 10 minutes there will be no irritation or redness, a mask can be used.
Homemade peach masks for dry and sensitive skin facial
Vitamins contained in the fruit and essential oils particularly beneficial to dry and sensitive skin. Masks perfectly moisturize the skin, smooth out fine wrinkles, flaking and redness will be removed.
Peach face mask
Peach need to peel and squeeze the juice. On the face, pre-cleaned and oiled cream, sour cream or cream, apply gauze soaked in peach juice. The mask is left for 20 minutes. When dry wipes, it should be further moisten the juice. Remains juice can remove a dry cotton swab.
Recipe mask of peach for dry dehydrated skin
10 minutes before applying the mask face should be wiped with corn or olive oil, and then for 5 minutes to make a wet compress, soak a cloth in warm chamomile infusion. Peach peeled and crushed blender until a smooth slurry. Peach puree put on the face for 10 minutes, then wash with cool water.
Peach mask for the care of sensitive skin type
Ingredients:
1 soft peach;
5-10 g fat sour cream or olive oil;
5 g of starch.
Peach pulverized, added cream (or olive oil), starch to higher viscosity. Apply on the skin for 20 minutes. Better to wash with water at room temperature.
Peach mask for dry and sensitive skin
the flesh of a peach;
20 g of cottage cheese rubbed;
5 g of liquid honey.
All components of the mix until smooth. On the face should be applied thickly. The preferred procedure is to lie down during the 20 minutes, and then gently remove the mask and rinse your face with warm water.
Homemade recipes for facial skin changes with age
Age-related changes in the face, as paradoxical as it sounds, virtually independent of the actual age of the woman, and due to the care of her and the way of life. Therefore, quite often the wrinkles begin to appear at the young girls, and closer to 35 years - the skin becomes faded. To delay these changes as far as possible, you should at least occasionally indulge your skin peach masks.
The mask of peach for aging skin
face Halved ripe peach razomnut need to obtain a slurry. Add to mashed egg yolk and 1 tablespoon cream. The mask is applied for 15 minutes. Wash water should be cool.
Peach Mask for skin elasticity
Puree? peach mixed with 2 tbsp sour cream or cream. The mask is applied for 15 minutes, rinse with cool mineral water. a mask for best results should be applied every other day for 7-10 days.
Nutritious mask for normal skin facial
Normal skin is the most "trouble-free", so if you care enough procedures to ensure that her nutrition and hydration, toning.
Face mask of peach and honey
To prepare this mask fit hard fruit that need to boil for 30 minutes, cool and razomnut fork. In the resulting puree is added 1 tbsp honey and oatmeal. All is well mixed, applied to the skin for 20 minutes, wash off with warm water.
Mask for normal to oily skin prone to
Half of a ripe peach;
1 tsp oatmeal.
Ripe peach chop, add oatmeal. On the face is applied to 25 minutes, wash with cool water. This mask softens the skin and removes shine.
Peach mask in the care of oily skin
An additional ingredient in masks for oily skin are the lemon juice and a protein which, in fact, are dried and rash, relieve inflammation and a little bleach.
The recipe nourishing mask with peach and lemon juice
To mask you will need:
1 peach;
Juice of half a lemon;
25 g of oat flakes.
Peach peel and grate, add lemon juice and oatmeal. The mass stir and let stand. After 10 minutes, applied to the face for half an hour. The remains of the mask wash off with cool water.
Refreshing peach mask
2 ripe peaches should be cleaned thoroughly and chop. To this add 25 ml puree lemon juice, 5 g of baking soda and 5 g of liquid honey. Mix everything. The resulting peach-lemon mixture apply on face for 15 minutes. Then you need to wash with cool water.
Presented recipes masks allow beauties having a different type of skin, renew its youth, moisturize and tone the skin, remove wrinkles early. And it's all thanks to one single fruit - peach!