On the nose a new school year. Before each caring and attentive parent the question arises, what kind of food to give the child with them to school.
We decided to ease your task and made 15 for a tasty, simple and nutritious school snacks for the lunchbox. Let the children will be fed, and mom is happy!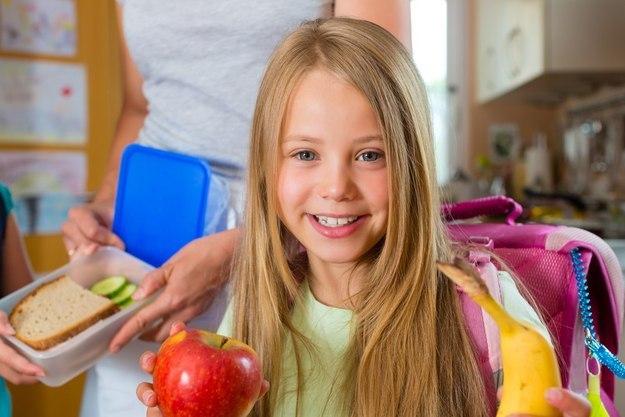 1. Apple + tomato + bread + lettuce  
The easiest option snack, which can be presented to a student, it is vegetables, fruits, bread and freshly squeezed juice. Choose foods that are not fussy about storage. Apple, cherry tomatoes, a few loaves of whole grains and lettuce will cope with hunger.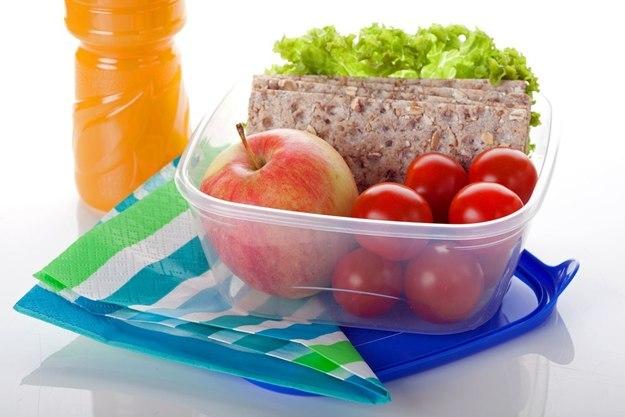 2. Vegetables + grapes + nuts  
The child has planned a big day at school? Math test or the dictation in Russian language? Then the snack should perform the more important task is to revitalize the brain.  
Put it in a lunchbox of nutritious vegetables: cherry tomatoes and steamed broccoli. Add delicious grapes and nuts to taste. It can be almonds, pine and walnuts. This snack not only will lighten mood, but also focus on the great educational achievements!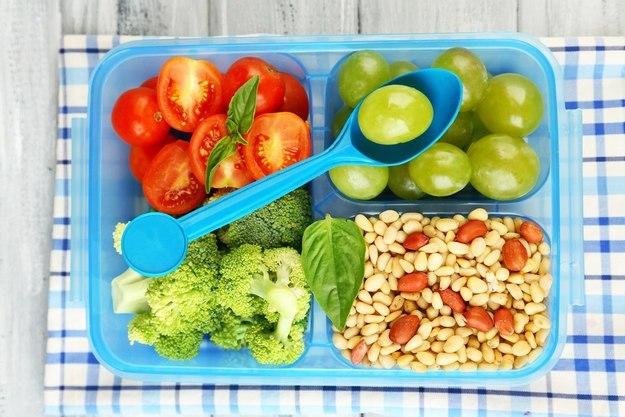 3. Brown rice + steamed vegetables + meatballs  
School and after — training or lessons in music? In these days, you can choose hearty meals for the school lunchbox. Boil brown rice. It gives a sense of satiety for a long time. Add the steamed vegetables (broccoli, carrots) and chicken or fish patties. Delicious, and most importantly, very satisfying and healthy!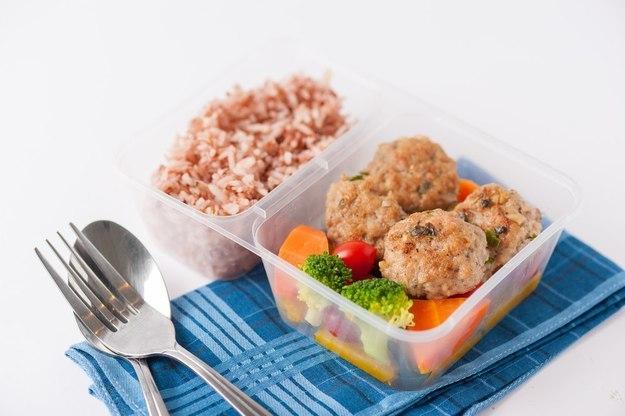 4. Banana + sandwich + tomatoes + greens  
The sandwich may be present in the school lunchbox. It is only important to choose the right ingredients to make it as useful as possible. For example, two slices of bread, lettuce, a slice of ham and melted cheese.  
To this sandwich, add tomatoes and herbs. They have a lot of vitamins. Greens still a valuable source of antioxidants which strengthen immunity and support the body in good shape. Don't forget about the sweet fruit. Banana is a great alternative to harmful sweets. After consumption, your body produces endorphins, i.e. happy hormones, so a good mood and zeal for learning child are provided.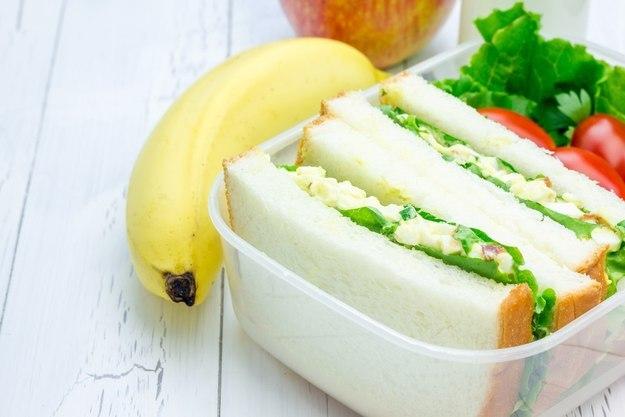 5. Berries + nuts + pie  
Sometimes you can treat your child with a sweet lunchbox. Place juicy berries and some baked goods. A few strawberries and blackberries provide the body with essential vitamins and minerals. Nuts stimulate mental activity and removes the feeling of hunger. Delicious home-made cake will be a great encouragement for educational success and good behavior.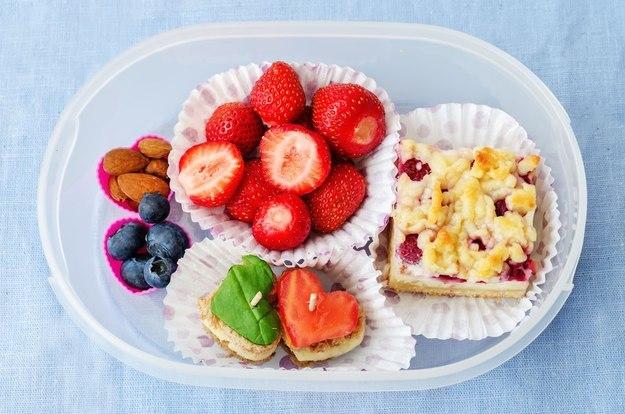 6. Vegetables + fish  
Fats must be included in the diet of the child. However, we are not talking about the sweets and fast food, and the right fats. These include polyunsaturated fatty acids omega-3, which in large quantities contained in the red fish. Prepare the salmon steak or salmon on the grill, in the oven or steamed with lemon. It goes well with useful salsa.  
Put in the lunchbox are also a few vegetables that do not belong to the category of perishable products: tomatoes, broccoli and greens.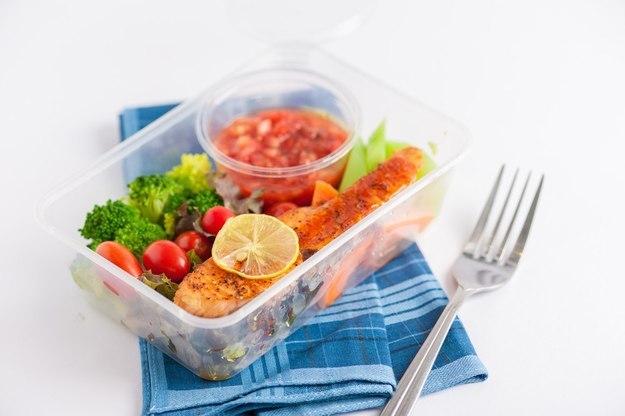 7. Berries + nuts + toast + vegetable sticks  
There are days when the mom really wants to be creative and caring. Such a bright and original lunchbox will definitely delight any child and will be a perfect snack during the day.  
Prepare a sandwich with whole-wheat bread. Then put a piece of cheese cut using the candy molds in the shape of a star. Add eyes (slices of black olives and green peas) and smile (a slice of tomato). Don't forget about berries and nuts. They will act as a kind of healthy dessert. Also cut sticks of carrot and cucumber.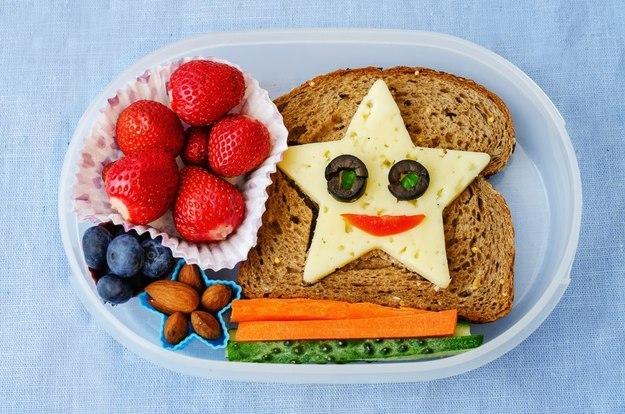 8. Brown rice + steamed fish  
White fish is not less useful than the red. It is delicious, nutritious and hearty. It is a source of high quality protein. Select the Pollock, cod, haddock. They combine perfectly with brown rice. Choose the right cooking method. It is best to cook fish steamed or boiled. So much more useful. Add a few leaves of salad to enhance the dish.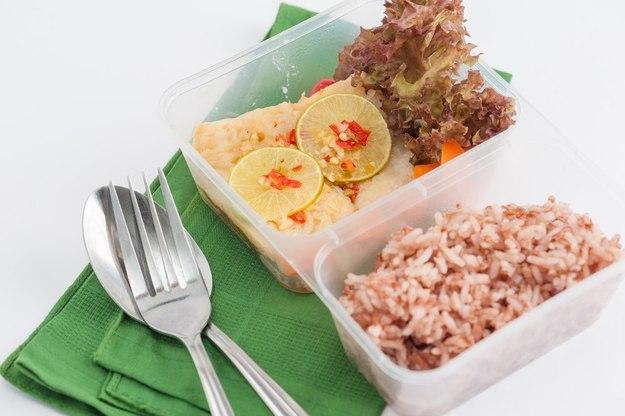 9. Sandwich + berries + vegetables + greens  
The star-shaped, you can make not only individual ingredient, but also a mini-sandwich. As ingredients will choose the cheese and ham. They keep their shape. Add to the lunchbox herbs and vegetables — steamed broccoli and carrot sticks. As a nice and tasty additions put blueberries and nuts.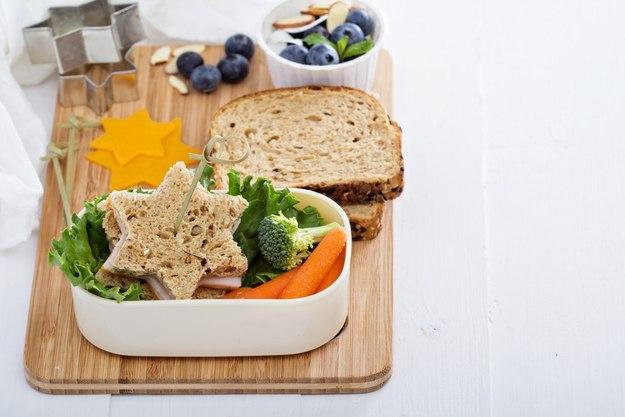 10. Sandwich + Apple  
Sandwiches still rightfully remain the perfect school snack. Besides they are so fond of children. Useful prepare a sandwich with vegetables and smoked meat or salmon. Kids will be fed and happy. For its preparation you need the herbs to taste, cucumber, cut into round slices, smoked meat, slices of bell pepper and a couple tablespoons of homemade mayonnaise. Don't forget about the Apple. It will freshen breath and lift your spirits.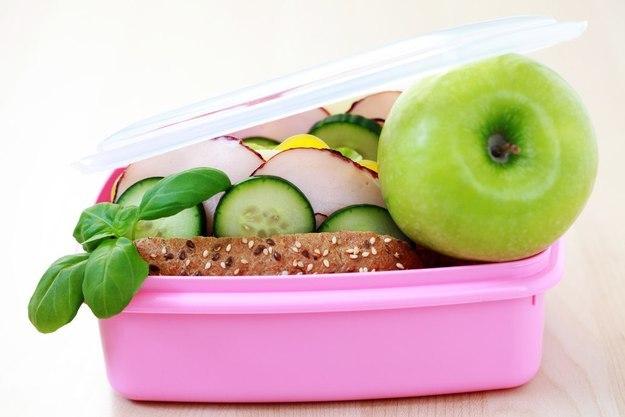 11. The spring rolls + greens  
The spring rolls — it is a real event, if you collect the lunchbox for the little gourmet. This dish is very filling, easy and nutritious. To experiment with the fillings can be endless. To prepare these rolls in just 10 minutes by following our recipe.  
Don't forget the useful addition in the form of fresh herbs. By the way, if you want to you can add vegetables and some meat ingredient.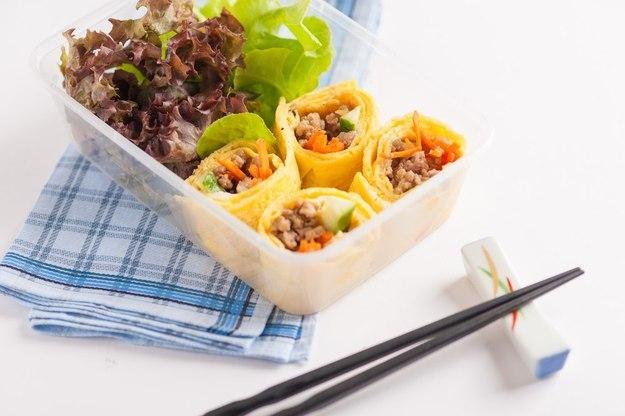 12. Chicken nuggets + Pete + vegetable sticks  
Children love chicken nuggets. Prepare them at home and add to the school lunchbox. Of course, some nuggets will not eat. Add more unique sandwich. Use pita instead of bread. Wrap it in slices of cheese and slices of pear drizzled with a small amount of honey. The final twist in this lunchbox to let them be nuts and berries to taste.
13. Burger + salad  
Child nutrition should be not only balanced and rich in vitamins, but also modern. These snacks especially pleasing to children and increase the parents ' authority in their eyes. After all, you listen to fashion trends and tastes of their children. Prepare for kids homemade burgers. For this you will need the following ingredients: bun, cut in half, lettuce, cheese, slices of smoked meat or boiled chicken, sliced tomatoes and cucumber sauce.  
We also put in a lunchbox and vegetable salad 2 healthy ingredients cabbage, grated, and finely chopped cucumber. Season this salad with a small amount of olive oil or balsamic vinegar.
14. Sandwich + carrots + chocolate + Apple  
Here is another hearty option snack for school. In sandwich be sure to add cheese, ham and herbs. So it will turn out as tasty and nutritious. Put carrots. It improves vision and is a valuable source of vitamin A. the Apple will provide the child's body in iron and other minerals. Chocolate, in turn, activates the brain and has a beneficial effect on mental activity.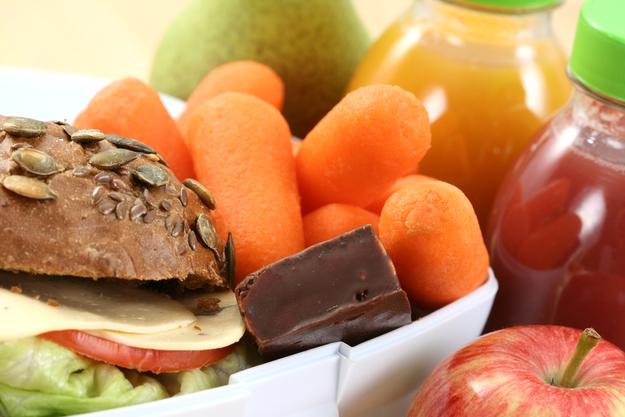 15. Homemade Doner kebab + vegetable sticks + dried fruit + crackers + yogurt sauce  
Shawarma, prepared by caring hands of mum will be a tasty school lunch. It is quite simple. Here is a list of necessary ingredients: pita, cucumbers, tomatoes, greens, cooked chicken or ham, sour cream. Serve it better with the yogurt sauce.  
The latter will also be the perfect topping for vegetable sticks and crackers. As a useful dessert, choose dried fruit: raisins, apricots, figs. published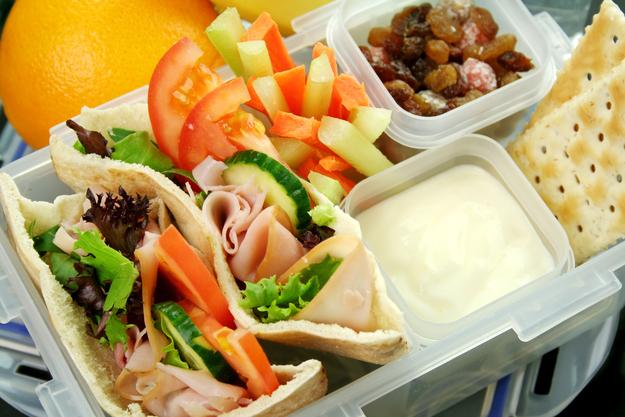 Author: Marina Ivanova    
P. S. And remember, only by changing their consumption — together we change the world! ©
Source: kitchenmag.ru/posts/3661-obed-v-korobochke-dlya-detey-15-variantov-menyu-dlya-vkusnogo-lanchboksa