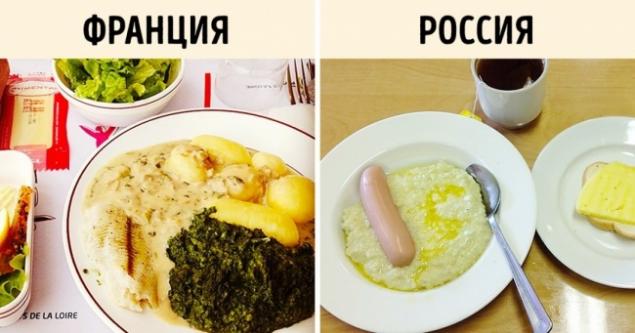 Each country has its own way suitable to the development of school meals. Someone feed the children semi-finished products and snacks, others choose lunch. The most popular dishes — potatoes, rice, and coleslaw. In many schools, milk or dairy substitute and fruit juice.
The website
understands how this looks in practice.
Iran
By law all children up to 14 years in Iran rely a daily mug of milk, a few pistachios, fresh fruit and a biscuit. But moms often give them a lunchbox with you. In this figure, the tomato and the lamb kabob.
South Korea
The system of school meals in South Korea — one of the best in the world. At the bottom large holes usually have soup and a side dish (usually rice) in the upper — salads, seafood, vegetables and fruit. Thin children are given fish oil in a measuring spoon. Popular dishes: kimchi, sesame leaves stuffed with rice with honey sauce, soup made from potatoes and pumpkin pancakes with green onions, peppers and octopus salad with cucumber and carrots.
Japan
The approach to nutrition is about the same as South Korea's: definitely hot soup, rice, some meat, salad and milk. Students can not bring their own food until they go into high school. In the canteen there is not a food. Students do not eat in the dining room. They wear white robes, take the food and lay the table in the classroom.
UK
Fried potatoes, carrots, rice porridge, salad, fruits and a Belgian waffle with chocolate. The budget of many schools is limited, therefore, children often offer fast food. Kids love it, it's cheap to prepare.
USA
Here is lunch in Utah. Peaches, corn, chicken and soup. In American schools the food is different. Often it's fast food and processed foods that children love: chicken nuggets, fries, pizza. Parents often give children in school lanbox.
Turkey
Lunch prepared at home for a student. Rye bread, walnuts, grapes, Apple, pomegranate and yogurt. Anything that stimulates the brain.
Thailand
On the menu today pork in sweet and sour sauce, and rice pudding in banana leaves.
France
Lunch at school in the West of France. Fish, spinach, potatoes, salad, cheese and bread. Is considered the main meal of the day. Lunch break lasts from one hour to two. Students are allowed to go home during this period.
Finland
Finland has a responsible approach to the issue of school meals. For each child rely snacks during the morning and evening classes, and lunch. The children have lunch in the dining room, everyone chooses from the offered variety of dishes. Each school goes forward, if the child has a special diet for health reasons or religious beliefs. In the picture: meatballs, meat sauce, potatoes, salad, muesli.
Russia
In Russia the children in the schools receive free Breakfast in the morning from 9.00 to 12.00. Lunch the afternoon is paid, but it is not always clear where the dinner, and where Breakfast is served. For example, this sausage, buckwheat porridge and tea.
Hungary
Here the children are fed tightly. Lunch consists of noodle soup, baked beans with meat and nuts for dessert.
Israel
Fresh fruit, muesli bar, sweets and sandwiches from the loaves of bread.
See also
What to eat for Breakfast children from all over the world
Lunch in Japanese school is much more than just a meal
12 Breakfast to start the morning
via www.adme.ru/zhizn-kuhnya/12-zavtrakov-s-kotoryh-stoit-nachat-utro-911510/