In a year your name might be on Mars on Board NASA's next mission to the red planet. The us space Agency invites people from around the world to send your name on a silicon chip that will be attached to the lander Insight. The spacecraft will leave the Earth in February 2016 and land on Mars seven months later.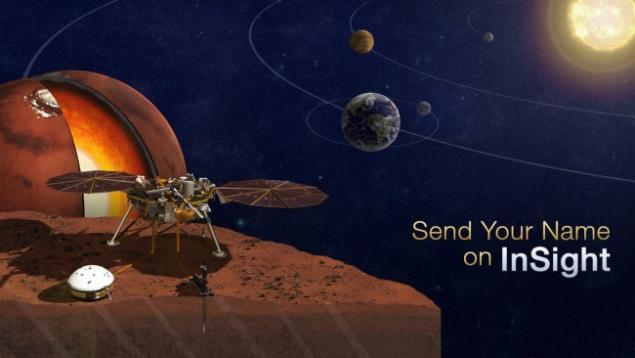 "Our next stage of preparation for the journey to Mars is a fantastic new mission on the surface of this planet, — said the Director of planetary exploration NASA Jim green. — Taking part in this opportunity send your name aboard InSight to the red planet, you join this journey and to the future of space research".You can fill out a form on the NASA website before September 8th and get your "boarding pass to Mars."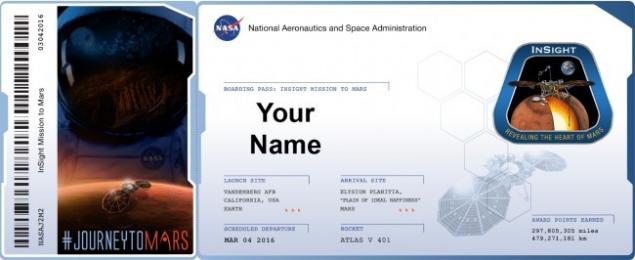 All completed the questionnaire will gain a "permanent traveler" that reflect the degree of participation in space programs for NASA. So, last year, over 1.38 million people received these glasses when their names flew aboard the capsule "Orion" during its first test run. The next opportunity to score those points will appear only in 2018, when Orion will be launched using the new SLS rocket and will carry out an unmanned mission to the moon.
The Mars mission InSight will cost $ 425 million will study the innards of the red planet. For example, the lander will use a seismometer to register "marzorati", and will drill a deep well. Mars InSignt will shed light on the internal structure of Mars, including the size and state (liquid or solid) of the core of the planet and will help scientists to better study the process of the formation of rocky planets in General. published
P. S. And remember, only by changing their consumption — together we change the world! ©
Source: hi-news.ru/research-development/otpravte-svoyo-imya-na-mars-vmeste-so-spuskaemym-apparatom-mars-insight.html