How to earn all year
in the Fall the hot time for many ends. "Off-season" is not a reason to fold their arms and live on the proceeds remaining summer months. As a Russian company with a seasonal business earn all year round. Share the formula of survival.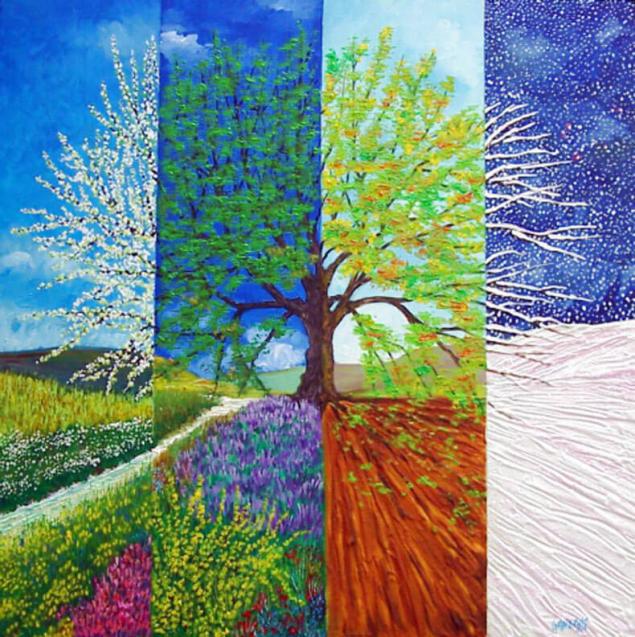 Don't be afraid to expand the range
If sales of one product does not make money all year round, it makes no sense to continue to keep manocalzati. Related products and services will help to generate profit, regardless of the time of year. Do not have to cling to the main product, to better focus on customer needs — if these people come to you for cheap food, maybe they will enjoy the ability to pay the loan in your shop.
In a network of honey shops Fermer365.ru in 2014 only sold honey and bee products, but summer saw a sharp drop in demand. If the winter buy honey to support the immune system, when it is hot, it is easy to substitute fruits, vegetables and other seasonal products. In Fermer365.ru made a bid for products based on honey — sauces, creams, oil. But did not stop and began to offer customers health goods and farm products, where falling demand for honey. Now honey and bee products is only 20% of the range, the rest of the farm products, herbal teas and fees, jam, spices, nuts, dried fruit, drinks. It is on the drinks Fermer365.ru focuses summer. Well go kvas, medovukha, sbiten, soft drinks. "A small proportion of drinks — 5% of the total range — brings us up to 40% of revenue in the summer. The honey, bee products and honey mousse brings us up to 60% of annual revenue, which last year grew by 35%," — says the results of the policy change of sales Manager Fermer365.ru Eugene Trifonov.
Do not be afraid of absolutely atypical for specific business services. In the network of "Obuv Rossii" on the line related products account for about 25% of retail sales, but the company did not want to stay in bed linen and blankets. Now the network is testing a new service on accepting payments for Internet, cable TV, Bank loans and other services. According to forecasts, it can give additional income of up to 10% of the turnover of the outlet.
Search for new audiences abroad, and in b2b
, Not all customers behave the same way: when the season changes, it is necessary to find out who your product is useful right now. The most obvious option — access to foreign markets. In 2012 the company KiwiTaxi appeared as a service to order holiday transfers to Russia. But to travel around the country go mostly in summer, so autumn, winter and spring sales fell. In 2013 KiwiTaxi began to add new countries in Europe and Asia, also began to work in the United States. A year later, it became clear that to focus better not only on the Russians. The project came to a foreign market and now has 15 domains in other countries. "The company entered the year-round profit, and there is no need to set aside money in the summer to survive the winter", explains content marketer KiwiTaxi Pauline Gladysh. Before KiwiTaxi had to support the team all year on year profit and improve the system to borrow, but now a seasonal business into a year-round.
If entering new markets is too costly, you should get accustomed to the b2b segment. A network of honey shops Fermer365.ru began searching for new markets after the expansion of the range and in 2015 began to supply raw materials for caterers, massage parlors, bathhouses, beauty salons. Now Fermer365.ru about 60 partners, which will not depend on the demand of retail customers in the summer season.
In b2b can be useful not only goods but also services. On walking tours of the company "Digression-Bureau №1" few people dare to sign without a guarantee of warm and Sunny weather. As such businesses not to stand in autumn, winter and in the rain? The solution is found in corporate orders — winter employees offer to walk one hour with warming mulled wine, and are wanting even in -20. Also in the off-season "Digression-Bureau №1" cooperates with hotels and hostels. "Remember yourself in a foreign country, you still the rain and cold, if you have a couple of days — you go for a walk! Therefore, foreign tourists harden our guides-employees who work the entire year," says co-owner of "Digression-Bureau №1" Yulia Abramova.
Change the perception of the product
Sometimes the product don't buy just because it is not positioned as a year-round. "Transfer is not just a taxi airport — hotel — airport. People actively go abroad is not only a vacation but also on business trips, to friends, in a long-term independent travel. These trips are not tied to the season. Therefore, it was necessary to explain this to potential customers", — says Polina Gladysh. In the framework of the shift positioning KiwiTaxi increased its fleet by dividing the machine into the car business class, premium class, group transfers, and also worked with bloggers. This was introduced an affiliate program bloggers recommend traveling in the off-season or told how transfers can be used not only in the resorts (they have 50% of the fee with each order).
Work with a client base of
Businesses with seasonal spikes in sales for a short period you need to correctly work with your audience — usually this is a company whose goods are often bought as gifts for the holidays. Expert sales in the jewelry retail Russia and CIS Arthur Salagaev advised to work with each client individually and find out a relevant date. For example, 42% of total annual sales in the jewelry retail business is done for one week (28-31 December and March 6-8), but if you learn the birthdays or anniversaries of their clients and their families, to offer them gifts all year round. "Maximum conversion rate in the purchase to show calls to customers about 7-13%. Record levels impossible to achieve when we focus on repeat purchase. For example, the client bought the ring on 14 September and the questionnaire indicated that it was a gift for a birthday. A year later the Manager calls and offers to buy the ring earrings on special conditions" — explains Salagaev. This recipe is suitable for all businesses, the sale of which depend on the holidays.
Also in the offseason to promote products for different groups — one a month for young people, another for the newlyweds, etc. Targeted product offerings work better.
And finally, if your service can give, it is a good way to stay afloat in the off — season, deploy the certificate, which can be used all year round. "We make money in the off-season for Hiking time by selling gift cards Moscow as a gift. Buy them for the New year, March 8 and 23 February, as well as for birthdays, anniversaries and just as a romantic gift. The card is valid all year, and walk them mainly in the summer, but the profit from them, we get all year round," says co-owner of "Digression-Bureau №1 of" Marta Ageeva.
Use the off-season for minor problems
is Usually in business you need to do it all at once and sell, and seek new partners, and to promote, and invent original ways of attracting customers. All this requires a state or irregular working schedule, if you have a startup. But the seasonal business can cope with a small team, if intelligently allocate tasks.
"Cold — it's time to do what summer do not reach the hands", — said General Director of a network of Bicycle shop "Velodrayv" Kirill Ostapenko. For bike sales active season — summer, so in winter the company plans an advertising campaign, working on pre-orders, preparation of directories, and developing online direction. The network is developing the franchise and uses the autumn for talks with potential partners. From December to March, open new stores and at the same time preparing for the new season: it is necessary to complete warehouse popular models, to vacate shelves for the new products, hire more employees to assemble the bikes. "In General, winter and summer, never a dull moment. Active work is conducted year-round, just its direction changes depending on the time of year," says Ostapenko.
Rebuild work in the season
Should be ready for active sales to get season maximum natural demand will not help to live on the profits for the whole year, if you don't work it on full. Flower company "Florist.ru" gets in February and March, the third annual revenue, and recommends not just to tighten, and rebuild all internal processes. "Now, in August, we ring up and invite for additional studies of all the florists that we plan to extend our high season 2016. Market competition in this period is serious, and we can't pay, so agree on cooperation now," explains the head of the press service of Akhmetov's Waist. For the period of high demand "Florist.ru" grows nine times at the expense of temporary employees.
But it is not a panacea — task permanent employees also need to reallocate. The flower company financial service turns into a logisticians and administrators of salons, and IT Department for several months before the peak stops to develop and improve the system focuses on system administration and Troubleshooting.
Combine methods
don't choose one way to survive in the off-season — the majority of respondents "Secret" companies combine different methods in order not to go into minus. If you extend the range, but forget about a new audience, the safety margin may not be enough for the whole year. But it is not necessary to create illusions at the exit of seasonal bondage: if you throw power in the off-season, but will not prepare for the hot season in advance, you will miss benefit.published
Author: Victoria Charochkina
P. S. And remember, just changing your mind - together we change the world! ©
Join us in Facebook , Vkontakte, Odnoklassniki  
Source: secretmag.ru/articles/2015/08/13/seasonal-business/