few commonplaces prejudice, why we have to work at his uncle and did not think of predprinimatelstve.Talantlivye, but lazy office currently dozens of residents invented convincing arguments that establish their own business - it's not for them and why in this country it is impossible to do business. This true "last resort" they teach their children, discuss it with like-minded colleagues in the pub, he jumped out of the office at exactly 18.00. A favorite pastime in the workplace prosizhivanie believe in the "Facebook" and foaming at the mouth prove the infallibility of its truths in other people's blogs, hiding behind anonymous nicknames.
They occasionally gnaw at the thought of creating your own business. Gnaw gnaw at something, but most of all the desire to terminate zilch. Total stock of arguments why we have to work at his uncle and not to think about entrepreneurship - pretty impressive. Below cited several "axioms", which usually operate lemmings to do nothing.
There is no unique ideas for biznesaPolnostyu unique ideas are long gone, and almost can not be (very few exceptions). But you do not Zuckerberg, and not even the guy whose start-up has bought Google for several million.
The advantage of the market is not achieved by finding niches, and the conquest of available due to active market promotion, customer service, expansion of product range, the lack of a staff office plankton. It seems Kotler was the phrase: "The person who buys from you punch - in fact, does not buy hammer and hole in the wall in the right place for him and in convenient time»
No start kapitalaI what? We must start from scratch. In any case need a head on his shoulders, the ability and desire to work for 30 hours a day, and only in the last money.
In any case, the main capital have invaluable experience, which remains even after, if the business does not go. This did not go - go next. There are hundreds of different types of activities in which a serious start-up capital is simply not needed. For example, the sale of services.
As for the age-old question - to live on until the business is in its infancy, you have to ask yourself the question, what is this becoming? In most cases, the time spent on the promotion of a loved one on the market and to achieve a certain recognition. Create a website for your new business, do its promotion, advertise, releases, articles about their services and products possible without departing from the basic work. But nights and weekends for startups really need that? However, if the hamsters healthy sleep is more important - it means not destiny.
As a rule, all successful history began with small earnings, which later grew up financial empires. Bill Gates, too, began with a simple program, but did not run on the banks in search of loans. Gillette made his first three first disposable razor and went to sell them. Ford garage in the conventional riveted his first car, etc.
Although much easier to come up with something global, and then blame the whole world of misunderstanding and rejection of a favorite. All wrong. But as for me, it is better to enter into a project from scratch, and in the case of an error, leave it to zero, than a lifetime running from angry investors.
The idea certainly is stolen or competitors or investors
And where such confidence? Who do you want with your mega brilliant idea? Razuyte eyes. The Internet is full of sites where such business ideas small car and truck. Stealing ideas in pure form in 99% of cases - a voluntary license to idiocy. He stole the idea and it will clear up the mess. The idea is not supported by an experienced team, it is not worth anything.
Active - this is not the idea itself. This is the level of professionalism of the manager and the whole staff, the location, customer base, customer loyalty to your brand, marketing and production technology. Take the Google or Facebook. They are nothing, a soap bubble without a team. Will leave the team and they will not.
Anyway, as you can come up with a truly revolutionary? Over the revolutionary ideas work in the Silicon Valley, a huge staff of professionals. In large companies have their own departments of developments and implementations where professionals sit and come up with a salary trends, the development of know-how, etc.
You should not be in the half-mad local inventors who planed wood of a device, stuck to his door bell and battery, have called a prototype of perpetual motion and is now flooded with all investment forums the idea of ​​a breakthrough in nanotechnology. Similar figures from year to year are worn with ideas and projects (new every month) in search of the vast investment, but at the same time often do not even able to pay for their coffee. And secretly telling all and sundry about the genius of the idea, but it's a secret because the CIA had them followed.
I know many people at the start of a thought his idea patented. But that's just forget that the idea can not be patented. Nowhere in the world the idea itself is not protected by law. Protected only form of its material embodiment. Besides, the patenting of any kind - it is in fact only bring to the interested people the information for their own money. Neither patent serious development did not receive more compensation for their position. And if it turns out that only a thousandth part of the promise or the position.
A small stone in the direction of patent attorneys. Those who propose to patent know-how, nothing worthwhile in life is not patented but designs and trademarks. All proposals for the patenting of innovations, there is only advertising their services (though no liability for offers). Any serious patent can perepatentovat.
Difficulties in registering an LLC or IDEA. Claim and so on. Like, how difficult it is. Although still best to raise your ass off the couch and look in the next administration department registrations. Overwrite from the stand in the lobby, all detailed information and ask for a candy bar form of the registrar model statute, and at the same time to break through the uniqueness of the name of your new transnational corporations. Then everything goes like clockwork.
In a remark, I have on this subject his own opinion, which will not fail to share.
Legal entity - it's not a business, but only a tool to conduct business officially-estimated deyatelnost.Mnogie without anything else, the first thing people think about the registration of the enterprise, forgetting that it is a responsibility of putting the monthly VAT reporting and pension fund, and even once a quarter and the rest.
Register company follows when this occurs is a real need (for example, the horizon began to appear the first customers). By the way, the first customer payments can be skipped through the accounts and friendly companies.
In order to do business, you have special education (at least MBA) is nonsense. Education (especially business - school) is not a literacy specialist. Education gives anything but practice and experience, and knowledge by heart works of Adam Smith, Keynes, Kotler, Trout, or Yang Drucker's no substitute for hands-on management experience.
In addition, most teachers MBA - are typical representatives of foreign and national higher education that do not have significant experience of successful work in the business, with responsibility for the company's revenues. The knowledge that they impart to students - only books, theoretical, that they themselves do not have to check in their own practice.
Quite often we have to deal with the graduates of MBA. It has long been convinced that their diplomas, which they are so proud, in setting the application elementary tasks are converted into a trinket worth a fingernail scrape all this external "gold-plating". Finally, I know many people with incomplete secondary education, who managed to build a successful business.
They will come and everything will be taken away then why had somewhere to learn, to get all these higher education, not cleaned, the pants in foreign offices, if not at least a primary understanding of how to protect themselves at least on some level?
Active - first of all, their own knowledge, experience accumulated customer base and customer relationships. Active - the name, trademark, audience loyalty and recognition in the market. If, for example, talk about the capitalization of assets (opens a store, build a plant), the focus is on the development of the legal concept. And not later, when roasted rooster peck, and yet at the stage of the business plan.
Use a non-resident companies (good, with no problems buying offshore), domestic non-resident subsidiaries. Instead of a single company, to create several assets. Use a cross-lease, assignment, execution services, outsourcing, etc.
Simply put, do not keep all your eggs in one basket. And it will be better if the eggs are not common, but, for example, square. Yes, and green speckled.
And if some of "these" put an eye on your business, the very first inspection will be a long time scratching their bestolkovki at the sight of such a picture. And while they think which side to take you over the "eggs", they can still be mixed, to renew the contract, and put into action is another legal entity. In general, enough room for imagination. The main thing that the lawyers of the Corporate Law of normal suck.
To start your own business requires a business planKonechno required. Only here it triggered a sort of substitution of terms. A business plan is actually just a stack of papers with different Tsiferki, bukovkami and beautiful graphics. Typically, the document is required for a bank or an investor. His real goal is not so much to predict to the penny yield - the expenditure part of the next 10 years, and above all, how to convince the lender that you are truly serious about all the details of your project.
Drafting of a business plan - it is 0, 01% of the total work on the study of any and all aspects of its future business. By the way, if indeed it comes to finding an investor for the start-up of the project, then clearly it can be clearly seen in employment when the interview offer to bring an executive summary that is displayed, and education, and work experience, and previous positions, and key competences . So when searching for an investor must have an elaborate business plan.
Well, if it immediately on finding an investor does not go, then to avoid confusion, it would be better to call this stage is not a business plan, and business - strategy. The owner at the start is to understand all the details of the project without exception. And if it seems that all is well known already like, then surely something is certainly missing.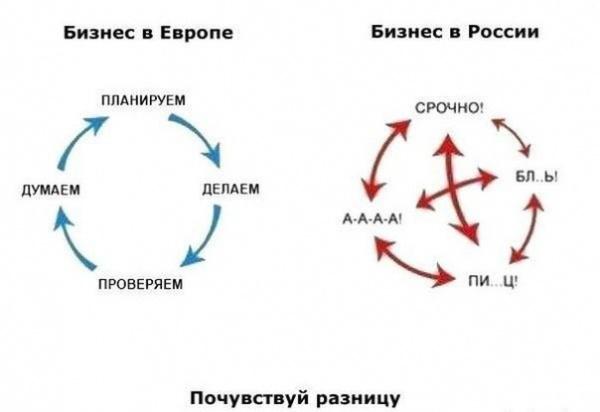 See also:
10 mistakes young agency
The words of the great entrepreneurs
100 things to do in life





via blog.ubr.ua/praktika-biznesa/tiajkaia-sudba-ofisnogo-planktona-ot-kotoroi-ne-uidesh-3644