Regular exercise require a serious approach including the right diet. A balanced menu will help not only to recover after a workout, but will also contribute to the formation of muscle mass and good health. We offer you some recommendations that will help to rebuild the diet and to extract from the food the maximum benefit.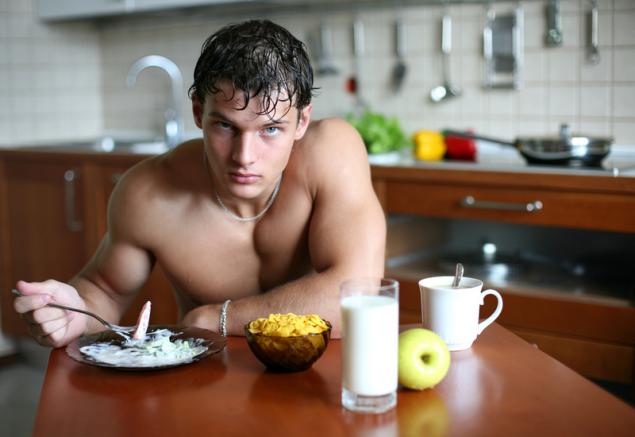 Right pitanja first lessons in any sport you need to help the body adapt to constant stress. First, any sudden change in diet is not required – it is enough just to eat balanced and regularly to get the nutrients that are needed for the active work of the body.
Greasy, fried, spicy, with lots of spice food, can adversely affect kidney, liver, pancreas and stomach, cause blood circulation problems because of fast food have to give.
Domovnica the most specific vitamin supplements at this stage recommend the use of complexes of vitamins that will help to adapt to the new regime. It is important to add to the diet:
Vitamin B1, which activates the carbon exchange processes.
Vitamin C for resistance to stress.
Vitamin B3 to increase the speed of metabolism.
For growth of muscle cells, it is recommended to pay attention to the vitamins A, B2, B6 and B12
Vitamin E will help faster digesting protein foods, and to stimulate the production of testosterone hormone.
Vitamin D is responsible for assimilation of calcium and phosphorus, necessary for the proper functioning of the body during exercise.
Special sports DataCard sport will become a familiar exercise, and muscle growth will not be as active as in the first time, it will be time to diversify the menu of special food supplements. Before you purchase any items, always consult with a specialist, for different sports and different types of loads need their own diet.
Accelerated muscle growth helps increase dose of proteins and amino acids. It is worth remembering that excess amino acids can adversely affect the gastrointestinal tract. Besides, excessive increase in muscle mass can negatively impact the results in some sports.
The important point for the development of the body beginners is the energy in muscle cells. To make it more intense helps carboxylic acid containing nitrogen, it is available in creatine. To introduce such additive is gently, starting with minimal doses.
In the future, the athletes introduced into the diet of different weight gainers, glutamine and a mixture based on protein, which helps to control the development of the body. Beginners usually in a hurry to start adding in food all at once, but it may have a negative impact on the results.
If you are at first, present excess weight, you may need to use different fat burners moderate type of action, like L-carnitine. But the body will be less stress to get rid of adipose tissue at the expense of regular intensive exercise, which will help to develop all the possibilities of the body.
Starting to exercise, it is important not to overload the body, gradually accustoming your body to a new regime. The same approach must be present in the diet. A healthy balanced diet will help you to adapt to stress and improve results. Sports supplements should be applied in small amounts, consultation with a trainer or nutritionist.published  
P. S. And remember, only by changing their consumption — together we change the world! ©
Join us in Facebook , Vkontakte, Odnoklassniki
Source: www.justbefit.ru/ru/blog/2015/03/24/Sport-dieta-dlja-nachinajushhih/157