I have one way to cheer yourself up. It consists of four items and this recipe, which I will share with you: I will teach you to do the slices of salmon.
As you know, salmon contains a high amount of omega-3 amino acids that contribute to the production of endorphin, the happiness hormone. This fish is rich in many sorts of fatty acids and vitamins. Once salmon saved Northern expedition from scurvy, and today you can save the inhabitants of stone jungle from grief and emotional burnout.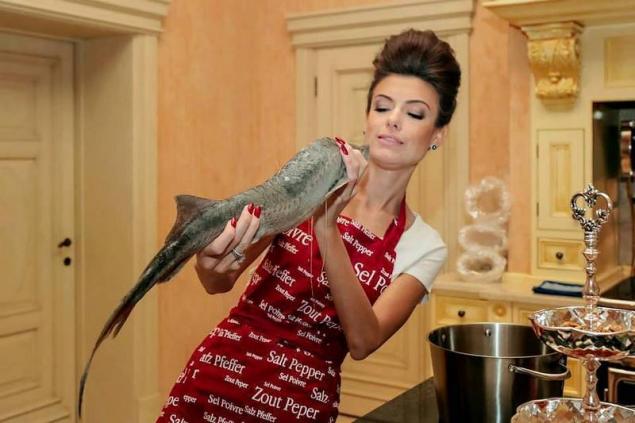 Daria Mikhailova. Photo: Abdullah Artweb
Pushkin Alexander Pushkin was a friend of the Lyceum, among their it was called Federale. This Federally in the world Fyodor Fyodorovich Matyushkin, grew and became an Admiral, polar Explorer and Senator. In his younger years he was in the rank of warrant officer participated in the Northern expedition (1820-1824), was Lieutenant Ferdinand Petrovich Wrangel. So, being in the expedition, in October 1820, he writes to the Director of the Tsarskoye Selo Lyceum, Egor Antonovich to Engelhard: "... I confess that the raw, frozen fish is much tastier than boiled or fried. Try it sometime for Breakfast stroganinu, she is simply delicious, and the salt and pepper, vinegar and oil it must be extra superfine(the highest quality). No Lareda, neither Rinaldi nor Wolf, nor Ambiel, no Des Noyers, neither Dominic nor M-me Dona or Pedoti (Matyushkin here lists the names of the St. Petersburg restaurateurs and confectioners. — Ed.) neither the notorious Roman pastry, which I have not once robbed, as a sticky, no one had me more to himself does not entice. Struganina, struganina – best ice cream".
In response to the letter of 9 February 1821 Matiushkin Engelhardt writes: "Truganini me poduval 20 years ago a friend who was exiled to Yakutsk Paul and returned to Alexander. He found, like you, that's very good." (quote from the book "Journey along the Northern coast of Siberia and on the Arctic sea perfect, in 1820, 1821, 1822, 1823, and 1824, the expedition under the command of Navy Lieutenant F. P. Wrangel. Under the General editorship of Rear Admiral E. Swede". IZDATEL'stvo Glavsevmorputi, 1948.
All expeditions of Lieutenant Wrangel returned home safely.
But nearly a century before this, in 1736, from scurvy killed expedition team Peter Laciniosa. The members of the expedition with the local inhabitants of the Arctic and did not communicate "stroganina", a traditional local dish that is not eaten, but in vain. All the long dark polar night, i.e. six months, the natives lived on the steak.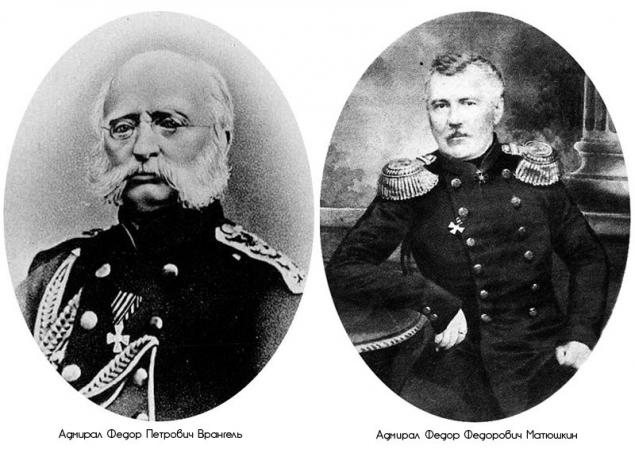 So, when I decide that it is time to indulge in your favorite and my friends escaped from the pressure of everyday life "take a breath", I cook us a steak and cool bottle of sparkling wine. And improves the mood. Of course, it plays an important role and the contents of the glasses, as the famous loading dose of endorphins salmon. But I smile when I think of Lieutenant Wrangel on the deck of the ship, "the Meek", surrounded by ice. Raising his collar, he notes on the map just open Bear island. And ensign Matyushkin, pouring rum/vodka, says: "Struganina, struganina – best ice cream!".
Murmansk salting salmon at home
Fresh salmon (fillet) 1 kg;
For salting:
Lemon – 2 PCs.;
Large sea salt;
Black and red pepper (peas);
For serving:
Hot pepper green and red by 2 pods of medium size.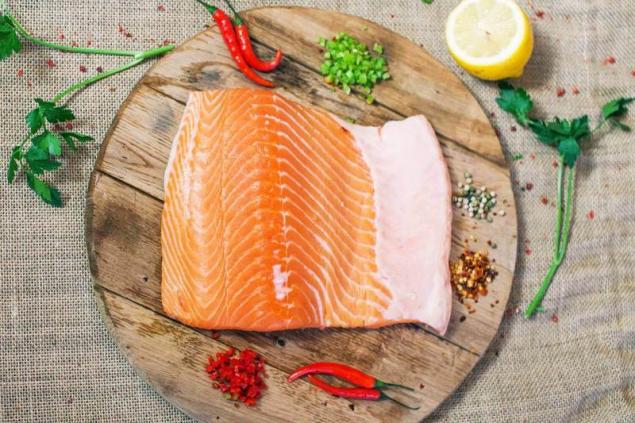 Ingredients for pickling Murmansk salmon at home.
1. To start, rinse the salmon fillet. Rid of excess flakes of skin and small bones. While obsahem fillets, squeeze the juice from lemons, removing the seeds from them.
2. Profusely the fish with lemon juice on all sides, then grate it from large sea salt, pepper and red pepper. Put fillets on aluminum foil and make sure that the spices are evenly distributed throughout the area. Then tightly zamatyvaem the fish with foil and put into a cooler for 36 hours.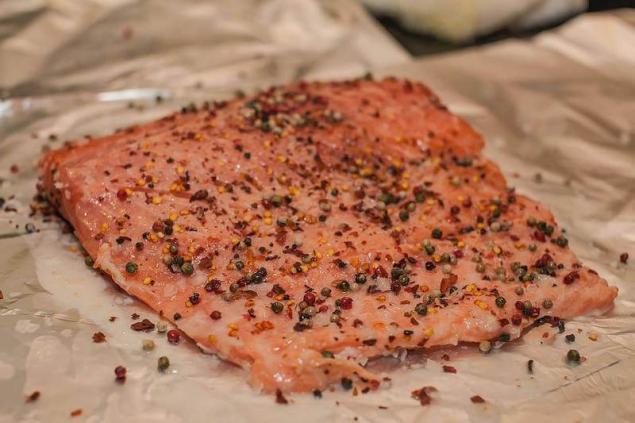 Profusely the fish with lemon juice and RUB it with salt, pepper and red pepper.
3. 36 hours to get our parcel from the fridge, opened, extracted from his catch.
Next we have two variants of development of events. If we want to become happier as soon as possible, it could be just salted fish. This is done so.
Carefully wipe off the spices with fillets, the remains are removed by hand. Before serving, finely chop, neatly spread on a plate in a single layer. Top again sprinkle with salt, if desired freshly ground pepper. Recommend more richly crumble finely chopped hot red and green peppers — it will accentuate the flavour and bring the dish to aesthetic perfection.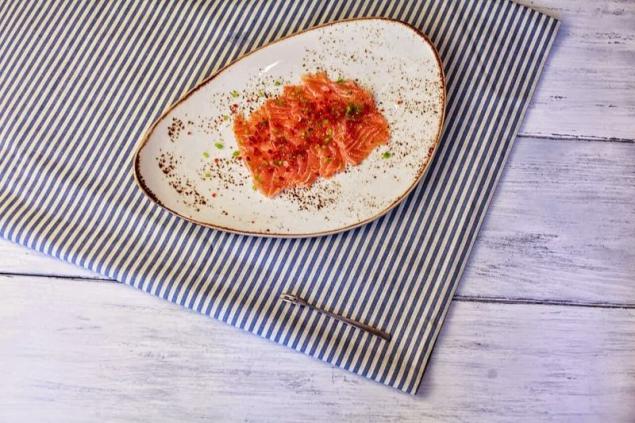 Murmansk salted salmon at home.
If we want to enrich our happiness shade Arctic freshness, we prepare the steak. Then we will need another day.
Repeat the first three paragraphs of the above recipe. After 36 hours in the fridge, put the package into the freezer and wait patiently. The next day, get a bundle free the fish from the foil, but the spices off. With a sharp knife carefully and as thinly as possible slice the steak and serve immediately with hot sauce type of Tabasco or wasabi, large sea salt and freshly ground black pepper (optional).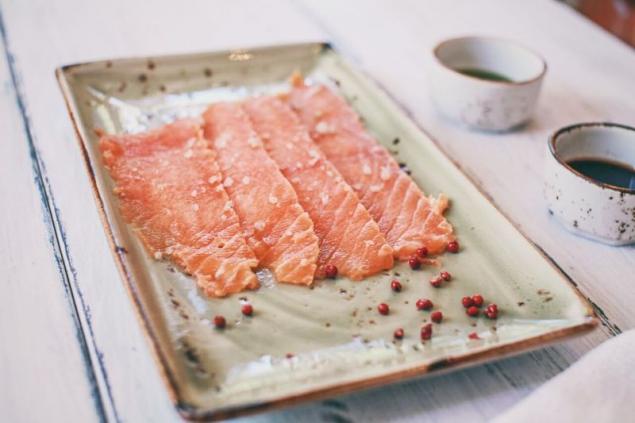 Steak salmon from Murmansk at home.
Material published as part of culinary-charity project"the Book of good food", which raises funds to provide targeted assistance to families with children who have life limiting illnesses and undergoing medical treatment in a St. Petersburg children's hospice Medical institution SPb SAHI "Hospice (children)".
Cookbook author-charity project "the Book of good food" Daria Mikhailova talks about how to lift your mood and become happier. Just need to learn how to do the sliced frozen fish. Today Daria Mikhaylova shares her recipe for pickling Murmansk salmon. published
P. S. And remember, only by changing their consumption — together we change the world! ©
Join us in Facebook , Vkontakte, Odnoklassniki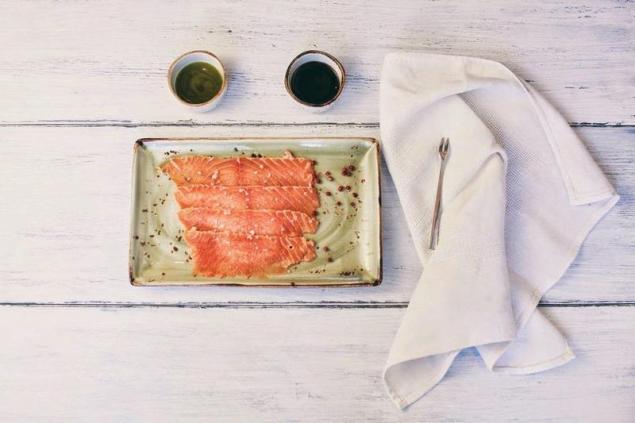 The fish are waiting!  
Source: lavkagazeta.com/eda/kak-stat-schastlivee-za-36-chasov