Spicy spicy ginger, like the sweet marjoram, is one of the most popular culinary seasoning. It is used in medicine.
Ginger root contains unique chemical compounds and still holds a special place in the traditional medicine of India and China as it allows you to prevent disease and improve health.
Ginger is valued for its rhizome. It belongs to the genus Zingiber of the family Zingiberaceae. The scientific name of ginger is Zingiber officinale.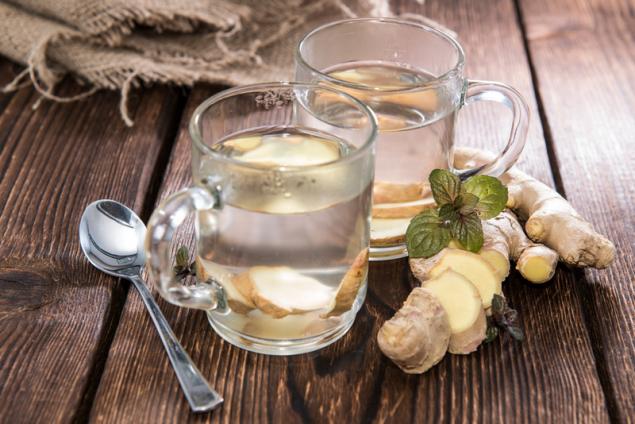 It is believed that ginger has its origin from the Himalayan foothills of Northern India. Now it is cultivated in many parts of the world. The plant reaches one meter in height and has thin dark green leaves. Its small yellow flowers.
On the resource page Nurition And You said a lot about what ginger can be useful and in what cases its use should be avoided. In any case, before the introduction in your diet of the product, even considered useful, be sure to consult with a doctor, especially in the presence of any disease or contraindications.
Ginger root is characterized by finger-like shape and is located under the soil surface. Fresh raw ginger root has a silvery-grey surface. Sliced root from the inside, depending on the variety, are creamy-white, yellow or reddish. The "flesh" of ginger root is characterized by a flexible structure.
Often the ginger root, especially overripe, contains passing through the centre of fibrils (fibers). Ginger has a spicy aroma, which is provided by the contained essential oils and phenolic compounds — gingerols (gingerols) and segolame (shogaols).
Galangal (galangal, Galangal, Alpinia galanga), also known as "blue ginger" is closely related to the ginger plant that grows in East Asia, is widely used in the cuisines of Thailand, Malaysia and Indonesia. Galangal has a mild delicate flavor. It is less spicy than regular ginger.  
The use of ginger for zdorovaemsya root has been used by mankind since ancient times and is valued for its anti-inflammatory, carminative and antimicrobial properties. The total antioxidant value (ORAC) of ginger root, reflecting the ability to absorb oxygen radicals, is 14840 µmol TE / 100 grams.
Ginger contains enhance health essential oil — gingerol, zingerone, shogaol, Faresin, as well as a small amount of ß-phellandrene, cineol (evkaliptola) and citral.
Gingerols help improve the peristalsis (motility) of the intestines and have anti-inflammatory, analgesic (analgesic), sedative (calming nerves), antipyretic (antipyretic) and antibacterial (antimicrobial) properties. Studies have shown that they can reduce nausea caused by motion sickness and pregnancy and relieve the headache pain of migraine.
The results show that zingerone — a chemical compound that gives the spice ginger root is an effective remedy for intestinal stick (E. coli), including diarrhea, especially in children. However, as noted above, the treatment of diseases can be administered only by a physician.
Ginger root is characterized by the energy value of only 80 calories per 100 grams. While it contains many essential for maintaining the human body in a healthy condition nutrients and vitamins, including pyridoxine (vitamin B6), Pantothenic acid (vitamin B5).
In addition, ginger also contains appreciable amounts of minerals — potassium, manganese, copper and magnesium. Potassium is an important component fluids of the cells and organism, helps control levels of heart rate and blood pressure.  
Use of ginger in medicinemen of ginger, sliced and boiled in water with lemon or orange juice and honey is a popular herbal drink in Ayurvedic medicine to alleviate colds, cough and sore throat (pharyngitis).
Extract of ginger root has been used as a means of masking bitterness and the finish is a traditional Ayurvedic remedies.  
Predosterezhenie stimulates a secretory gland in the body. Stimulating salivary glands, it has the effect of increasing saliva in the mouth. It also increases bile secretion and bile flow. For this reason, ginger root may be contraindicated in those patients with no history of diseases which have gallstones. It is also known that ginger increases toxicity protivokashlevye medicine Warfarin, which can lead to severe bleeding, marked a resource Nurition And You.  
Nutritional value of ginger Kornev parentheses are the percentage of the daily allowance. The nutritional value is given per 100 grams of fresh ginger root according to information from the Ministry of agriculture of the USA, shown in the resource Nutrition And You.
General information:
the energy value is 80 kcal (4%);
carbohydrates 17.77 grams (13,5%);
protein — 1.82 grams (3%);
fats — 0.75 grams (3%);
fiber, part of the food — 2.0 grams (5%).
Vitamins:
folic acid (vitamin B9) — 11 micrograms (3%);
nicotinic acid (vitamin B3) — 0.750 in milligrams (4,5%);
Pantothenic acid — 0,203 mg (4%);
pyridoxine (vitamin B6) — 0,160 mg (12%);
vitamin A — 0 international units (IU, IU) — 0%;
vitamin C — 5 mg (8%);
vitamin E — 0.26 mg (1,5%);
vitamin K is 0.1 micrograms (~0%).
Electrolytes:
sodium — 13 mg (1%);
potassium 415 mg (9%).
Minerals:
calcium, 16 milligrams (1,6%);
copper — 0,226 milligrams (25%);
iron — 0.60 milligrams (7,5%);
magnesium — 43 mg (11%);
manganese — 0,229 milligrams (10%);
phosphorus — 34 milligrams (5%);
zinc is 0.34 mg (3%).
Ginger has antipyretic and analgesic properties.published  
P. S. And remember, only by changing their consumption — together we change the world! © Join us at Facebook , Vkontakte, Odnoklassniki
Source: hi-news.ru