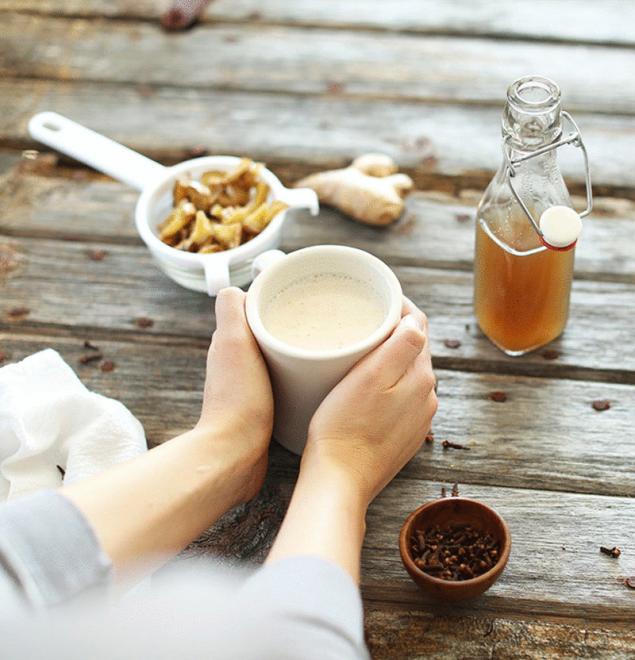 Try all recipes of ginger tea and pick your that will you to make a "one hundred percent". No especially rare ingredients in the recipes are not, so the preparation work, I think it will not be.
Indian tea with milk and ginger.
We will need:
tea (black or green) to 1.5-2 tsp.;
fresh ginger grated 2 tsp – 5-6 slices (or 1.5 tsp ground);
milk 200-250 ml;
cardamom – 1 tsp;
water 300-350 ml;
sugar – 2 tbsp (or 3 tbsp honey).
So, take an enamel or stainless steel dish, pour all the water and put on fire. The cold water throw the tea, sugar and ginger. Bring to a boil and boil a minute so the water has acquired a nice brown color, thanks to the tea. It's time to add milk. When the mixture starts boiling, add cardamom and set aside the saucepan to the side. Mix well tea, the cardamom gave all of its smell and taste. Again put the pan on the fire and bring to a boil. Brewed tea filter through a strainer and drink.
Indian tonic ginger tea.
Ingredients:
water – 200 ml;
Apple juice – 200 ml;
ginger root – 30-40 Gy.;
a quarter of a lemon;
sugar to taste.
Ginger root clean carefully and gently, the skin is thin and is removed by conventional scraping knife or a spoon with sharp edges. In boiling water we fall asleep grated ginger. There also squeeze the juice from the lemon and finely chopped lemon peel. Put sugar and mix thoroughly. Allow to infuse for 8-10 minutes. Then dilute some Apple juice and drink the tea warm (in cold weather) and cold (in the heat). Very refreshing and toning.
Spicy, sour, sweet tea (for colds).
Ingredients:
fresh ginger grated – 3 tbsp;
lemon juice – 4 tbsp;
ground black pepper – 1 pinch;
honey – 5 tbsp;
water 250-300 ml.
In boiling water add the grated ginger (by the way, ginger is not advised to cut on a wooden Board because wood absorbs all the smells. Better to cut on glass or plastic boards, and rubbing on a metal grater). Then add ground black pepper. Simmer on low heat for 3-4 minutes. Before switching off add the lemon juice and dissolve the honey. Drinking tea should be warm in small SIPS, wrapped in a warm blanket. Not get sick!
Tibetan tea for colds.
Composition:
root ginger – 1 tsp (can be more, it all depends on whether there is enough patience to drink this scalding drink);
boiling water 200-250 ml;
a slice of lemon;
honey to taste.
Finely chop or three peeled ginger, put in a Cup and fill with boiling water. Add the lemon and cover the Cup with lid to steep. The more brewed the tea, the more nutrients you give the ginger. To alleviate the burning taste of ginger you can add a pinch of fennel seeds. Then add the honey to tea or a bit of sugar, as you like, and drink better. Health.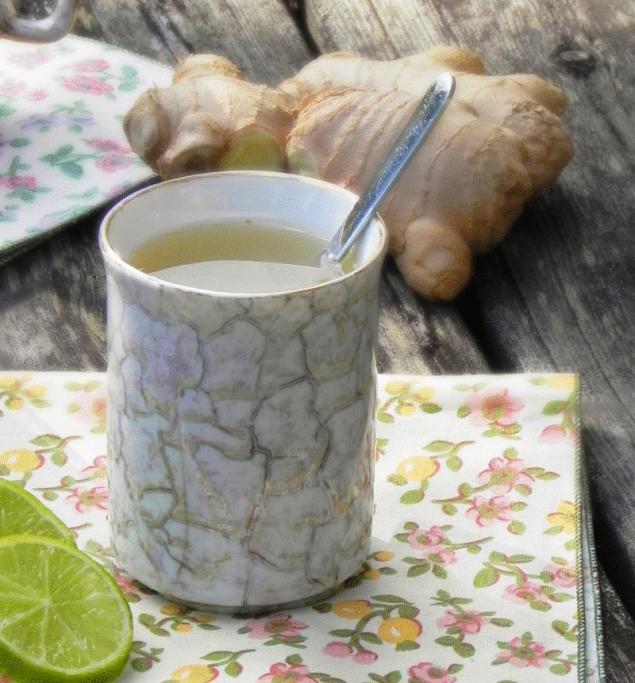 Ginger drink for nausea.
Components:
orang ginger – 2 piece size of 2.5-5 cm or with a weight of 60-90 g.;
water 250-300 ml;
lemon juice – 5-6 drops.
In boiling water throw chopped (or grated) ginger and boil with closed lid on slow heat for 5 minutes, Cool, add lemon juice and drink.
Non-alcoholic mulled wine from carcade.
water — 0.75 l;
of green tea – 1 handful;
fresh ginger – 5-7 thin slices;
carnation – 5 PCs.;
cinnamon – 1 stick;
honey to taste.
In a glass or enamel bowl laying down of green tea and spices, and fill with boiling water. Allow to infuse for 20 minutes to an hour (you can wrap to better the real thing). Add the honey and enjoying the taste, drink. Can this drink to drink, and cold, and you can add more spices to taste – pepper, cardamom, nutmeg... not too much. This mulled wine is an aphrodisiac and you can surprise your loved one in a romantic meeting. Although just also very tasty.
Warming ginger tea
Ingredients:
water – 1 l;
fresh grated ginger – about 1.5-2 tsp.;
black tea – 2-3 tsp;
2-3 PCs cloves;
cardamom powder 0.5 tsp.
lemon, honey to taste.
Water pour into an enamel bowl and put it on the stove. Immediately throw the tea and ginger. When the water boils, add the cloves, cardamom and honey. Allow to boil again and remove from heat. Strain, pour in Cup, add lemon and drink. A pleasant tea.
Mint tea
water (boiling water) – 1 l;
fresh grated ginger – 2 tsp;
green tea is 1 tsp;
ground dried mint – 1 tsp (if fresh — better);
sugar, lemon to taste.
Grated ginger put in kettle, add tea and mint. This mixture pour boiling water, cover and infuse. In 10-15 minutes you can drink, adding sugar and lemon. Savory.
Tea antidepressant
Ingredients:
boiling water 200-250 ml;
tea (can be any, but better than green) 13-15 leaves;
ginger 0,25 tsp;
honey (in tea with ginger in very small quantities, slightly!!!);
red pepper (spicy) or chili.
Brew in a Cup and drink it in small SIPS.
Morning tonic
Composition:
water (hot) – 200-250 ml;
ginger slices 10 to 20 gr.;
mint, lemon balm or other herbs chopped – 1 tsp.;
sugar, lemon to taste.
Put all in a Cup and pour boiling water. Give brew and drink in the morning instead of coffee. Charge of energy and vivacity for the whole day you provided.
Tips.
1. If you bought more ginger can be stored in the freezer (more about this will be discussed in the next post).
2. If you can't find fresh ginger you can substitute dry ground, but then put it will have two times less and simmer longer (about 15-20 minutes).
3. If you are being treated a cold ginger tea, while cooking, boil on low heat grated ginger in the water for 7-10 minutes with the lid open, you get a wonderful expectorant drink.
4. If you want to have a cool invigorating ginger tea, add to any of these teas (except Indian tea with milk and ginger) sugar, lemon juice, chopped mint leaves and ice cubes.
Source: nomad.org.ua/10-retseptov-imbirnogo-chaya-chast-2/