Not enough willpower? Interval diet for you! One of the most popular and most effective methods of rapid weight loss in 3 days. Need to lose weight? No problem! Fashionable practical tips guaranteed to help you lose up to 5 kilos of excess weight effortlessly.
Objective:
a diet aimed at cleansing the body, reducing the volume of the body, preserving skin elasticity
Duration:
9-18 days, 2-3 times in a year
The result:
minus 5 kg for 3 days with the detox effect on a cellular level
Task:
quick weight loss before vacation, special event or after festive feasts
Contraindications:
diseases of the gastrointestinal tract and kidneys, problems with digestion, pregnancy and lactation, childhood and adolescence, diabetes and other chronic diseases. Even if you have no health problems before you go on a diet, consult your doctor!
How it works:
the Diet has three stages, each of which includes a mono-consumption of rice, meat or vegetables.
The uniqueness of the three-day interval diet is that you can easily adjust it yourself: the number of days in each stage can be varied from 1 to 3 at will.
To start the diet with rice of the day, and alternate stages in the order presented.
3 Golden rules of interval diet:
1. To eat only permitted foods.
2. Daily drink at least 2.5 liters of pure non-carbonated water.
3. The amount of salt should be reduced to almost zero (you can use a small amount of salted soy sauce).
Phase I – rice days the First stage is cleansing, so you should start with it. Rice has amazing properties to absorb and excrete excess water, toxins and other harmful substances. So it is 100% completed its task, it is necessary in advance to prepare.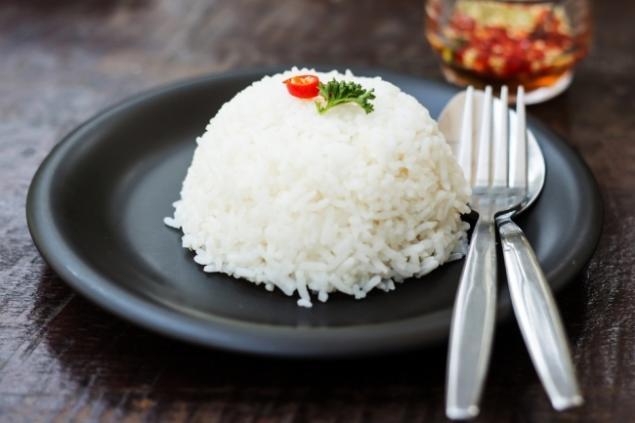 1 Cup of rice thoroughly washed several times until water is clear. Pour three cups of cold water and leave for 2 hours. Soak rice recommended at least 3 times, changing water. Then boil the rice until tender, and better – until soft without adding salt. To digest rice is in any case impossible.
How to eat rice in a day:
1. Sure to drink green tea without any artificial additives.
2. Honey is allowed only in the first half of the day.
3. Salting your meals only for Breakfast and lunch.
What can you eat rice in a day and how many:•
long grain white paddy rice (also acceptable is red, brown or black rice) – 1 Cup dry cereal;
•
lettuce, cucumbers, fresh herbs – 300 g;
•
any low fat dairy drink – 1 glass;
•
honey – 1 tsp;
•
green tea without sugar;
•
spices and herbs.
Rice menu of the dayBreakfast:
1/3 part of cooked rice green tea
Lunch:
mixed salad, green tea with honey
Dinner:
1/3 portion boiled rice, cucumber
Second lunch:
cucumber salad with greens
Dinner:
1/3 portion of rice, 1 Cup of yogurt
The Council
In the evening hunger will help to manage the salad from 1-2 fresh cucumbers with mint and parsley. It is important not to fill the salad oil. Permitted spices and a little soy sauce.
Stage II – meat days In the second phase, the body is important to saturate with calories, not allowing him to transform them into fat. For this purpose, the ideal animal protein: eliminates feelings of hunger, creates lean muscle mass is the building blocks of cell renewal of the skin, maintains water balance in tissues. To digest protein the body needs a lot of time and energy, which, in the absence of carbohydrates, it will extract deposited fat.
How to eat in cold days:
1. Meat and fish can be boiled or baked in the oven without the use of oil and breading.
2. It is not recommended to use fish and meat in one day.
3. To avoid problems with digestion in cold days is necessary to eat bran or fiber.
What can I eat in protein a day and how much:•
chicken breast without the skin, Turkey, rabbit meat, lean beef or fish to 900 grams ready-made meals;
•
egg whites – 4 PCs;
•
cheese 0% – 200 g;
•
fresh herbs;
•
juice of lemon or lime as a seasoning;
•
low fat milk drinks – 2 glasses;
•
bran or fiber – 1-3 tsp;
•
green tea without sugar;
•
spices and herbs.
Menu meat of the dayBreakfast:
an egg-white omelette with herbs, natural yogurt with added bran
Second Breakfast:
cottage cheese with herbs, green tea
Lunch:
baked meat, green tea
Second lunch:
pot roast, greens, yogurt with added bran
Dinner:
boiled meat, greens, green tea
The Council
If the evening exasperated with hunger, eat 1-2 tsp of bran or fiber, drinking water.
Stage III – fruit days In the final stage of the compulsory condition is the consumption of vegetables mostly raw. They contain a lot of fiber, which sets up the digestive tract after protein diet.
How to eat vegetable days:
1. Vegetables can be boiled, baked or eaten raw.
2. Beets and carrots should be consumed raw, because when cooked they greatly increase the sugar level in the blood.
3. At meals, be sure to add vegetable oil, which is essential for absorption of fat-soluble vitamins A, D, E and K.
4. The amounts of servings should be moderate. Can't eat until a feeling of heaviness in the stomach.
Which vegetables you can use:•
cucumbers;
•
tomatoes;
•
zucchini;
•
onions;
•
carrots;
•
spinach;
•
beets;
•
stems and celery;
•
green beans;
•
Bulgarian pepper;
•
red and white cabbage and also Brussels, Chinese, cauliflower and broccoli;
•
frozen or fresh mushrooms;
•
low fat milk drinks – 2 glasses;
•
green tea without sugar;
•
vegetable oil – 2 tbsp;
•
Apple cider and vinegar;
•
spices and herbs.
Menu vegetable of the dayBreakfast:
salad of fresh tomatoes, cucumbers and herbs with 1 tsp vegetable oil, 1 Cup of yogurt
Second Breakfast:
salad from a celery with pepper and 1 tsp vegetable oil, green tea
Lunch:
stewed cabbage with tomatoes and mushrooms without adding oil
Second lunch:
salad from cabbage and carrots, seasoned with vinegar
Dinner:
steamed broccoli, natural yoghurt
The Council
to Satisfy the evening hunger will help 1 Cup of nonfat yogurt with the addition of 2 teaspoons of bran.
published
P. S. And remember, only by changing their consumption — together we change the world! © Join us at Facebook , Vkontakte, Odnoklassniki  
Source: domashniy.ru/