Traditionally white walls in the interior is a classic that is a bit boring. Creative people is hard in such an environment, because their soul needs something more. This spectacular bedroom stands out compared to standard interior design with black accent wall sets the tone for the entire situation.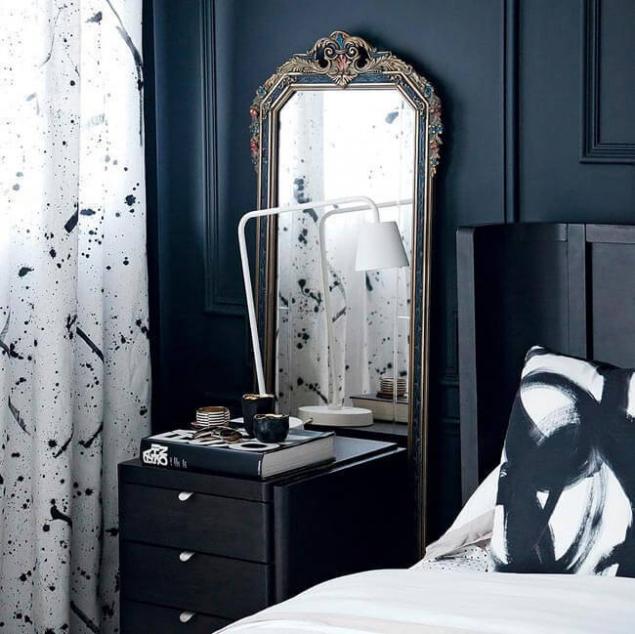 The color black has a kind of mystery, mysticism and, of course, elegance. Not every designer is able to emphasize this, kupirovan the negativity and gloom of the dark shade. Therefore, design projects, using black color, always interesting and unique. Thanks to the beauty that is inherent in this color, it is often used in the interior of the bedroom. Besides dark tint range often used to make men's interior design – it emphasizes a kind of brutality.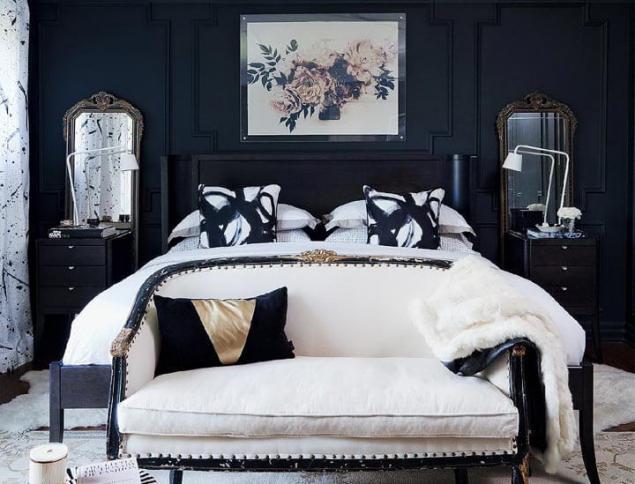 When creating the interior design of the bedroom used a good combination with color companion. The harmonious combination, of course, black and white. This combination is considered the standard indicator of impeccable taste.
Light shade dilutes the dark and gloom, on the contrary, black fills the void of white. In the design of the bedroom, contrasting white perfectly complements the situation. The designer has managed to withstand the correct dosage of both achromatic shades, so the eyes are not dazzled due to the sharp contrast.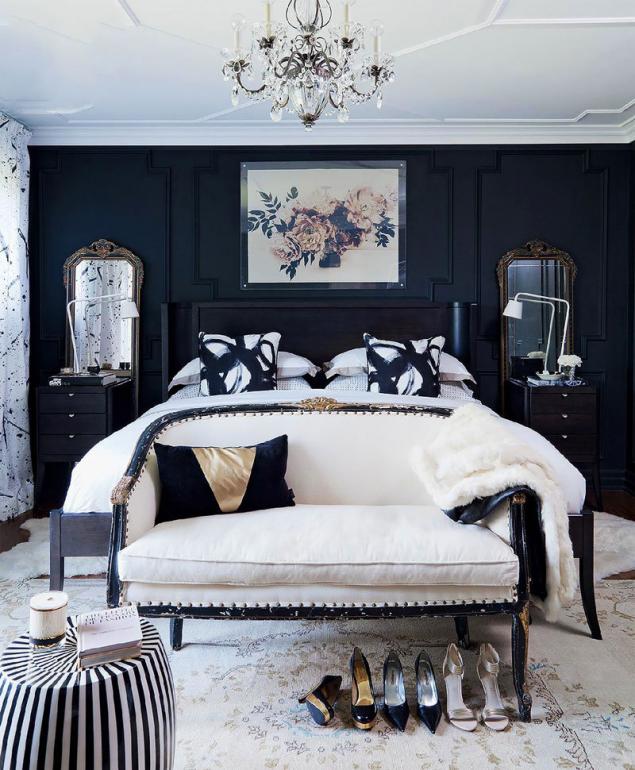 Very well chosen textiles and accessories. Decorative pillows in black-and-white stains and the curtains, as if smeared with blots support the selected style.
Fluffy white carpet and soft white blankets provide warmth and comfort in the room. The mirror and the picture on the wall fits very well within the setting. Noble bronze frame color sets Royal bedroom interior. Couch for relaxing with white trim complements the chic. published  
P. S. And remember, only by changing their consumption — together we change the world! © Join us at Facebook , Vkontakte, Odnoklassniki  
Source: interiorizm.com/effektnyj-dizajn-spalni-s-chernymi-stenami