The Yao women believe that long hair is a sign of good health, good fortune and longevity.
It is unlikely that you would wash your hair with fermented rice water liquid milky color which remains after cooking rice. This idea may seem strange, given that at present, the market of cosmetic products offers a comprehensive range of shampoos for different hair types.
Of course, the rice water is not suitable for every woman, but it since ancient times has been the beauty secret of hair of Eastern women living in the villages and in the Imperial court.
Women of the Yao village Juanlu, located in Guangxi province in southern China, there is one similar trait — amazing long hair that is not gray up to 80 years.
The Yao women believe that long hair is a sign of good health, good fortune and longevity. They cut their hair only once in a lifetime, when they reach the age of marriage.
Hair length representatives of the people Yao — average 180 cm, so the Yao village entered the Guinness Book of records as "the long-haired village in the world". Part of the secret health of their hair lies in washing your hair with fermented rice water.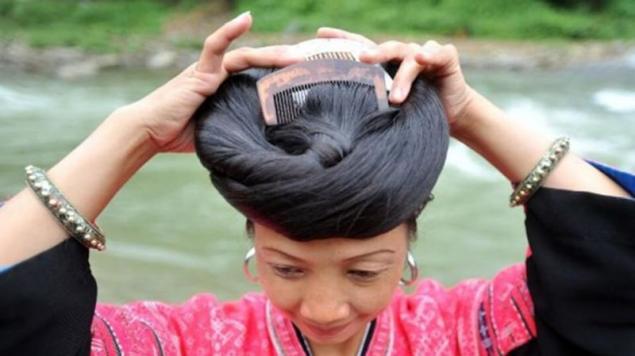 The secret of Asian beauty
For centuries women of China, Japan and South-East Asia, washed your hair with rice water. Ladies of the Imperial court of China and Japan used this traditional recipe to maintain a luxurious head of hair. During the heyday of the Tang dynasty Chinese women wore beautiful long hair.
Health benefits
Rice water can also be used to wash face, wash body and hair. Washing face with rice water softens the skin and improves its appearance, tightens pores and smoothes the face.
Fermented rice water
is water, passed through a short fermentation process. It is rich in antioxidants, minerals and vitamin E. These nutrients help heal scars, reduce wrinkles, reduce inflammation and give the skin a healthy color.
As for the hair, then fermented water not only makes them shiny, but promotes growth and gives elasticity.
Nature gave me great hair, so I always tried recipes based on natural products that can reduce hair loss. After I started to wash your hair with fermented rice water, I found that my hair is softer, stronger and more manageable.
Rice water cleans hair without drying them. My hair used to it. When I from time to time again to use shampoos from the stores, I have a feeling that they completely wash out natural oil, causing the hair to become very thin and brittle. Then I have to further use a hydrating mask, serums and conditioners to moisturize hair.
Preparation of fermented rice water
First you need to save up enough rice water. One way is to save the water left over after cooking rice. Water after first rinsing the rice it is better to drain as it may contain dirt.
If you cook rice two or three times a week, you should accumulate a sufficient amount of water. You can also specifically add to the rice with more water.
After the rice water is obtained, you can begin the fermentation process. Leave the water in the same capacity and hold it for one day at room temperature until it is slightly sour and begins to ferment.
Then boil it to stop the fermentation process. Turn off the heat, let water cool and add a few drops of tea tree oil (you can use lavender or rosemary oil).
Now your water is to wash your hair ready. Store it in the refrigerator to prevent further fermentation. 1.7 l of concentrated fermented rice water I have enough for the week. I use it for shampooing and for washing face morning and evening.
The correct proportion
On my long hair I take 1-1,5 cups of fermented rice water, which is diluted to 10-12 cups of warm water. Don't forget to stir the rice water after you take it out of the fridge.
This proportion may vary depending on the type and length of hair. Rice use less water if you have oily hair. Basic rule: the solution should be diluted rather than concentrated. Once you manage to find a suitable ratio of water and fermented rice solution, you will feel positive changes in the condition of your hair.
Tips for washing hair
Take a bottle with rice water and a basin, over which you will wash head. Gently massage the rice mixture into your scalp and saturate their hair. You can try to wash my hair over the sink or in the shower, putting the bowl on the stool.
Rinse hair with cooler water than usual. If you have long hair and after shampooing you want to immediately take a shower, then kill them in a bun.
Of course, not everyone will like this wash process. But the elderly Chinese women working in the canteen at the place where I work absolutely love it. One of them had problems with the hair. After she started to use fermented rice water instead of shampoo, hair began to fall less.
It took me a few weeks to adapt to this process of washing heads and come up with tricks to make it easier. Since the washing your hair with fermented rice water has become an integral part of my recipes for a healthy and natural lifestyle. published
Author: Dr. Margaret Trey  
P. S. And remember, only by changing their consumption — together we change the world! © Join us at Facebook , Vkontakte, Odnoklassniki
Source: www.epochtimes.ru/content/view/82944/51/