Men admit that they often can't tell when a woman really loves, and when it decides for their account problems of loneliness, lack of resources, security or vanity: for example, to clean girlfriend jealous.
To be honest, we ourselves ("we" is the editorial in my face) can't really distinguish, call and explain what love is. But there are ten obvious signs that something was wrong.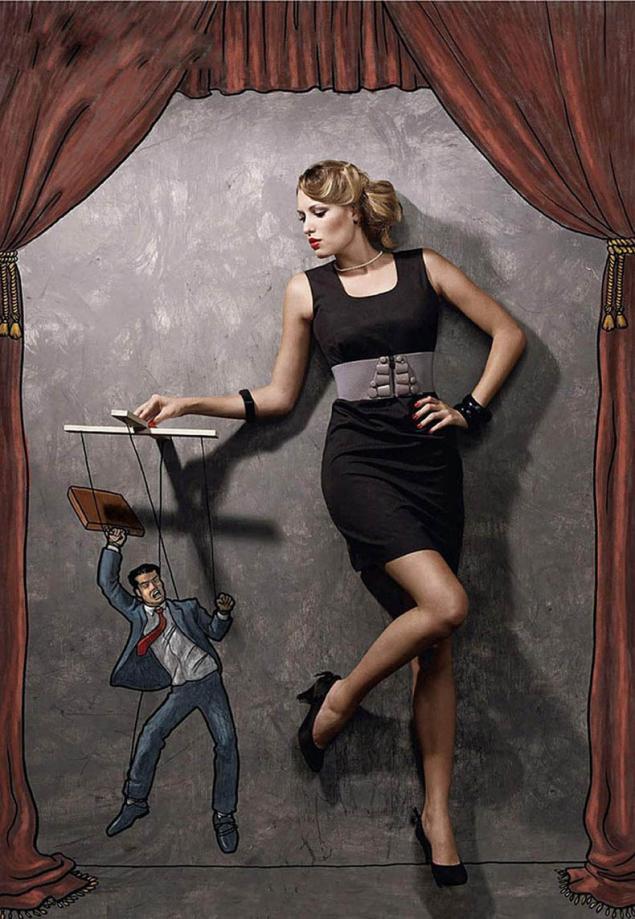 The first sign. Insulation
So, You going on Your new novel and You...
... was in isolation. The first two or three months, when You're in love, spend time with each other and lying in bed, that's fine. At this time You don't come on a normal Friday get-togethers with friends and beer, don't call parents and rollerblading in the parks with her. Then again OK to return to his ordinary life in the new composition: the two of us. Yes, Your girl has for you now a priority, but Your old friends are still there, they can like it or not, however You as a couple accepted, You are invited to public holidays as a couple, You again see their parents, You then switched to your normal life.
If she didn't love You, but successfully manipulating and its impact on You big, it will block oxygen first of all. No previous friendships and even business relationships. Any friendship. None of his friends was checking for lice, especially Your sidekick, she found that he is just using you.
How to recognize: if after six months from the time of Your connection, it remains Your main and only interlocutor, astroites. When I love You, friends are summarized, develop, communication becomes more fun and filling. When You are manipulated, the manipulator will try to see You nobody else is affected and will be removed by hook or by crook from Your environment almost all: You won't even notice. It is usually served with sauce "they're using you" and "you grew out of them".
The second symptom. Work
You have continues to a new novel and...
... You have worse things at work. When we love, we are afraid of change. Especially changes in a loved one. Suddenly you will be successful, will leave us, will grow from us? But loving women, even if they do not believe in yourself, believe in You. Your talents, abilities, in what You the most. They broadcast that to a man in different ways. He begins to grow in the service, accepts career proposals, picks new projects, not afraid to take risks and open their own business. And Yes, in all this he changes. Loving women inspiring really. You can see it by their success, recognition of others, that you begin to talk seriously serious people.
If she didn't love You, but successfully manipulated, will make Your career in the best case will be on pause, in the worst case You will cease to be and invite You in. The entire collection of inspiring phrases be recited: "I know I can do this", "Try it, you will succeed", "You're the best". But in fact the quarry is no longer moving in any way. Things go in any way. Money became less. But anger, irritation and dissatisfaction with their work — more. Conflicts with colleagues. With manipulators You always fiddle with Bazaar style "is Seen as the Kolka I podsizhivaet". Of course, podsizhivaet, — she nods. Her main thing is that nothing changed — and then suddenly You're a successful handsome cast. So it divides and rules.
How to recognize: if six months after the start of Your new business when you can't even smell those career opportunities that You expected, if Your new or old business is clearly deteriorating, and You feel not yet a loser, and unjustly offend — alerted. You are being manipulated. Loser You still feel yourself too, but that's for dessert later.
The third symptom. Again insulation
You have continues to a new novel...
... and You suddenly noticed that You seemed all drained. Like waves at low tide. Stripping naked shore, covered with all sorts of rubbish. Only the Seagull feeds, poklevyvaya here and there.
When one is in love, he is not very inclined to fully and fully communicate with each other, except the object of love is the same as before. But still he would rather burn the eyes, smile, and sometimes go to embrace and, in General, harmless and happy, to see him nice and pleasant.
If she didn't love You, and successfully manipulates, look at You is not nice and hard. In You such changes occur, You never know. Older women look at You with humiliating pity. Men your age — with some dismay. Women of Your age around You becomes less and less. You come a variety of unpleasant metamorphosis, best to wait out — this conclusion inevitably come. Only Your stubborn loving friends trying to reach up to You, but in vain. You are well-prepared to the fact that "they used you, and now you're inconvenient for them, so they rage".
How to recognize: You ceased to call somewhere else. At parties, birthdays, to General projects. Your girl does not like anyone from Your environment. Absolutely none. No one is trying to be friends with her, no one wants to be her friend, You can still some time to continue to share things friendly and personal, but silent when in a room she enters. Don't trust her and not trusting, but loving you, You can just quietly wait in the hope that someday it will resolve and You will come around. Often, alas — that never happens.
The fourth sign. Jealousy
You have continues to a new novel...
... and the demographic composition of Your communication has changed. It now consists: of Your and her parents, old ugly milfs, guys with authority below and Your IQ is below Your. Gone the beautiful young girl, which used to be a lot, and that You would like to continue to pay attention to them, not — you true and faithful, and eyes You put Your passion. But for the life of me, no more chattering heels near You.
If she didn't love You, but successfully manipulating You myself unknown to science will make young and beautiful girls around You no more. Just in case. Friendship with a cute colleague, warm human contact Lenka from the fifth floor, a traditional coffee in the mornings, working kitchen with Marina, who is quite happily married, and you have a year in the morning, nicely ruffled about travel, dogs and cats, — all that was gone, nothing left. How did You do it? Rather, she did what You did?
How to recognize: very simple. Marya Ivanovna from accounting, had a breathing problem, with grandchildren and jam, now considered to be the safest option for You communication. You do not know about. Just somehow now aware of the fact that her grandson is applying for a new "LEGO". And jam she makes from apples of Paradise and You have a jar. In a strange way You don't get to the birthday of his friend, where it's guaranteed to be a beautiful girl.
Front of Your corporate Your girl tossing in fever, with a temperature of 39 — and You run on pharmacies. It recovers exactly the next day after that, and You hear to the contrary Clegg "Oh, you didn't!" Aerobatics is when right before the most beautiful holidays You get sick myself. Where you go, lie down, I said.
The fifth sign. Her parents are cooler
You have continues to a new novel...
... and You found that, introducing her to his parents, their a little shy. And, by contrast, clearly feels in a state "not by Senka cap", getting to know her father or mother. Normally, when Your partner respects Your parents in advance, tuned to them very kindly, shy and worried. Then they can develop a relationship for everyone, but for the first time to see those who raised You, is an important event for the loving soul.
If she didn't love You, and successfully manipulates it immediately or not immediately — it depends on her mind — will give You to understand that for You it is a great party. Better than You for her. And where You really a father — he looks old at 60. Yes, and Your mother calls condescending pity. Her parents have better education, income, home or apartment, appearance, health, and brains. Your Union a little misalliance for her family, but she loves that cover eye.
How to recognize: You are less likely to go to his own, and more often to her. For her parents, Your expensive gifts, Your — easier and cheaper. Can get away with it. New year You celebrate with her parents. On Your birthday table cooking somehow her mother, not Yours. And not herself. Between you and me, Your girl is never separated from his family, and more their daughter than a wife/partner/is your girlfriend, but You know this is optional, but if guessed, will have to accept. In such alliances and marriages with unequal distribution of power and resources, the man eventually turns into a cowering loser, which took in a decent family of mercy as an orphan.
Attention, I want to note that these signs are working in the other direction. In Your place could be Your friend! Just text it would take too long... posted
Author: Yulia Rubleva
P. S. And remember, only by changing their consumption — together we change the world! ©
Join us in Facebook , Vkontakte, Odnoklassniki
Source: ulitza.livejournal.com/961709.html