We love chickpeas (nahuc) and less like paneer. And if you combine these two ingredients, we get double the fun!
These garbanzo bean burgers loaded with flavor and such solar-solar!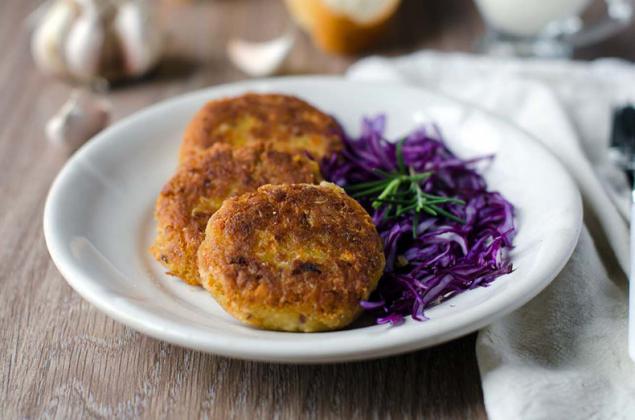 Composition:
100 g of chickpeas (nahuc)
100 g paneer (Adyghe cheese)
4 tbsp flour
1 h lokma of salt (no slides!)
Spices:
1/2 tsp asafetida
1/2 tsp black pepper
a pinch of ground red Cayenne pepper (Chile)
melted or vegetable oil for frying
Recipe notovich cutlets with Adygei cheese (paneer)
:
1. The first thing you need to soak in the evening chickpeas. In the morning, when nagut good swell – boil it until tender.
2. The cooled peas turn into a smooth puree with a blender.
3. Paneer grate.
4. Now we have to mix all the ingredients for our magical meat! So, mix the puree of Nagata, grated cheese, salt and spices. Add flour and again mix well. The stuffing is homogeneous and malleable, pleasant to work with.
Despite the fact that I love a variety of spices in these meatballs I add them in minimum: asafoetida just goes well with nagutom, some red and black pepper spice. For my taste, this is sufficient, as the combination of nagut-paneer taste so rich and interesting.
5. Formed patties of our gram of meat. I got 10 things.
6. Fry patties in hot oil on both sides until Golden brown. Melted ghee as something goes particularly well with chickpeas, so if possible, I do it! Fry on a good fire for very long, as all the ingredients in the cakes are ready.
That's all patties of chickpeas (or nagut, as it is called in Moldova) with cheese Paneer is ready! Bon appetit! published
Author Anastasia Bordeanu  
P. S. And remember, only by changing their consumption — together we change the world! ©
Join us in Facebook , Vkontakte, Odnoklassniki
Source: vegetarianrecept.ru/zakuski/nutovye-kotlety-s-panirom.html