Variation on the theme of oil with additives. For those who love a good steak with a slice of fragrant oil, or just a sandwich. A separate dish it can only be called a stretch, but nonetheless — it's delicious!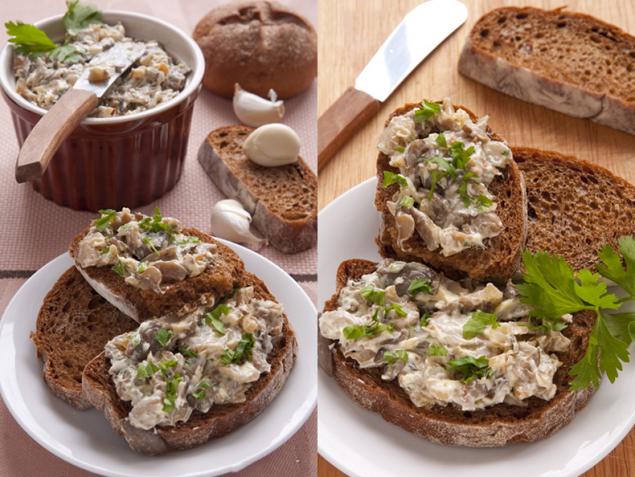 To prepare 4 servings mushroom oil we will need:
150 g of fresh mushrooms (you can take any fresh mushrooms — mushrooms, oyster mushrooms, summer — try with chanterelles required)
a handful of dried mushrooms, better than white, of course (15 grams)
100-125g of softened butter (we took less)
1 chive
2 cloves of garlic
1 sprig of thyme
1 tbsp brandy
lemon juice
salt, pepper
chopped fresh herbs
Dried mushrooms pour warm boiled water and let stand for 15-20 minutes. Drain the water, mushrooms, finely chopped. Melt 1 tablespoon butter in a frying pan and fry it chopped onion until soft.
Add to the onions chopped garlic and a sprig of thyme, cook for 1 more minute. Add all the mushrooms, previously soaked and dried, and finely chopped fresh. Mix gently, cook over high heat 5-8 minutes until soft, add brandy and lemon juice, season with salt and pepper, cook another 2-3 minutes until evaporation of the alcohol.
Turn off the heat, remove the sprig of thyme, add the chopped greens. After cooling, mix with the remaining butter, which should be very soft. Put them in a container for storage.
To keep the mushroom butter in the fridge.
Before feeding be sure to hold it at room temperature for 15-20 minutes so that the oil was not solid.
To serve, sprinkle with fresh thyme or other herbs, to svejenarublennogo meat or on a piece of toasted bread. And with boiled potatoes, cake and so on... In General, with simple meals.
Important
: do not forget that this is not the pie or appetizer, this oil. Having prepared the first time, You will decide what You should change in this recipe is to add fresh garlic, lemon juice, to remove the brandy, season with pepper flakes, to replace herbs. It's just a database, dream and try. published  
P. S. And remember, just changing your mind — together we change the world! ©
Join us in Facebook , Vkontakte, Odnoklassniki
Source: zveruska.livejournal.com/30898.html