You will need:
Almonds 150 g
Light rum 5 ml
Chocolate 30 g
Sugar powder 100 g
Quail egg 3 PCs.
Many national dishes are arguing, defending their right to be called inventors of marzipan. Here and France, and Germany, and Sicily, and Estonia. But when I was in the glorious city of Budapest, marzipan was introduced there only as a traditional Hungarian dessert, so I'll include the recipe for Hungarian cuisine.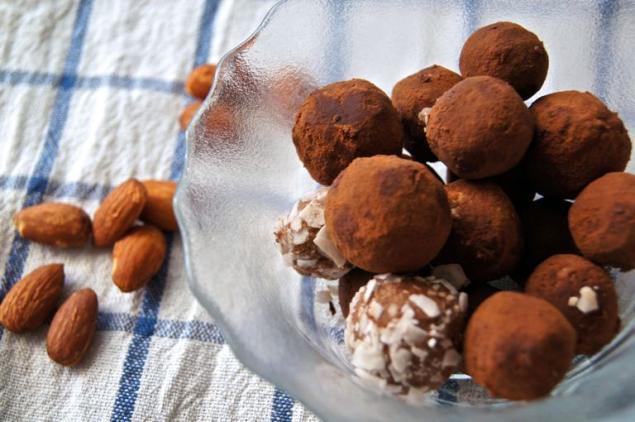 The basis of marzipan — a sweet almond.
First, the almonds should be cleaned from the outer dark shell. To do this, fill it with boiling water and leave somewhere for one minute.
The original recipe recommended a hundred nuts of sweet almonds add a bitter nut to give a special aroma and taste. But I have never met to sell bitter almonds. You can substitute flavors at the stage of kneading the almond paste.
In a minute the water can drain and pour the walnuts with cold water. Dark shell away from the kernel of the nut and will be very easy to do.
Peeled almonds need to be dried on the napkin.
Peeled and dried almonds to be ground in the mill to the smallest crumb. The small, which just is our mill is capable of.
The almond flour mix well with icing sugar. The powder is best to take industrial production, because at home ground sugar not get so thin.
Now to this mixture add a teaspoon of flavored alcohol (rum or liqueur) and 3 protein from the quail eggs (they replace one protein egg and can netanias eaten raw, unlike chicken).
For flavoring do not have to use alcohol, it can be almond essence or vanillin. And instead of proteins can be used water or milk, or lemon juice, or other liquid. In my cookbook mentioned some rose water.
Of all the ingredients knead smooth almond "dough". Fluid should be enough, but so that the dough does not stick to hands and the table. By the way, the hands and the table can be sprinkled with powdered sugar, as needed. If the test fluid is not sufficient, from the almonds in the kneading process will begin to stand out oil.
For sweets you can think of stuffing.
For example, melt water bath a little of Your favorite chocolate, a little cool and mix with approximately one fifth of the almond dough.
You can add coconut flakes or sesame seeds. You can use dark and white chocolate, then the filling will be creamy.
From each type of dough roll sausage and cut into 20-30 parts.
Dark pieces roll into balls. Light also make the ball splosives in the cake, in the centre put the filling and carefully close the light marzipan mass, rolling a round ball candy.
First, this process is very unusual and time consuming, but soon You'll be making candy like a real master chef.
In General, the marzipan mass is very plastic thing, so it do the decorations and candy shapes — fruits, flowers, and various figures.published  
Author: Tatyana Kartasheva  
P. S. And remember, only by changing their consumption — together we change the world! ©
Join us in Facebook , Vkontakte, Odnoklassniki
Source: www.foodclub.ru/detail/4898/