This recipe was born from one simple discovery: it turns out,
the most common of the cabbages
and cut into segments and baked in the oven to tan acquires an absolutely
phenomenal flavor and texture
.
Tomato sauce, bacon, which is known to be amazingly combined with cabbage in any aggregate state, alluding to the stuffed cabbage, but actually it is only a part of the entourage: I had prepared a baked cabbage in different species, and it's always delicious and with the yogurt sauce, and miso, and olive oil, lemon juice, herbs and garlic, and even just with melted butter.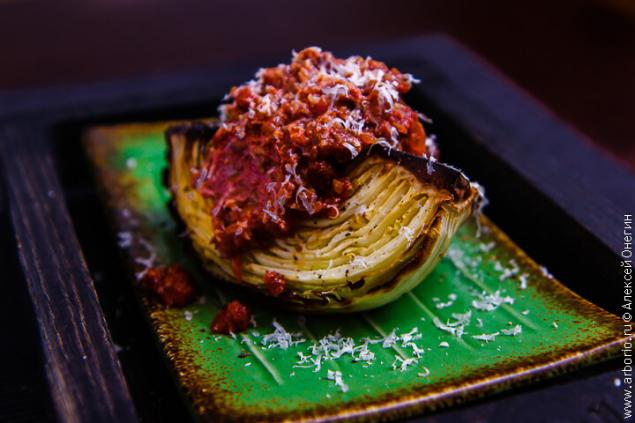 Difficulty:
medium
Time:
30 minutes
Ingredients:
2 servings
500 g cabbage
2 tbsp olive oil or butter
1 tbsp grated Parmesan or other hard cheese
salt
black pepper
For the sauce:
1 small onion
2 cloves of garlic
3-4 slices of bacon
200 g of tomatoes in own juice
1/2 tsp cumin
1 tbsp wine vinegar
a couple of sprigs of thyme
chili powder
salt
black pepper
How to cook:
Clean the cabbage from the dirty outer leaves and cut into 4 or 8 pieces, depending on size of head – you'll need one segment for each portion (the stalk cut is not necessary, it will hold the whole structure).
Coat the slices with olive oil or melted butter, season the cabbage with salt and black pepper and bake in the preheated oven at 220 degrees or grill, about a half-hour before the appearance of visible markings.
While the cabbage is baked, you will have time to make the sauce.
Fry sliced pork belly (in my case it was pancetta homemade) to melt the fat, then add the finely chopped onion and garlic and sauté, stirring, until Golden.
Add the tomatoes in own juice (chopped or whole, doesn't matter – the main thing that cleared) and a couple of sprigs of thyme, and simmer, occasionally stretching the contents of the pan with a spatula to make a thick sauce.
Towards the end of cooking and season the sauce with cumin, with ground dried Chile, salt and freshly ground black pepper, remove the thyme sprigs, pour in the wine vinegar, stir and let it evaporate.
Serve cabbage baked, watering it with hot sauce and sprinkle with grated cheese.published  
P. S. And remember, only by changing their consumption — together we change the world! ©
Join us in Facebook , Vkontakte, Odnoklassniki  
Source: arborio.ru/zapechennaya-kapusta-s-tomatnym-sousom/