Meave composto
(cabbage in Georgian, Gurian cabbage). The Georgian word
Mave
means salted, pickled, marinated, featuring a special method of processing (like in Russian pickles at the classic cask salting represent the cucumbers fermented with a lactic fermentation, and in everyday life so can call and cucumbers marinated in vinegar marinade). But most commonly, McAvoy understand it the sour/pickled cabbage, Mave composto (compare with meave niori — pickled garlic).
Therefore, various methods of cooking meavy can be divided into two categories — natural lactic fermentation or pickling with vinegar, as well as their combinations, when to leaven the cabbage adds a small amount of vinegar.
In both methods, the characteristic and most obvious feature mawy is the addition of beets, gives it its characteristic pink color. For inexperienced people it seems that beet and defines the essence of the Georgian sauerkraut. However, it is not.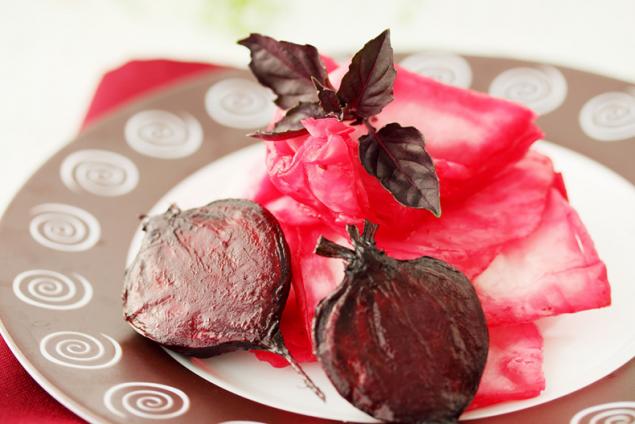 There are other features such as the presence of celery.
It should also be noted that in Russia meave composto often known as Gurian Cabbage (and sometimes ungrammatical use the name of Cabbage-gurievski, apparently, by analogy with the Guryev porridge).
We believe that the correct recipes meave composto should not contain vinegar, sugar and store-bought seasonings with MSG. To obtain the correct result it is necessary to use celery.
Ingredients:
Approximate proportion (can vary to taste, for example, to put less pepper if you don't like spicy):
cabbage, you should take a small dense and Mature heads (to get tight and not too large pieces of saline);
beets, preferably a bright color and sweet;
hot capsicum;
garlic;
celery (preferably a sheet, but in its absence can be replaced by stalks or chopped root);
salt brine (1 to 2 tablespoons with slide salt per liter of water);
it is possible to use other vegetables (e.g., carrots and cabbage kohlrabi) and seasonings to taste (black or red pepper, Bay leaf, horseradish, parsley).
In modern adaptations of the recipes can be used natural the vinegar and sugar, when serving, you can fill with vegetable oil to taste.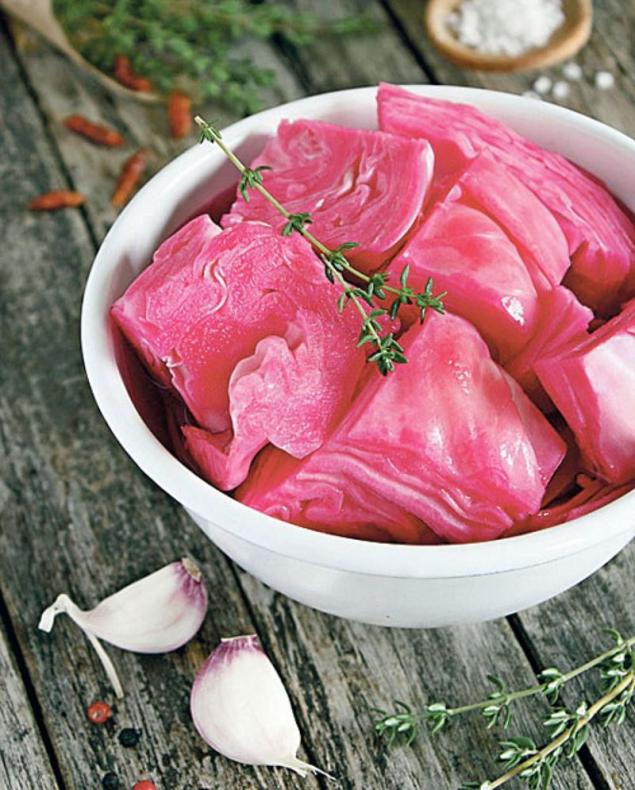 How to cook:
if the pieces of cabbage are too large, they will ferment, but not completely stained by beet juice;
vegetables it is better not to grate and slice with a knife or a shredder;
if teeth of garlic cut, cabbage will be more fragrant, but if they are not cut, in addition to the cabbage you get a certain amount of marinated garlic in neat teeth;
in some recipes cabbage scalded with boiling water or briefly immersed in boiling water (10-15 seconds);
if you don't want chunks of hot peppers fell into the food, cut the pepper is in small pieces or rings, and along the pod, then you can easily separate it from the cabbage when serving.
Some Housewives prefer to use raw beets and carrots and the cooked (it's more hygienic). There are also recipes where the cabbage before salting immersed for 2-3 minutes in boiling water, after which it should cool quickly in cold water (so it becomes less hard, but it is important not to overdo it in the boiling water, so it does not seethe).
We present 2 typical recipe.
Recipe 1 (traditional):
sauerkraut 3 kg;
beetroot 1.5 kg;
3 hot pepper pod;
2 garlic heads;
celery leaf 200 grams.
The brine:
in 2 liters of water put about 4 tablespoons of salt (100 grams) plus an additional amount of salt in the middle of fermentation.
Boil some water and dissolve it in salt and leave to cool slightly. Cabbage cut into chunks along with the stalk, the head is cut into 6-10 pieces. Beet wash, peel and cut into round slices. Garlic clean, teeth can be left whole or cut in half. Pepper remove seeds and stems and cut into rings.
Fold the vegetables into the container (a big jar or enamel pot) layers: first the beets, then Kale, etc. adding layers of pepper, garlic and celery leaf (sprigs of celery to enhance the flavor, you can mash by hand). The top layer should be beets. Pour the cooled brine, it is possible to put the yoke close to the neck of the container with gauze to protect from dust and insects. Keep at room temperature for 3 days, then add to the brine 1 tablespoon salt, stir it in the upper layers of the container and leave to quasits for 2 days, then removed to a cool place. It is already possible to eat, but the Kale will still take some time to continue to soak up the flavors of garlic, celery and pepper to improve the taste.
Recipe 2
(with hot fill with the vinegar will be ready in 3 days):
Cabbage — 2-3 kg;
carrots 300 g;
beet 300 g;
garlic 300 g;
parsley, celery or cilantro.
Marinade:
2 liters of water 3 tablespoons of salt, 3/4 Cup sugar, 1 Cup Apple or wine vinegar, Bay leaf and 3 leaf, black pepper 1 tsp.
Cabbage cut into chunks, carrots and beets wash, peel and slice it into thin round slices, the garlic, peel and chopped, greens chopped. Put in a wide enamel pan with layers of cabbage, beets and carrots, sprinkling the layers with garlic and herbs. Boil water with salt, sugar and spices 5 minutes before end of boiling, pour the vinegar marinade.
Pour the cabbage with vegetables with hot marinade and top with the pin plate and to supply the goods, cover it all with gauze. Cabbage will be ready in 3 days. Storage put into glass jars and put into the refrigerator. published
P. S. And remember, only by changing their consumption — together we change the world! ©
Source: www.solenya.ru/sol/mzhave-kombosto.htm