Radish is a vegetable for salads, it is easy to assemble, moreover, it is bright. Many people love its crisp, fresh root vegetables with a sharp taste, so the radish is usually eaten raw.
Among the varieties of radish meet round or oblong root vegetables of different colors, from white to dark red. Young undamaged leaves of radish are also edible if cooked like spinach. However, eat them raw not — they are covered with hairs that can cause irritation in the mouth or on the skin, if you hold the sheets in his hands.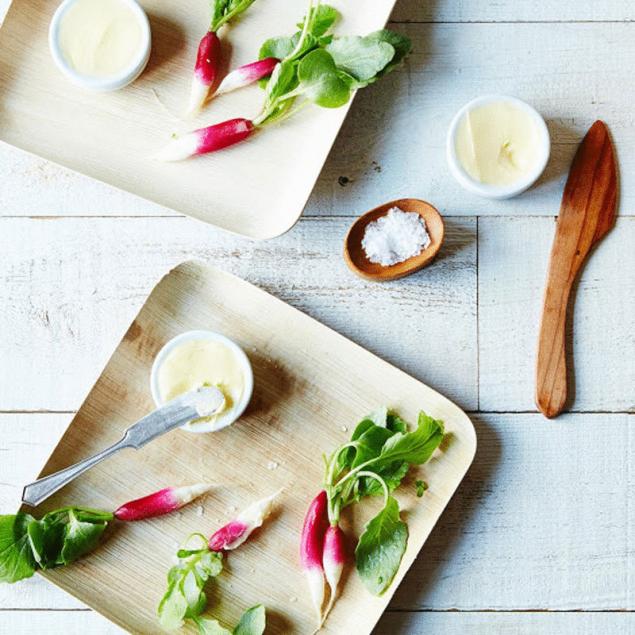 How to store radishes
It is best to eat the potatoes immediately after digging, but you can resort to non-durable storage: the radishes to put in a bag and kept in the refrigerator a day or two. Before how to store radishes, remove the tops all. The radish is not suitable for freezing.
What can you make out of radish?
Radish makes sharpness in sandwiches with cheese and ham, but it itself can make a great sandwich if you add salt and put on a good layer of butter. The answer to the question "What can you make of a radish?" is very simple — slice it into salads and put it in the side dishes. You can prepare the dip and dip into it the slices of radish.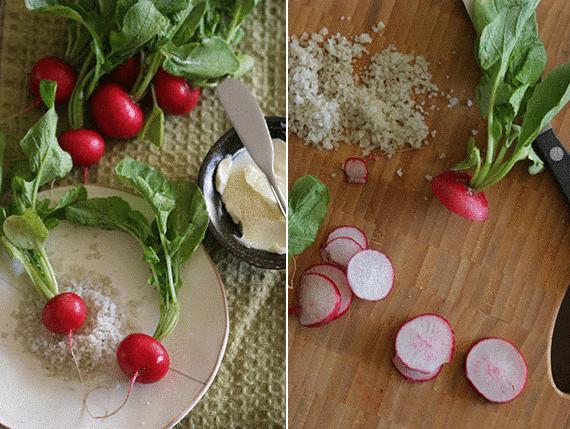 Recipes with radishes:
the Fan.
This recipe radish is original submission without spending much effort, you can decorate any table. Cut radish root and tops, place on a cutting Board so the tip was on the left and the root on the right. Take a sharp knife and make an incision along the left-to-right to the middle of the radish, not reaching to the tail.
Turn slightly and continue to make cuts around the entire circumference. Notched throw radishes in ice water for a few hours. Gradually they become fan-like. Dry them and apply a fan of radishes on the table.
Radishes with chives and cheese sauce
Take fresh and crisp French radishes with long roots, soak it in ice water for 15 minutes, so it became even tighter.
For 4-6 servings
200 g of soft cheese
50 ml mayonnaise
50 ml natural yoghurt
50 g Mature cheddar cheese
3 tbsp fresh sliced chives
salt, black pepper
12 long radishes
Grate cheese and combine all ingredients, except radishes. Let stand one hour in the cold.
Cut each radish into four pieces.
The resulting sauce pour into serving bowl and place on a plate, and radishes lay around.
Salad recipes with radish
Red radish salad and onions. This recipe for the radish salad is perfect with sharp cheese, in addition, it can accompany grilled chicken and fish.
4 servings
1 red chili pepper
2 tablespoons extra light olive oil
juice of 1 lime
salt, black pepper
16 radishes
1 red onion
1 red pepper
2 tbsp chopped fresh coriander (cilantro)
Connect the finely chopped chili, olive oil, lime juice, salt and pepper and let stand 30 minutes.
Thinly slice the vegetables and lay them on the plate. Cover with dressing and garnish with coriander leaves.
Salad of radish, cucumber and goat cheese.
A delicious light lunch for a summer day. Serve with French baguette.
4 servings
16 radishes
1/3 cucumber
400 g of goat cheese
4 tablespoons French dressings
100 g shelled walnuts (chopped)
4 dried apricot
Cucumber and radishes for this salad, as seen in the photo, cut thin slices. Arrange the radish and cucumber on the outer edge of the plates for Breakfast.
Cut goat cheese into 8 circles and fry on the grill pan for 3 minutes, until the cheese starts to bubble. Place on the middle of the plates.
With a spoon pour the filling, sprinkle the pieces of walnuts and chopped apricots.
Other recipes radish
Recipes radish is not only salads and sandwiches. We offer you to cook curry and fried radishes – these dishes are simple and original. Wash the radishes, scrub, trim the tops and root (be careful, some get allergic to the hairs located on the leaves). Small radishes can be left intact — just grab them with fingers and eat. Can be cut in half or cut into slices. If you find radishes too spicy, remove it from the skin, the sharpness is mostly concentrated in her. When you cook radishes, do it right before eating, otherwise the roots will soon become soft and lose their pleasant crunch.
Roasted radishes with sesame seed and soy sauce.
This is a good way to use the surplus grown radishes before the roots become too large and coarse. If you don't have sesame oil, put more vegetable instead.
4 servings
30 radishes of medium size
1 tbsp vegetable oil
1 tbsp sesame oil
Article 1.5. tablespoons soy sauce
1 red onion
1 tbsp toasted sesame seeds
Cut each radish into four pieces and place in the frying pan there both oil and 1/2 tbsp of soy sauce. This recipe for roasted radishes is cooked for 20 minutes at a temperature of 190°C. flip once.
Finely slice the onions, tear it into rings and mix with radish. Cook another 5-10 minutes, until the radish was very soft and onions Golden. Pour the remaining soy sauce and sprinkle with sesame seed. Serve hot.
Curry with radish
, Try this spicy dish by serving it with rice, beef or chicken curry. In India, curry put chopped radish leaves radish with spices.
4 servings
30 radishes
1 onion
2 tbsp. vegetable oil
2 cloves of garlic
3-4 chili peppers
1 teaspoon turmeric
1 teaspoon coriander seeds (cilantro)
1/2 tsp mustard powder
2 tomato
salt, black pepper
Thinly slice radishes and onions, fry on medium heat in vegetable oil, stirring constantly, for 3 minutes. Then add finely chopped garlic, chilli, turmeric, crushed coriander seeds and mustard powder. Stirring constantly, cook another minute.
Place the sliced tomatoes, salt and pepper, stir well, reduce heat, cover and cook another 10 minutes on very low heat.published
P. S. And remember, only by changing their consumption — together we change the world! ©
Join us in Facebook , Vkontakte, Odnoklassniki
Source: vseoede.net/?p=1072