These deodorant tablet toilet is a cost-effective and efficient means for getting rid of the toilet odor. Thanks to them, the toilet will be a pleasant smell and cleanliness.
If you enjoy these natural pills that we can all do with a little effort and imagination, they will help you not only remove the unpleasant smell, but also to disinfect the toilet and sewer pipe.
The components required for the manufacture of tablets deodorizing toilet, eco-friendly and non-polluting. And they will help us to significantly save on the purchase of cleaning products.
We suggest you try this remedy.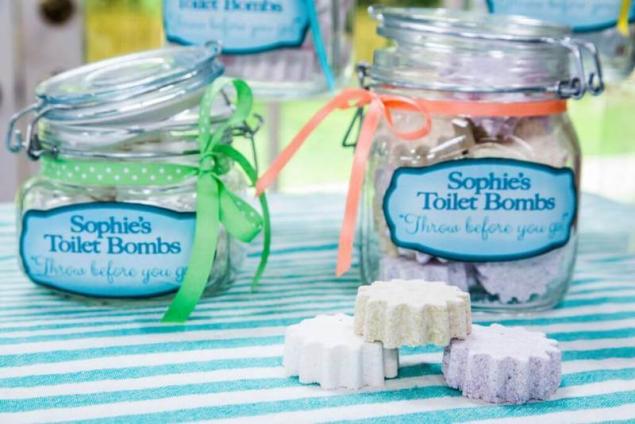 Bad smell from the toilet
Causes of bad smell from the toilet can be different. For example, such:
Poor installation of the toilet. If the place of its connection with the floor covered with poor quality mastic or silicone, this coating can crack and to pass the bad smell.
Defective rubber gasket siphon can also lead to this result.
It is also necessary to check the water drainage system. If there are places where water stagnates, they become a source of odor.
So, if in the bathroom there is an unpleasant smell, to get started is to check the quality of the toilet installation, joints and gaskets available in it.
You can then use a simple and original home remedies in question in this article.
How to make deodorant tablets for toilet
Our goal is simple: to get an economical and environmentally benign means. And that means should be simple to prepare.
It is known that agents which are commonly used for cleaning and disinfecting different surfaces, usually is not only harmful to the environment, but for our health.
But our eco-friendly means, of course, will not benefit the health, if you take it inside. Therefore, the toilet deodorant tablets should be stored so that children can not reach them.
They look like a marshmallow or candy, which children love so much to feast on. Therefore, it is important to hide them away.
Ingredients:
Soda 1 cup (160 g)
6 tablespoons lemon juice (60 ml)
1 ½ tablespoons of white vinegar (15 g)
1 ½ tablespoons of oxygenated water
2 tablespoons of tea tree essential oil (30 g)
Preparation:
Take a bowl of plastic medium in size, in which to mix the ingredients.
Please add to soda. If there are lumps, mash them with a fork. Hydrate well to cleanse the toilet and sewer pipe.
Now add to soda 6 tablespoons of lemon juice. Citric acid - a great cleaning agent; with general cleaning and cleaning without it simply can not do.
The next step is very simple: add a mixture of white vinegar. This ingredient instantly disinfects and neutralizes odors.
Stir the mixture with a fork or spoon.
All ingredients should be mixed well, the mixture was easier to "compress" and to give a desired tablet form.
Now add to the mixture of oxygenated water. Here you need to act very cautiously. This water is added slowly (almost drop by drop), otherwise possible violent reaction.
It remains to add essential oil. We chose the essential tea tree oil, because it has a strong disinfectant and antimicrobial action, but you can pick up and more oil, which do you like more.
We proceed to the manufacture of tablets. You can do this in two ways:
1. Compress the mixture and mold with a round spoon. Accordingly, the tablet will turn round.
2. Use for it molds. Then and tablets become more original shape (arrow, heart ...).
Molded tablets should be dry, so they retain their shape and do not fall apart. Therefore, it is better to do on the eve of the day when we are going to use them.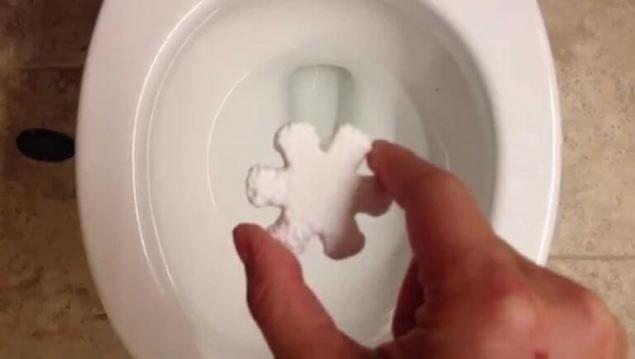 If you leave them to dry overnight, morning deodorant tablets may already use. It's enough to throw them in the toilet bowl and drain the water.
A pleasant smell is felt immediately, and cleaning components will do their job in the toilet and sewer pipe. The effect of these tablets lasts two-three days.