At Christian Dior had his own ideas about femininity. Famous
fashion designer was returned finesse the female form in a heavy post-war period, and prove that the goddess - a living woman, the beauty of which is emphasized and appreciated ...

Simplicity, elementary concern for appearance and flavor development - the key to elegant , considered Dior. First of all he respected quality, and was attentive to detail. "My ideal was the mark of" conscientious worker "- category, quite frankly, is soft, but for me it is extremely valuable, as it implies honesty and quality»

. Christian took care of the women, like no other. Its recommendations - the words of this man, who visited the war, and at the same time - a subtle statement about the beauty of the artist.

tips Christian Dior Do not get tired myself to study
To to choose the right clothes , you need to thoroughly know which color and model emphasize all your dignity. Right collar will focus on his handsome face, a special sleeve to help draw attention to the gentle hands. Talia will make more visible thin or thick belt.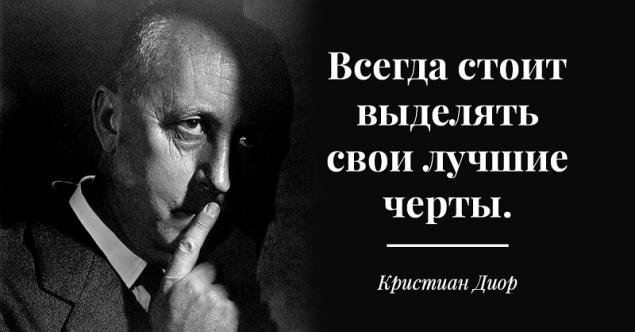 Avoid absurdity
The most extravagant image should be laid out! To operate with unusual combinations of clothing, needs not only courage, but also a well-developed taste. Remember that weird combination of things can devastatingly affect your appearance.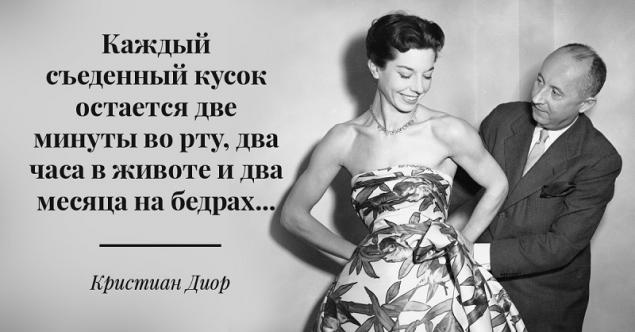 Carefully choose underwear
Without elegant underwear woman loses its strength and self-confidence. You can have only one modest dress, but you will be queen if a great set of hidden underneath. This secret is always effective!

Accessories - a necessary item
Cheap jewelry will make any outfit unassuming. It is better to reduce the amount of clothes and jewelry, but to choose the best of all possible. Dior loved lilies of the valley and all garden flowers: brooches with floral motifs remain a symbol of the respectable housewife and his beloved wife to this day. It is also very important shoes: it reflects the self-esteem of women and is a major step in forming a good impression
!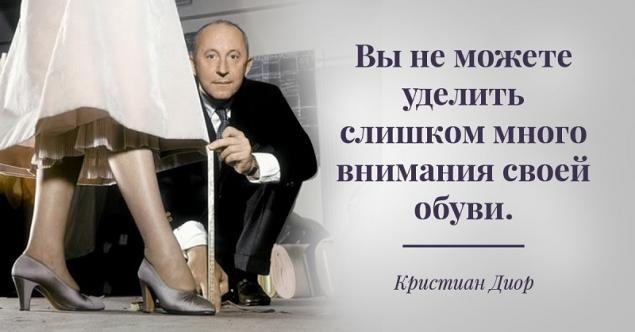 Spirits - the finishing touch of the image
Dior believed that marvelous smell should not only a woman and her outfits, but also women's room. The smell can set the mood and make you truly unique! "The spirits speak of a woman more than her handwriting».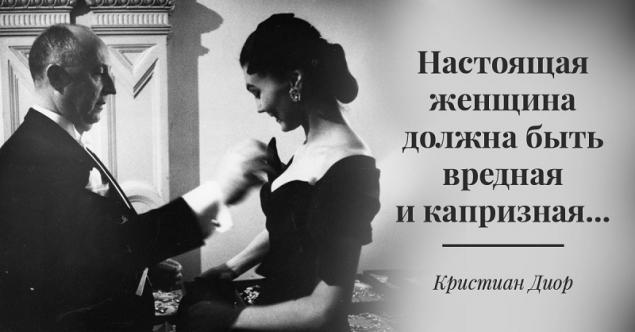 Be carefree!
In times of Dior women had to do a lot of men's work. It was difficult at the same time remain fragile and serene ... Christian believer in luck, and always advised to rely on lucky stars, because it is for everyone. Dior spoke of the inextricable link of how you live and how you look. "My clothes - it's my life, how I live every day with her feelings, bursts, tenderness and joy»
.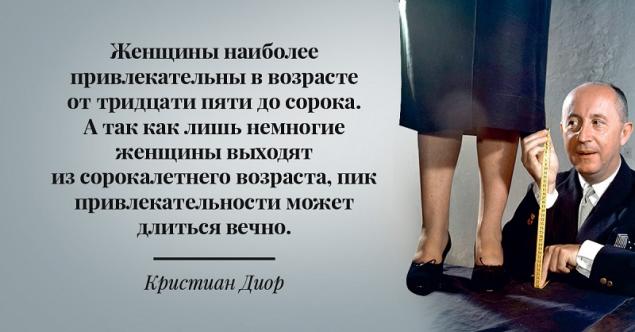 «I draw in notebooks, on napkins or a restaurant bill. At night I wake up and again something I draw, then again I fall asleep: I have dreams, filled with thoughts of dresses ... Suddenly, like lightning, strikes me the design idea for a new dress - I give passion and, based on this pattern, creating a few more options! »

This passionate man to truly understand women! Share the article to their friends, they are sure to enjoy the brilliant tips from Christian Dior.