Test British psychologist Pip Wilson (Pip Wilson). It has been created for students with a view to ensure that they are comfortable in the school for the first three years. The test helps determine how the emotional state of the child, and how his expectations of life correspond to a situation of his case in reality. Later it turned out that this test is relevant for adults.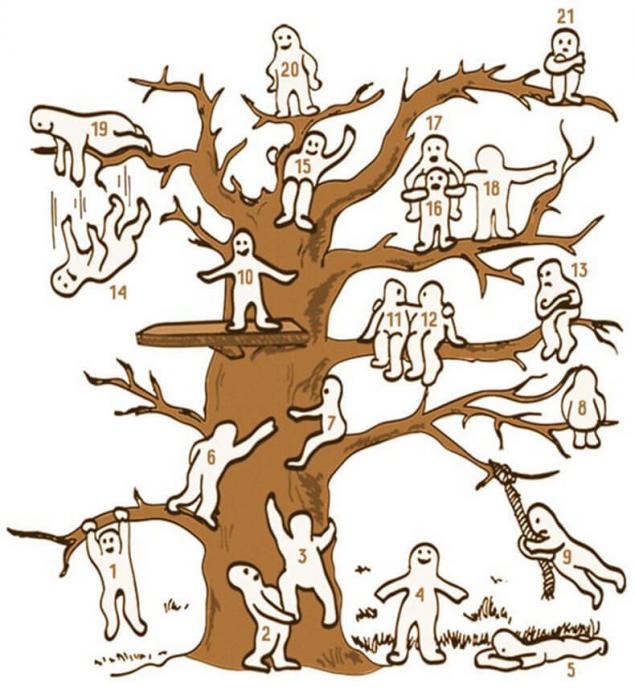 Explanation of the test results:
1, 3, 6, 7 - goal-oriented person, who is not afraid of any obstacles and barriers.
2, 11, 12, 18, 19 - sociable person who will always support any friend.
4 - People with a stable lifestyle, and wants to achieve every success without coping.
5 - it is often tired, weak, had little stamina.
9 - a cheerful person who loves entertainment.
13, 21 - closed, often prone to internal alarms and avoid frequent communication with people.
8 - love to go to, to think about something else, and immersed in his own world.
10, 15 - a normal adaptation to life, it is in a comfortable state.
14 - falls into an emotional abyss likely exposed to the inner crisis.
20 - People with high self-esteem, a natural leader, who wants people to listen to it and it is no one else.
16 - a person feels tired from having to support someone, but if he saw this picture that it embraces 17 - in this case, he is inclined to regard himself as a man, surrounded by attention.