According to the analytical agency "AUTOSTAT", in Russia on January 1, 2016, there are only 647 electric cars presented six models.
Of this amount, the largest share (36, 6%) accounted for the model Mitsubishi i-MiEV, of which 237 units were registered. Further, with a share of 23, 5% should Tesla Model S (152 pcs.). Slightly less than in our country the number of Nissan Leaf, which is represented by 145 specimens. Less than a hundred cars in the park belongs to the development of VAZ - Electric LADA Ellada (14%). And very little performance at Renault Twizy (14 pcs.) And the BMW i3 (8 pcs.).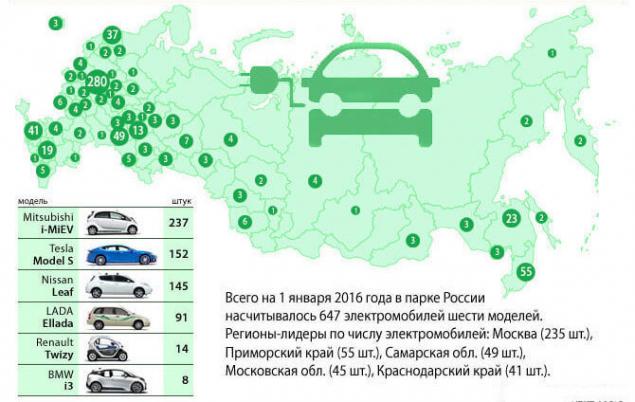 More than a third of all electric vehicles in Russia are registered in Moscow (235 pcs.). Other subjects of the Russian Federation behind the capital by a wide margin. So, in the Maritime region registered 55 such machines in the Samara region - 49 units. Also, electric cars account for more than 40 parks and suburbs of Krasnodar region. In the northern capital of such 37, in the Khabarovsk Territory - 23, in the Stavropol region - 19, and in Tatarstan - 13. In each of the other Russian regions, the number of less than 10 electric vehicles. A more detailed breakdown of registered electric vehicles in Russia's regions represented in the table below.
ELECTRIC CARS IN THE PARK RUSSIAN JANUARY 1, 2016 (pieces)
Park area of ​​electric
Moscow 235
Primor 55
Samara region 49
The Moscow region 45
Krasnodar 41
Saint Petersburg 37
Khabarovsk region 23
Stavropol 19
RT 13
Sverdlovsk region 7
Altai region 6
Belgorod region 6
Chechnya 5
Orenburg Region 5
Voronezh region 4
Khanty-Mansiysk v4
Smolensk Region 4
Krasnoyarsk 4
Nizhny Novgorod region 4
Rostov Region 4
Tyumen Region 3
Kaliningrad region 3
Ulyanovsk Region 3
Chuvashia 3
Novosibirsk Region 3
Chelyabinsk region 3
Udmurtia 3
Amur Region 3
Perm Region 3
Jewish Autonomous Region 3
Chita region 3
Bashkortostan 3
Volgograd Region 2
Tomsk region 2
Kirov Region 2
Kamchatka Krai 2
Kostroma Region 2
Leningrad Region 2
Bryansk Region 2
Kaluga Region 2
Ivanovo Region 2
Lipetsk Region 2
Novgorod Region 2
Ryazan Region 2
Magadan Region 2
Sakhalin Region 2
Irkutsk Region 1
Kemerovo region 1
Astrakhan Region 1
Tver region 1
Vladimir Region 1
Vologda Region 1
Orel Region 1
Tula region 1
Saratov region 1
Pskov Region 1
Chukotka 1
1 Mordovia
North Ossetia (Alania) 1
TOTAL 647