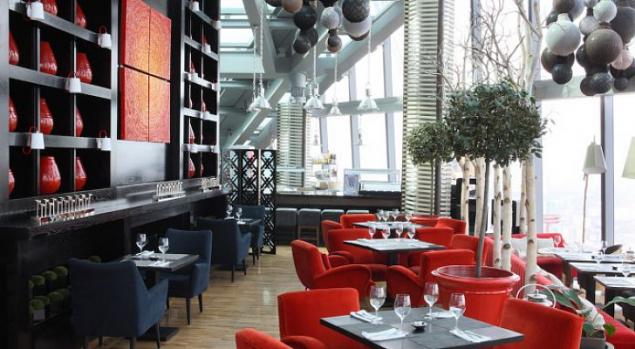 The trendy restaurant Sixty - this is a unique opportunity to see the beautiful Moscow with a bird's-eye view through the panoramic windows. Located institution at the sixty-first floor of DC "Moscow City" ( "Federation" tower). This restaurant - a real champion, as is rightly considered one of the highest in Europe. Guests dine at places two hundred meters altitude, enjoy the unsurpassed taste Sixty dishes and watch the clouds floating by.
< interior
Sixty interior was designed by the famous designer Yuna Megre who masterfully mixed in the design of the restaurant several styles. Pop Art 60s masterfully combined with the classics, hi-tech and "live" the decoration.
Luxurious furniture in harmony with the comfort and cosiness. Room for up to two hundred people, amazing its originality - because there are no walls. And as the screens appear ... live birch trees! An ideal place for meeting friends, meetings with business partners and romantic dates.
< Menu
Sixty Restaurant is notable not only for its location and unsurpassed interior and unique menu.
The first touches on the menu made famous chef Carlo Grecu. He and his team were not afraid to experiment and prepare delicious dishes extraordinary. Create a culinary masterpiece has become a tradition. And it continued after the chef change. Carlo replaced the native of St. Petersburg Rustam Tangirov, thanks to which there was a section called "Food from the chef».
Menu The menu offers an international selection. Guests can enjoy Japanese, Italian and Russian cuisine. The most demanded and loved by guests dishes such as soup with mango salad pak choi, tuna carpaccio, seafood kinotto.
A key feature of Sixty cuisine - a creative approach in everything. Even meals are served in a clever design.
If you would like to visit the restaurant, remember about the main demand - the dress code. Sixty guests prefer to dress in Smart Casual style evening dresses and neat.
In honor of the holiday each restaurant arranges celebrations - live entertainment, fire-themed parties and concerts of popular musicians.